Donated iPads Help People with Disability Access Teletherapy
Therapy Focus has donated iPads and data packages to people with disability and their families to help them access teletherapy services during the coronavirus (COVID-19) pandemic.
In March Therapy Focus suspended face-to-face therapy sessions to protect the health of staff and customers, with therapists moving online to offer services remotely via teletherapy.
While more than 2,000 individuals and families are accessing teletherapy services, Therapy Focus' clinical teams identified around 150 customers who had no access to either a suitable device or data and were, therefore, unable to access teletherapy.
Thanks to funding from Telethon, WA Charity Direct and Therapy Focus' own charitable grants program, the GIVE Program, Therapy Focus' Assistive Technology Team was able to source iPads before there was a national supply shortage.
Those in need will be gifted cellular-equipped iPads and/or 6 months' worth of data depending on their requirements. IT company Lumity Solutions has also partnered with Therapy Focus to provide telephone assistance to customers who need help setting up devices, activating data and accessing teletherapy.
Therapy Focus Executive Manager of Operations, Evan Williams said that the project was a result of collaboration with several organisations.
"We have been able to get these iPads and data packages out to families thanks to the hard work of [many] people," Evan said.
"Our therapists and Team Leaders, who identified customers in need; our Assistive Technology Team, who sourced the devices; our partners at Telethon, who generously provided funding, and Lumity Solutions, who have worked around the clock to provide technical assistance."
"Apple was also beneficial, providing a good price on iPads and AppleCare+, which gives iPad recipients two years of 24/7 technical support and hardware repairs."
Evan said that teletherapy is not only an effective way to deliver therapy; it also has benefits for people's mental health and wellness.
"Teletherapy is a great way to augment therapy services, and it's something that we'll continue to use in future," Evan said.
"It removes the need for travel, which allows for savings in people's NDIS funding. It also allows you to record things that happen in your daily life and share them with your therapists during sessions."
"We're also aware that some people are very isolated at this time, and having an iPad and data gives those people an opportunity to communicate with family members they otherwise wouldn't see."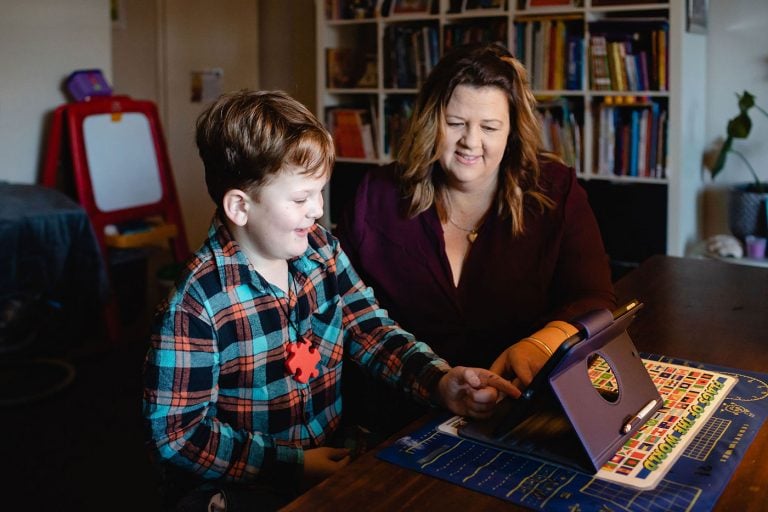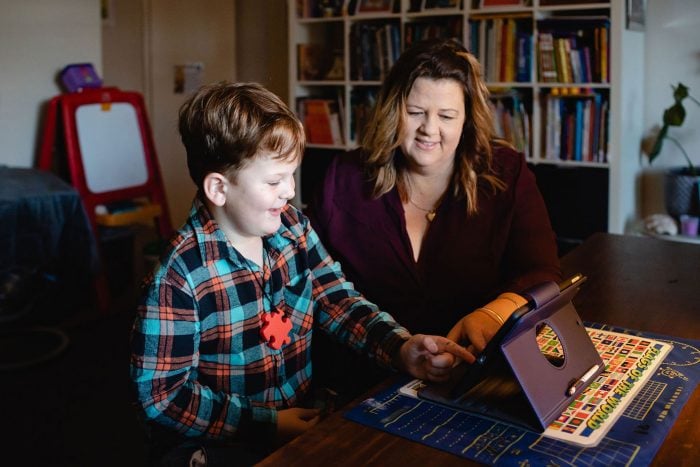 Busselton local Narelle Newbold received an iPad for her son Cody, who has Autism. Narelle said that teletherapy has helped keep a familiar routine for Cody and gives him something to look forward to.
"I've found it important to keep things as normal as possible during the coronavirus outbreak, and for Cody, that means continuing his therapy sessions – even if it's in a different format."
"Cody loves his therapists and is really excited to see and talk to them, even if it's not in person."
"The iPad has come at a wonderful time, as the old Samsung he was using for sessions had been glitching and has since stopped working. He is thrilled with his new iPad, and we're so grateful for the donation."
Therapy Focus is also supporting people to access iPads, laptops and other low-cost Assistive Technology items through the NDIS so that they can access teletherapy services and other supports. This is following the National Disability Insurance Agency temporarily broadening criteria for purchasing low-cost Assistive Technology items using NDIS funding.
Access teletherapy services