Aged Care Services
For people aged 65+
Access comprehensive therapy and continence management services for people aged 65 and over
We're here to help
At Therapy Focus, we believe every person's journey should be extraordinary. Our comprehensive assessment and support services help people aged 65 and over maintain their independence and do the things they love in life.
Our experienced healthcare professionals deliver evidence-based services and support plans that can help you achieve a better quality of life. Services are tailored to your unique needs can be provided in the comfort of your own home, in care facilities or from our offices across Perth and in the South West. We also travel to regional and remote areas, including the Wheatbelt and Great Southern.
Occupational Therapy
Live life to the fullest with support to ensure you can complete daily tasks and do the things that are important to you.

Physiotherapy
Maintain and improve your movement and mobility to maximise your functional wellbeing.

Assistive Technology
Prescription of assistive technology, aids and equipment that can maintain and improve your independence and safety.

Home Modifications
Advice and support to improve the safety, accessibility and comfort of your home.

Dietetics
Make healthier choices and nourish your body with advice and support for diet and nutrition.

Psychology
Confidential support for any social, emotional and mental health difficulties you may be experiencing.

Continence Management
Continence assessment and management services for older adults.
Speech Pathology
Access support if you have difficulty communicating or swallowing.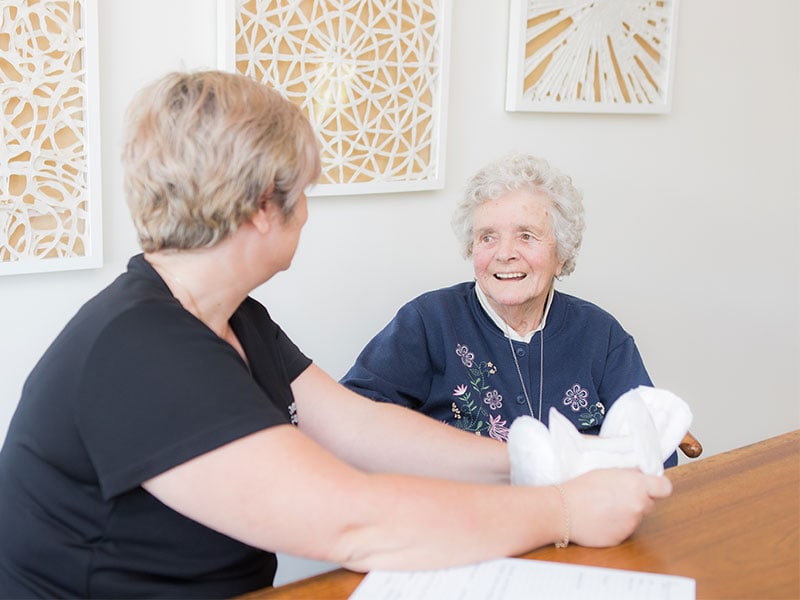 Our Bladder and Bowel Health Team provide the best in continence care. Services include bladder and bowel health assessment, continence management strategies, incontinence product information and subsidy scheme access, and education and training.

Home Care Package & Short Term Restorative Care
Contact us to request a referral form to complete and send back to us.

Commonwealth Home Support Programme (CHSP)
Request a referral via the My Aged Care website. Simple search Therapy Focus on the Find a Provider page.

Private purchase
Not eligible for government funding? Want to access extra support? Our services can be purchased privately for a fee.
Start your journey today
For more information about our aged care services or to request a referral, contact our friendly team on 1300 135 373 or complete a short form via the link below.