Publications
Take a look at our Annual Reports, Newsletters, Strategic Plan and more.
Our Audited
Financial Statements
InFocus Newsletters
Production of our InFocus Newsletter ceased in 2022 in an effort to reduce our impact on the environment. You can still keep up with the latest happenings at Therapy Focus by signing up for our quarterly e-newsletter.
Sign up to receive our e-newsletter
Click on the links below to view past editions:
Want to feature an item? Email [email protected].
Reflect Reconciliation Action Plan
Our Reflect Reconciliation Action Plan (RAP) represents our commitment to recognising Aboriginal and Torres Strait Islander peoples as the First Peoples of Australia, and our hopes for a better and more inclusive country.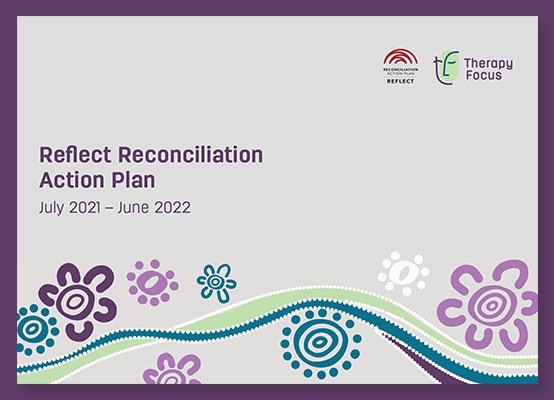 2020-23 Strategic Plan
Our 2020-23 Strategic Plan was developed  in consultation with our therapy teams, with each creating a three-year plan for continual growth and improvement that reflects the communities they work within. These individual plans detail projects and deliverables that will help us meet our strategic objectives, which are:
Achieve customer-led growth and innovation
Become an employer of choice
Grow and diversify services
Ensure commercial security and sustainability
Our teams will need support to realise their aspirations, and so our support hubs have also created individual plans. Together, as one, we have a map. The importance of such alignment is simple; this plan will benefit current and future customers, and the people who form their support network.