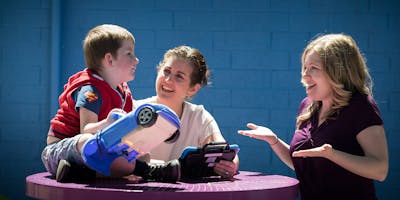 It Takes Two to Talk is an evidenced based program developed by the Hanen Centre that helps parents learn practical strategies to help their child (aged 0-5) communicate and interact during everyday routines and activities.
What are the benefits of taking part in the program?

Learn practical strategies to use in everyday situations to help your child's development
Participate in supportive group workshops to practise strategies and share information
Connect with other parents in similar situations
What does the program include?
A pre-program consultation with a Hanen certified Speech Pathologist
6 x three hour group sessions for parents run by Hanen certified Speech Pathologists
2 x home visit sessions with you and your child where the Speech Pathologist take video of you practising strategies
Individualised goal setting for your child and a record of their progress
Resources and plans from each session
What will I learn?
How your child communicates currently and the next steps to take
What motivates your child to communicate
How to engage your child in back and forth conversations, even before they can talk
How to turn everyday activities into opportunities for your child to learn language
How to fine-tune what you say so your child can understand you and learn new words and ideas
Program schedule:
Pre-program home visits will be scheduled between 22 April – 3 May.
Group session 1: Thursday 9 May 9:30-12:30
Group session 2: Thursday 16 May 9:30-12:00

Home visit: Week commencing 20 May
Group session 3: Thursday 30 May 9:30-12:30
Group session 4: Thursday 6 June 9:30-12:30
Home visit: Week commencing 10 June
Group session 5: Thursday 20 June 9:30-12:00
Group session 6: Thursday 27 June 9:30-12:30
How much does the program cost?
The program uses 11 hours of funding. The cost may vary depending on funding source (i.e. NDIS, WA NDIS or State Government Disability Services). The program can also be purchased privately. For more information and a customised quote, contact us using the information below. 

How do I register?
Click on the green 'register' button to register your interest in attending this course. A member of our team will then be in touch to confirm your apyment method and schedule your pre-program home visit. 
For more information contact our Bassendean Team on 9376 9500 or email marisa.dilorenzo@therapyfocus.org.au