Positive Behaviour Support
We help individuals and families address behaviours of concern. 
What is Positive Behaviour Support?
Positive Behaviour Support is an evidence-based approach our therapists use to support children and adults who display behaviours of concern. It is also used to help families and support networks respond more effectively to individuals who display these behaviours.
The first step in Positive Behaviour Support is to identify why the behaviours of concern are occurring. Once we understand what a person is trying to tell us through their behaviour, we can develop strategies to better support them. These strategies might include making changes to the person's environment (e.g. home, school, work) so that it meets their needs, changing the way others interact and/or communicate with the person, teaching the person new skills or helping meet their needs (e.g. sensory needs). 
But what are behaviours of concern?
Behaviours of concern are persistent behaviours that affect the safety of an individual and/or the people around them. It also refers to behaviours that limit a person's ability to access the community or go about their daily lives. 
Behaviours of concern is often complex, erratic, unpredictable, and difficult to work with and/or control. These behaviours usually occur when a person's needs are not being met by their environment and impacts their quality of life.  It is important to note that many behaviours people consider challenging are usually age appropriate behaviours. For example, a 3 year-old not being able to wait their turn or share. 
Our Behaviour Support Services
At Therapy Focus, some of our therapists specialise in positive behaviour support. These therapists work with individuals, families, support networks, education staff and other health professionals to identify why behaviours of concern are occurring, and provide strategies to manage and prevent the behaviours.  
Our behaviour support specialists work as part of our transdisciplinary therapy teams, helping people living with disability address challenges and achieve their goals. Services are tailored to the unique needs of each individual and can be provided at home, at school, in our offices, in community settings or online via teletherapy. 
Ready to start your therapy journey? 
Apply online now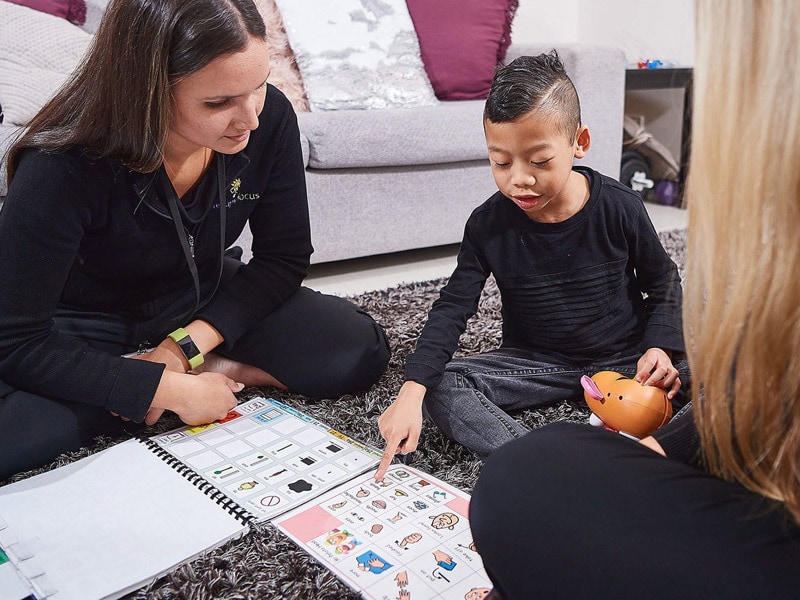 How we can help
Examples of behaviours that our therapists can provide support for include: 
Refusing to do things or cooperate

 

Running away

 

Fighting with siblings/parents/family members

 

Spitting or faecal (poo) smearing

 

Aggression and violence

Harming others

 

Withdrawal

 

Self-harm

 and s

uicidal behaviour

 
How we work
We take a transdisciplinary approach to service delivery and use a Key Worker model to ensure the people we work with have one main contact, but access to a network of therapists.