The Benefits of Teletherapy
What is teletherapy
Teletherapy may also be referred to as telehealth or remote therapy. Essentially it means providing therapy online using devices such as phones, tablets and computers. Instead of meeting in-person, your therapist will telephone or video call you to carry out a therapy session.
What does teletherapy look like?
Teletherapy is mostly the same as what you might do with your therapist face-to-face – you're just not in the same room. Below are some examples of things your therapist might do in a teletherapy session:
Provide you with therapy strategies
Watch you / your child do things
Provide activities and instructions
Give demonstrations
Complete assessments
Create a home program together
Use a range of online tools to support you with your goals
Physical therapy cannot take place during teletherapy, as your therapist cannot physically touch you. But our team is very good at thinking outside the box and will suggest creative solutions for therapy or activities that need physical touch. This might mean getting help from family members – remember to practice good hygiene.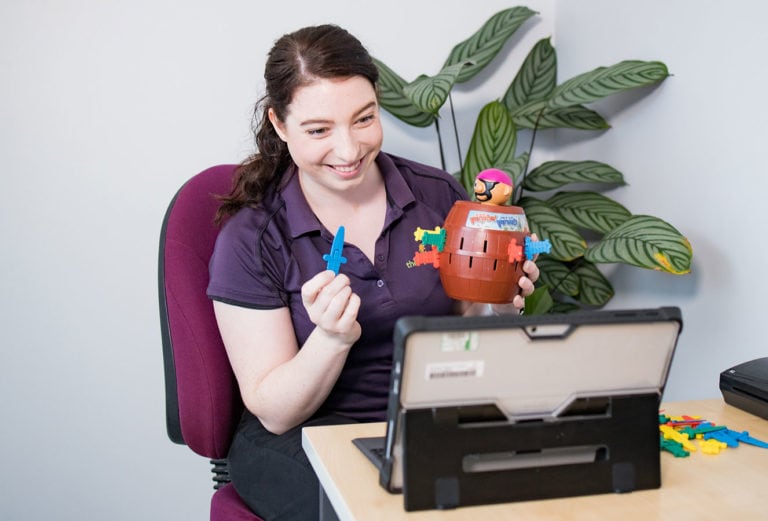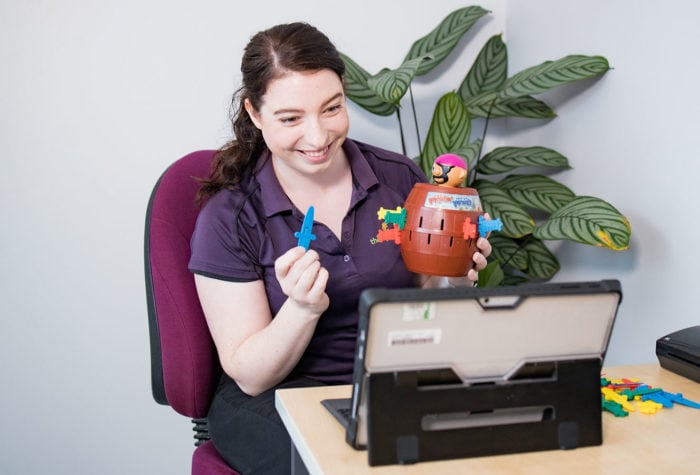 The benefits of teletherapy
While we would like to be visiting our customers and providing therapy in their homes, schools and community locations, there are many benefits to teletherapy.
Therapist availability
As teletherapy does not require our therapists to travel to appointments, you can access therapists beyond your local office. Less travel = more therapy! Teletherapy allows greater flexibility in appointment times, with some evening appointments available where possible. There is also time for more regular sessions through teletherapy – you could have multiple sessions per week if you like.
Teletherapy is a great way to check in with your therapy team, let them know how you're going and make real progress on goals. If you would like to access additional sessions, or if you need support for an urgent issue that has come up, contact your therapist to book an appointment.
Easier scheduling
With many families self-isolating at home, there may be more time in the day for therapy. Scheduling appointments with your therapist is easier when you are in one place and not attending school or work.
Contactless connection
Practising social distancing is one of the most effective ways to stay safe during the coronavirus outbreak. But we know it can be challenging to go without regular meaningful connection with other people. Teletherapy allows you to connect, see and hear your therapists, who can support you during these isolating times.
Connect with us
To protect the health and safety of our staff and customers, we're delivering therapy services online and over the phone via teletherapy. If you would like to access teletherapy, speak to your Key Worker or therapy team.