A Day in the Life of a Physiotherapist
What does a Physiotherapist do?
We asked Therapy Focus Senior Physiotherapist, Katherine Hayward to tell us about a recent day at work.
9:00 – 9:30 am
I arrive at Therapy Focus' Ellenbrook office to start my working day and say hi to my colleagues with a takeaway flat white in hand. I check my emails and prepare for my morning sessions. This involves looking at previous clinical notes and scouting our resource cupboard for fun and engaging toys and resources for the therapy sessions.
9:30 – 11.30 am
I help setup and run our developmental playgroup called "Kids Club" with my speech pathologist colleague. This group targets early language, gross motor, fine motor, attention, and play skills in children aged 1-4 years old. We have fun setting up the room for this week's theme, which is 'The Very Hungry Caterpillar!'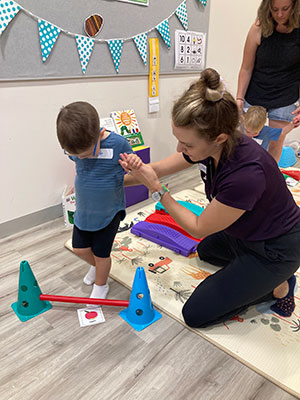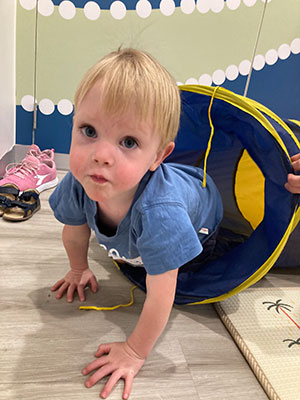 11:30 – 12:00 pm
I help pack away the resources from our group and write up clinical notes from the session.
12:00 – 1:00 pm
I head to our lunchroom to eat with my colleagues. Today I have chicken pie leftovers to enjoy- yum! We compare lunches, chat about a bit of everything, but usually it's the TV shows we're watching. at 12:30 pm I jump in my Therapy Focus fleet car, checking I have my swimming bag before driving to my next appointment. I like to listen to old-school dance/pop tunes on the way to my next visit.
1:00 – 2:00 pm
My next appointment is a hydrotherapy session with 14-year-old Grace, who has cerebral palsy. Before we hop in the pool I check how her new hoist sling and wheelchair modifications are going, as I helped attain NDIS funding for these items. I get changed and help Grace into the pool using a ceiling hoist and assistance from the amazing swimming teachers at the education support school where the session is being held. We run through Grace's hydrotherapy program, which involves strengthening exercises and 'water walking'. These exercises are aimed at helping Grace achieve her goal of increasing the distance she can walk (on land) using her walker. I playfully tease her not to wet my hair with the splashes from her exercises, and we have lots of fun.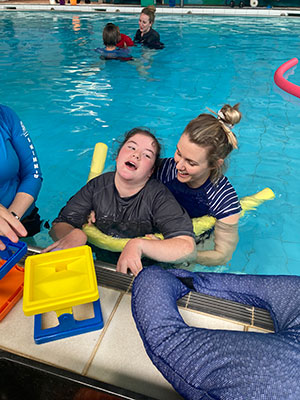 2:00 – 3:00 pm
I drive back to the office to do some admin, which includes writing clinical notes. I prepare for my next appointment by collecting resources, then get back on the road and head to a home visit.
3:00 – 3:45 pm
My next appointment is an after-school session with a fun-loving 5-year-old girl named Imogen, who also has cerebral palsy. We trial a pair of spiral thigh braces from the trial kits Therapy Focus has available to see if they will support Imogen's goal of walking with fewer trips and falls. We play some games that encourage muscle strengthening around the hip whilst wearing the brace.
4:00 – 5:00 pm
My final appointment of the day is a clinic session back at Ellenbrook office with 22-year-old Navnish, who has Spina Bifida. We complete a six-minute walking test to monitor his mobility, then run through his strengthening program which focuses on balance and general strengthening to improve his endurance. Whilst completing the program we listen to Navnish's favourite Bollywood music playlist and he is very patient with me as I practice my Bollywood dance moves!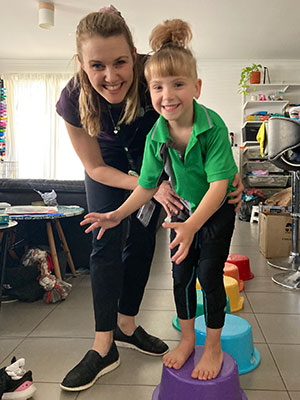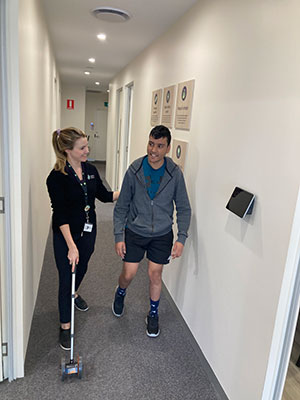 Careers at Therapy Focus
Want to work with talented and experienced physiotherapists like Katherine? Learn more about careers at Therapy Focus and see our current vacancies.