A day in the life of a Physiotherapist
What does a Physiotherapist do? We asked Therapy Focus Physio, Jordan Hitch to tell us about a recent day at work.
8:30am – 9:00am
I arrive at Therapy Focus' Cockburn office to finish a Therapy Service Summary document. The document informs the National Disability Insurance Agency (NDIA) what I have been working on with a customer who is a participant in the National Disability Insurance Scheme (NDIS) over the past six months. I reflect on the activities we did to develop his high-level dynamic balance (for tasks which requires greater than average balance capabilities) and mark his goal of walking up 5 steps safely while carrying a small box as complete.
9:00am – 10:00am
I head over to South Lake Primary School, which is just around the corner from the office. I meet an 8 year-old boy I've been working with who has cerebral palsy. As we are warming up I ask about his recent trip to Busselton with his family and he tells me about playing at the beach with his brothers. During the session, we practice getting around the school yard in his walker, working on achieving greater distances before he needs to rest. We also practice throwing objects onto the lawn and leaning forwards to collect them again, as this is his favourite activity to develop his trunk strength.
10:00am – 10:30am
I hop in the car and head down to our Kwinana office. I do a lot of driving so I have always have a favourite playlist, podcast or audiobook handy. This time I choose to listen an audiobook called 'The Science of Storytelling' by Will Storr and think about how I can make some of my stories more engaging for different audiences.
10:30am – 11:30am
I arrive at the Kwinana office and say a quick hello to the admin staff and therapists. Kwinana is a busy office and I see a few of my colleagues darting into therapy rooms for speech and physiotherapy appointments. I grab one of the available desks and begin an equipment application for a customer with Spina Bifida who needs a new slide board. I work on the application, attaching photos, assessment evidence and a quote obtained from a supplier, before sending it off to our Assistive Technology Team for approval. The specialist team will review the application to ensure I have met all criteria before sending it to the NDIA for consideration.
11:30am – 12:00pm
I quickly head into the lunch room to grab an early lunch. Today's lunch is chicken salad, which I eat while listening to my colleague tell me a funny story about a terrible date he went on. I finish up lunch and then go find a psychologist colleague who I will be facilitating a therapy session with.
12:00pm – 1:00pm
We arrive at the Kwinana Community Gym and find our shared customer warming up on the treadmill. Our customer has mental health disorders, including schizophrenia and depression. While my psych colleague checks in with him, I review his exercise diary and consider what changes I might make today to further improve his health and work towards his goal of losing weight. We work collaboratively in the gym and make improvements in several weights including leg press, tricep dips and seated rows. The customer is happy with his recent progress and we conclude the session with a discussion about how he feels calmer and more in control on days that he has exercised.
1:00pm – 1:30pm
I jump in the car and head back to the Cockburn office for my next appointment. This time I listen to the Squiz Today podcast, which is short summary of the news in the past 24 hours.
1:30pm – 2:30pm
My next appointment is at a group home with two brothers. Both had a stroke many years ago and now use powered wheelchairs to get around. I have received a handover from an occupational therapist in our therapy team, who wants me to observe the brothers using a standing hoist due to concerns that they might need more supportive equipment. I assess them using the standing hoist and note how they rely heavily on the hoist to move them from sitting to standing. After a few attempts to correct the transfer, which are unsuccessful, we all speak about the options for trialling different equipment. We decide to trial a full hoist, which I will need to arrange with a supplier as soon as possible.
2:30pm – 3:00pm
I drive to Cockburn ARC, a community leisure centre which is also home to the Fremantle Dockers AFL team. On the way over I listen to one of my playlists.
3:30pm – 4:30pm
My final session for the day is with a 13 year-old boy with cerebral palsy. I meet his mum and his two support workers at the hydrotherapy pool and we all change and head into the water. We lower my customer into the water using the ceiling hoist. When we are all safely in the pool I start a stretching program, demonstrating to his mum and support workers how to best move his body for pain relief and to offload sore joints. At the end of the session we play games, pretending to splash one another and practise assisted kicking.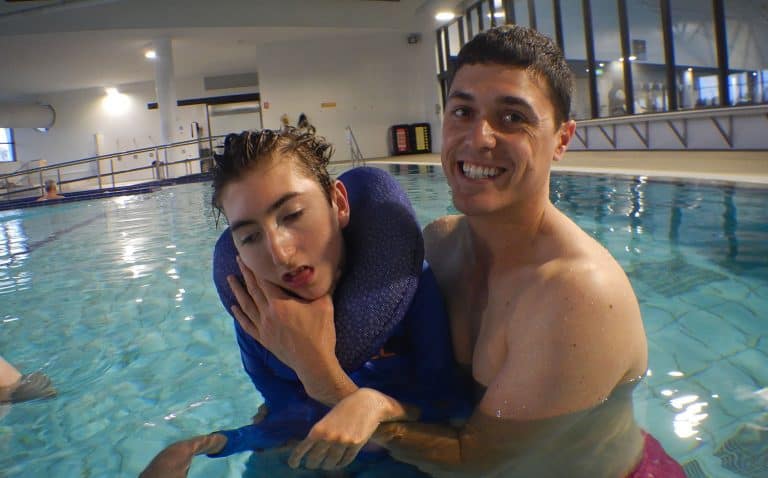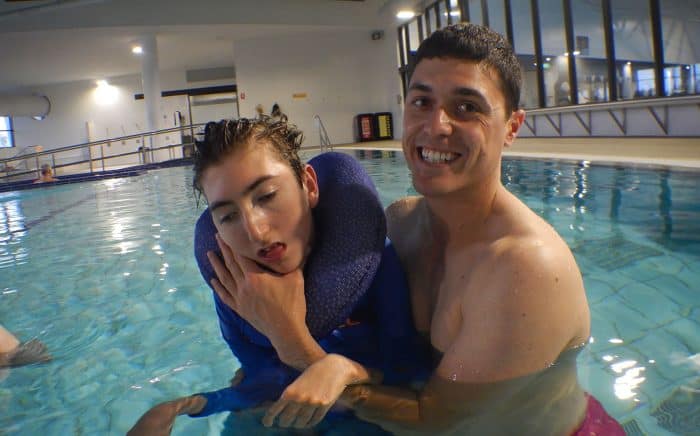 At Therapy Focus, our physiotherapists help people with disability maintain or improve their movement and mobility to maximise function and participation. Learn more about our physiotherapy services.
Careers at Therapy Focus
Want to work with amazing physio's like Jordan? Learn more about careers at Therapy Focus and view our current vacancies.