Support for people with swallowing difficulties
Speech pathologists study, diagnose and treat communication disorders, including stuttering and difficulties speaking and using voice. Because speech pathologists are so knowledgeable about the muscles in the mouth, tongue and neck, they are also well equipped to help people who experience swallowing difficulties – which is medically referred to as dysphagia.
What is dysphagia?
Dysphagia is a broad medical term used to describe difficulty swallowing. People with dysphagia may find chewing, drinking, sucking and managing saliva challenging.
Like breathing, swallowing is a reflex and is essential to everyday life. Humans swallow at least 500 times a day, around three times an hour during sleep, once per minute while awake and more often during meals.
Eating and drinking can be uncomfortable, stressful and even dangerous for a person with swallowing difficulties. If not appropriately managed, swallowing difficulties can result in life-threatening medical conditions, such as choking, poor nutrition, compromised chest health and dehydration.
An individual with dysphagia may not cope with certain types of food and drink. Dysphagia symptoms include coughing, gurgling voice and difficulty managing saliva. These symptoms can make eating and drinking in front of friends and family difficult and sometimes embarrassing, which can lead to anxiety, depression and social isolation.
The good news is that there are ways of eating and drinking that can reduce or remove these problems. This is when a speech pathologist might get involved.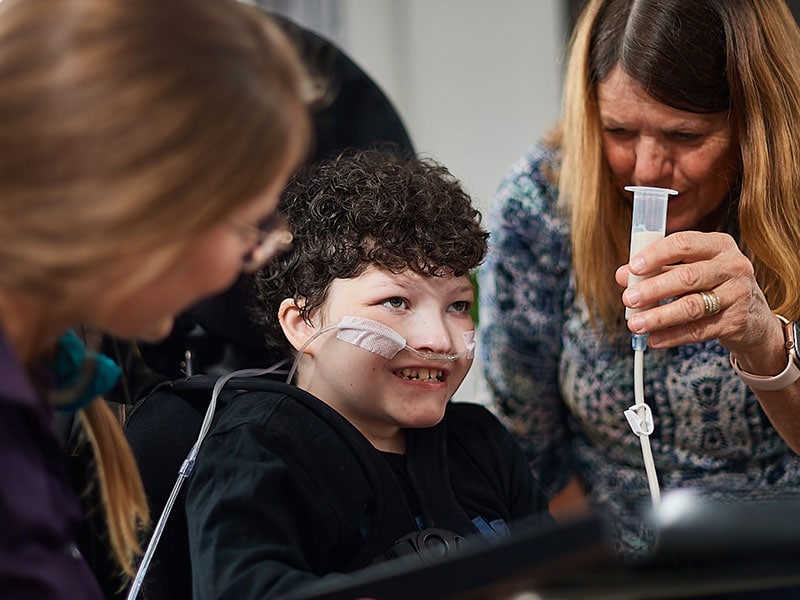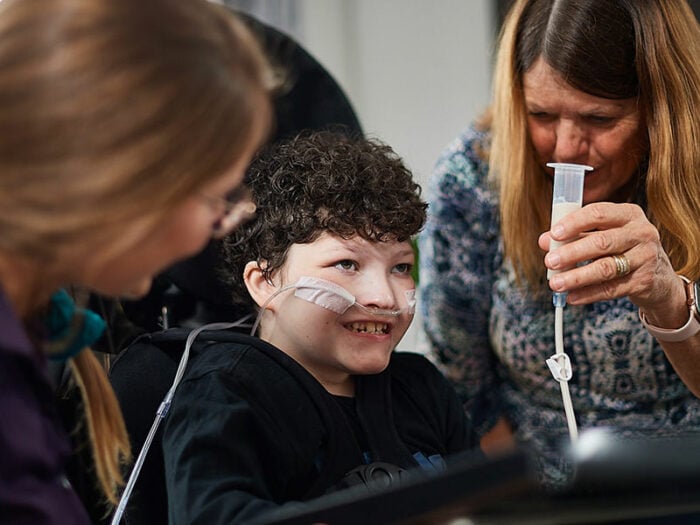 How does a speech pathologist help someone with dysphagia?
Speech pathologists can provide support to ensure that mealtimes are safe and enjoyable for children and adults who experience dysphagia.
As eating and drinking involves many parts of the body, speech pathologists often work alongside other therapists and health professionals to provide support to people with dysphagia. This may include working with general practitioners, occupational therapists, physiotherapists, dietitians and nurses.
At Therapy Focus, our speech pathologists work as part of multidisciplinary teams, sharing skills and expertise to ensure mealtimes are safe and enjoyable for children and adults with swallowing difficulties. Where extra support is required, our speech pathologists will refer individuals and families to our specialist mealtime management service.
When working with a person who experiences dysphagia, a speech pathologist will tailor their intervention to the unique needs of each individual. These can include the following approaches:
Mealtime observation and assessment
Before a speech pathologist can make recommendations, they will look at a person's current environment and how they eat and drink. This might include:
How they sit when they consume food and liquids
How they are putting food or drink into their mouth, or how they are being fed
The consistencies and textures of food and drink they consume
The environment in which they eat (e.g. are they sitting alone in the corner of the kitchen or are mealtimes a social occasion with other people around?)
By taking these factors into account, a speech pathologist can see the 'big picture'. This helps them decide which treatment strategies they might use and what other supports might be required.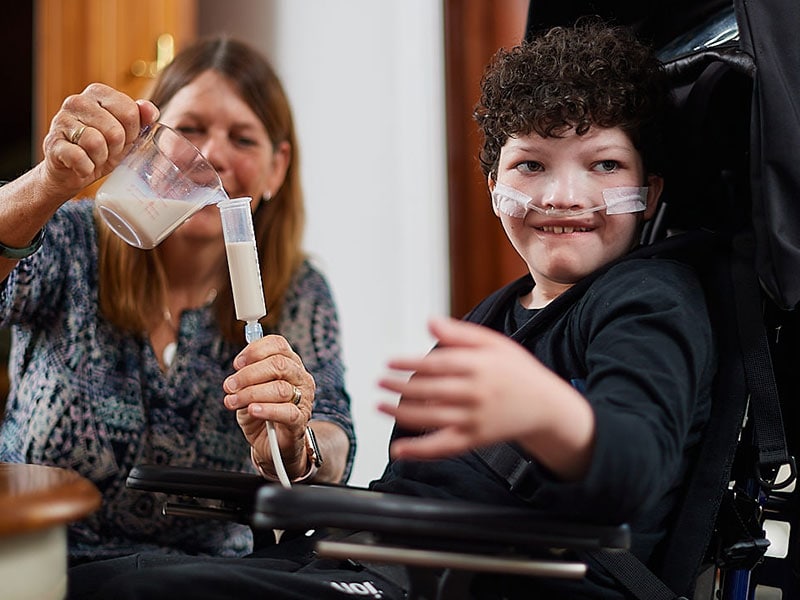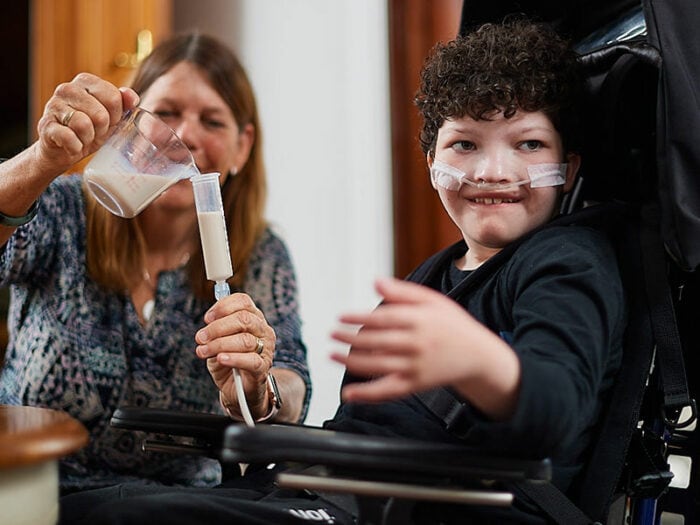 Treatment strategies for swallowing difficulties
There are several treatment strategies that a speech pathologist can use to help people with dysphagia.
One common strategy is to provide texture-modified foods and liquids of varying thicknesses (e.g. chopped, minced, pureed) to reduce the risk of choking or having food/drink enter the airway. Foods and drinks can vary hugely in terms of texture and consistency. A speech pathologist uses their extensive knowledge and experience to determine which textures and consistencies are suitable for people with dysphagia. They will also develop a mealtime management plan that follows the texture and consistency guidelines from ©The International Dysphagia Diet Standardisation Initiative 2019 (IDDSI) Framework.
Other strategies include helping a person develop or improve their oral movements, such as lip closure or tongue movement, or coaching them to take single sips of fluids or use a bottle teat with a slow flow rate.
Education and training 
In order to make mealtimes safe and stress-free, it is essential that parents, carers, families and support workers are well educated about swallowing difficulties. Miscommunication and lack of understanding around how and what to eat can be dangerous and, in some instances, fatal for people with dysphagia.
A speech pathologist can share advice and essential information with the people who support someone with dysphagia. They can provide recommendations for the foods and drink the person should consume and how it should be consumed. They can also demonstrate how foods and drinks vary in texture and consistency and how this can be modified.
Our speech pathology services can be accessed through a range of funding options. We can help you find out if you are eligible and provide information about the options available.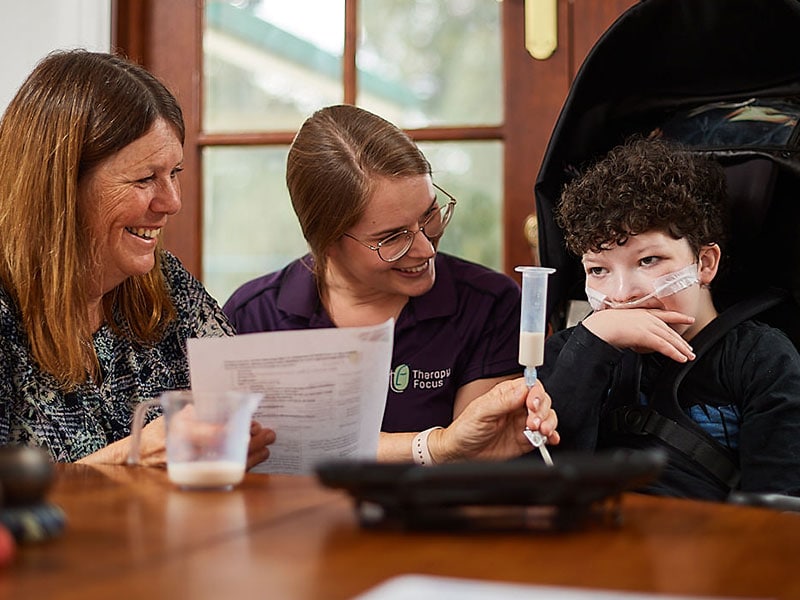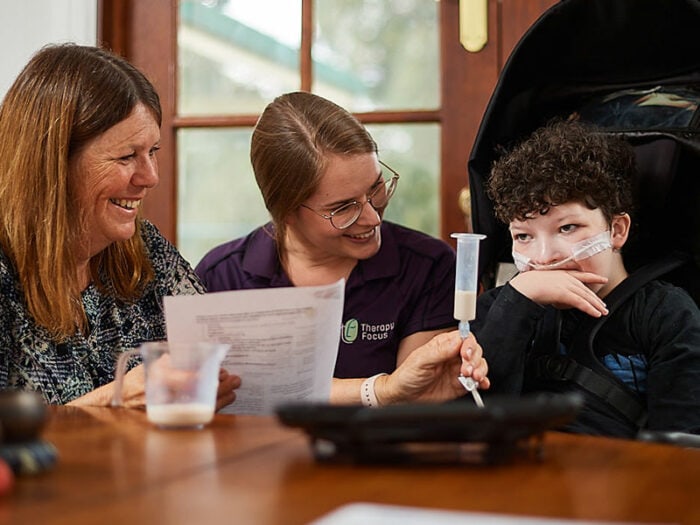 Perth speech pathology services
As Western Australia's leading provider of therapy services for people with disability, we employ around 60 speech pathologists who have extensive experience working with people who have swallowing difficulties. Learn more about our speech pathology services.
Our speech pathology services can be accessed through a range of funding options. Therapy Focus is a registered provider for the NDIS and our services can be purchased privately with some Medicare and private health rebates available.
Apply online or contact us on 1300 135 373 for more information.
Get support from a speechie
To access support from one of our experienced speech pathologists, apply online or call us on 1300 135 373.