A day in the life of a Speech Pathologist
What does a Speech Pathologist do? According to Therapy Focus Speech Pathologist, Caoibhe Flynn, no two days are the same, but she shares an insight into a recent working day in the following: 
8:30am – 9:00am
I arrive at the office and prepare for my day. I'm based at Therapy Focus' Bentley office so I see customers either in the office here at Bentley, at schools during term time, at daycare or in their home.
Preparing for my sessions includes reading through each customer's last session notes and therapy goals to make sure we are focusing on the right areas and building on the skills developed in our previous session. I gather resources and choose games/activities for each customer based on their therapy goals.
I also use this time to check in with my colleagues, respond to emails and make a lovely cup of coffee!
9:00am – 9:45am
My first customer is a 6-year-old boy with a diagnosis of Microcephaly, who I see at school. This little boy has significantly delayed speech and language. We are working on his ability to understand information and put his thoughts into words and sentences. We use play-based therapy to work on shared attention, turn-taking, willingness to engage socially with others, and modelling language.
I use key word sign and visual supports, along with speech when we are playing. This supports his understanding of the words I'm saying and ensures that he is fully immersed in language.
Today this little boy uses the key word sign for "more" independently for the first time! It's a great start to the day.
10:00am – 10:45am
My next visit is a joint visit with an occupational therapist colleague. We are going to a specialised education school to see a 5-year-old girl with Rett Syndrome. Our customer has little to no intentional movement and no verbal communication, and we are working to find a high-tech communication system that will suit her needs at home and school.
As an interim measure, I have set her up with a PODD communication book that she uses with Partner Assisted Visual scanning. This means that a communication partner sits with her and follows the direction of her eyes to interpret which symbol/message her eyes are pointing to. It's a tricky method of communication to master in a busy classroom, so today I spend some 1:1 time with the teacher to troubleshoot issues she has had with the book, as well as giving her feedback and advice as I watch her practice with my customer.
The occupational therapist and I then work together with our customer using toys with various switches to try and establish a reliable movement that she can use to access a communication device. It's difficult for this customer to touch a switch deliberately, so we also discussed the possibility of trialling an eye-gaze system for her.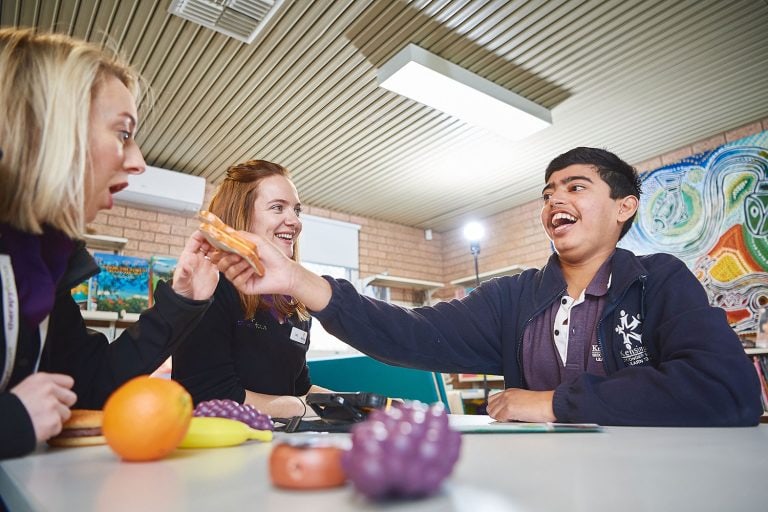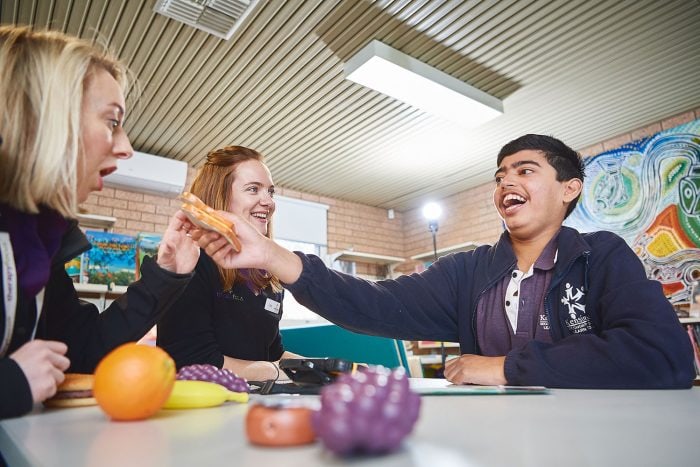 11:00am – 11:45am
I travel back to our Bentley office to see my next customer. She is a 9-year-old girl with Down Syndrome, and we are working on her speech and articulation. We go through some oro-motor exercises specifically aimed at achieving her target sounds. This includes putting Nutella on the roof of our mouths and reaching our tongues up to taste it! It's lots of fun – not to mention tasty too. We then practice the 't' sound in activities and games.
It's hard work for my customer, and she needs lots of praise and rewards to stay motivated. I use a visual timer and a reward chart with stickers to keep her focused. We have movement breaks on the crash mat to make sure she stays engaged with the task.
12:00pm – 12:30pm
I break for lunch in our Bentley office. Lunch is always a great time to catch up with colleagues. We all try to break at the same time so we can have some time together during our busy days.
12:45pm – 1:45pm
It's time to head back out for a mealtime assessment. Today I am seeing an adult customer who lives in supported accommodation. He recently suffered a stroke which has impacted on his ability to chew, as well as the movement in the right side of his body.
During the assessment, we trial different food consistencies and decide that my customer should eat minced and moist food until he has a videofluoroscopy (swallowing X-ray) for further analysis. I also gained the customer's consent to refer him to one of our dietitians to review his food intake, as he has told me that he has lost weight over the past 3 months.
We also trial some adaptive equipment as part of the assessment and decide that an angled spoon and scoop plate will support him to eat food independently and with minimal mess. I will complete an application to fund these equipment items, as well as the referral to the dietitian when I am back in the office.
2:00pm – 3:00pm
I head back to Bentley as it's time for my monthly catch up with my Clinical Supervisor. It's company policy that we meet monthly with both our Team Leader and our Clinical Supervisor. Although we work in a multidisciplinary team and support from each other daily, this structured supervision is a great time to talk about difficult situations and the sometimes tricky task of helping customers achieve their goals.
Today we talk about language assessments for higher-level language to use with some of my adolescent and adult customers. We also arrange a shadow session so my supervisor can watch me work with a customer who has complex needs and give me feedback and support.
3:00pm – 4:30pm
I have the afternoon to catch up in the office. I complete my notes for the days' appointments, catch up on emails, then complete the referrals for my customer who requires mealtime support.
Speech Pathology is a wonderfully varied role that allows you to care for people with a variety of challenges in a variety of settings. It calls on your skills to communicate, be creative, resourceful, friendly and caring. You also need to be organised and capable of problem-solving on the fly! Every day is a learning curve, but with a supportive team and consistent professional development opportunities, it is the most rewarding job out there!
Curious about speech pathology?
Our speech pathology services are available to people of all ages who have Autism Spectrum Disorder, intellectual, neurological and physical disabilities, as well as developmental delays.