A day in the life of a Dietitian
What does a dietitian do? Therapy Focus Dietitian, Claire Breen provides a glimpse into an average working day.
At Therapy Focus the workload of our dietitians is quite varied, so every day is very different. I work between our Bentley, Maddington and Armadale offices and mostly see clients at home or at their closest Therapy Focus office. I also work as a clinical supervisor for other dietitians and contribute to developing our dietetic service so that it can be the best it can be for our clients.
The following is an overview of a recent day at work:
8:00am – 9:00am
I arrive at the Bentley office to meet with a speech pathologist colleague who is referring 2 of her clients to our Dietetic Service. One of her clients has dysphagia, meaning that she has difficulty swallowing food and fluids. Her difficulties mean that she is fed through a tube that is inserted into her stomach. This client will need support from a dietitian to ensure she is receiving the nutrition she requires to grow and develop. I gather all the relevant information from the speech pathologist and we discuss making an appointment to complete an assessment.
The other client my colleague refers is a young boy who has Autism Spectrum Disorder. He is sensory averse to many foods and therefore his diet is very restricted. His family are concerned that he is not getting the nutrition he needs. A dietitian can support with improving his nutrition with foods he already eats, as well as providing strategies to support the client to eat a wider variety of foods.
9:00am – 9:30am
I use this time to check my emails and prepare for the sessions that I have booked for that day. Preparing for sessions might involve reading my last clinical note or preparing resources that we might use in the session. I always try to schedule some admin time for these tasks, as well as completing reports for clients, phone calls and writing notes. I then travel to the next appointment, which is at our Maddington office.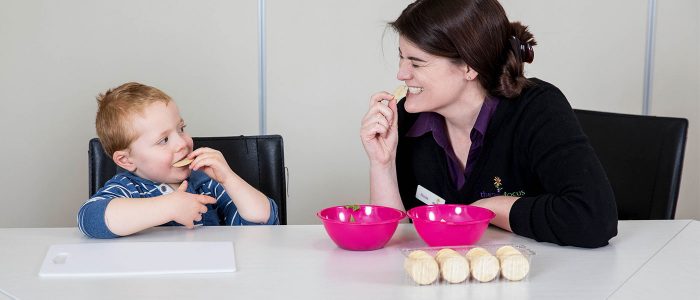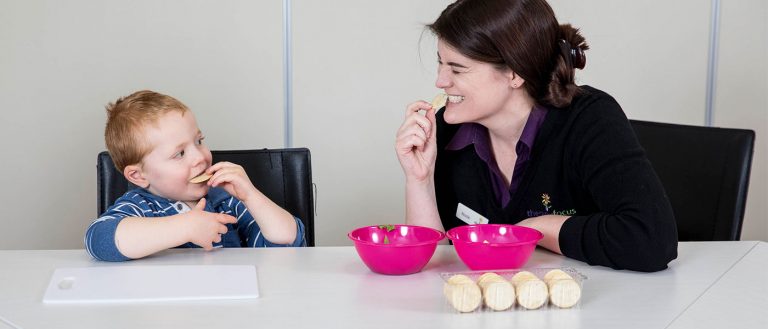 9:30am-10:30am
I am attending this appointment with a speech pathologist. We are seeing a young girl who has a Craniofacial Abnormality. This has affected her ability to chew and swallow different food textures and she has developed sensory aversions to touching and tasting slimy, wet foods. Her restricted diet means that it is difficult for her to receive all the nutrients she requires, as she avoids most fruit, vegetables and meat.
I have been supporting this client with ideas to improve her nutritional intake, however today we are doing a food play session based on the SOS Approach to Eating. We present her with 8 different foods and use play to desensitise her to different foods, whilst supporting her to develop skills for eating and drinking. It's a messy session, but we have so much fun! Our client does an amazing job sitting at the table, even touching a fruit and tasting a new type of cracker she had not tried before. We are very proud of her! 
11:00am  – 12:00pm
I have a little time before my next client arrives at the clinic, so I check my emails and complete some notes. This next client is new to the Dietetic Service at Therapy Focus and his parents are here for the initial nutritional assessment. This client has delayed feeding skills which are impacting his growth. Today I completed the first part of my assessment, which includes gathering information such as growth history, feeding history, medial history, the mealtime environment and a lot of other information that relates to his feeding and mealtime issues. It is important to look at mealtimes holistically – not just what a person is eating. I make another appointment to complete a mealtime observation, which is the next part of the dietetic assessment.
12:00pm – 12:30pm
Time for lunch! Lunch is always a great time to catch up with colleagues and see who is winning the Bachelor Fantasy League we have running at the office!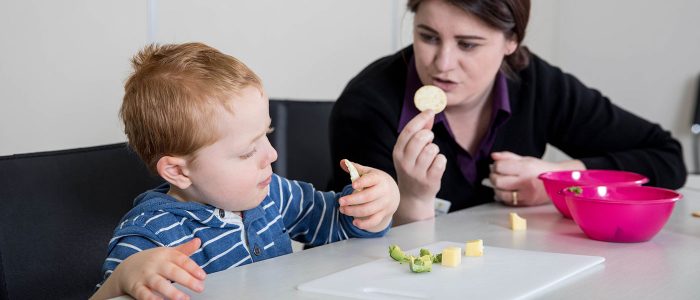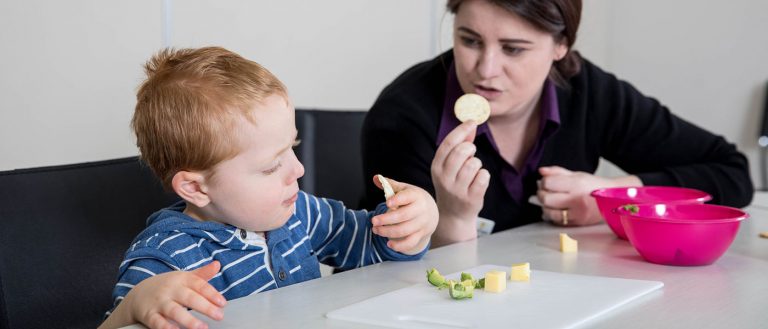 12:45pm – 1:45pm
My next appointment is at a client's home where I meet with him and his Mum. This client has Prader-Willi Syndrome, which is a rare genetic disorder that affects development and growth. People with Prader-Willi syndrome are driven to want to eat constantly because they never feel full (this is known as 'hyperphagia'), and they usually have trouble controlling their weight. Many complications of Prader-Willi syndrome are due to obesity.
For this client, we are developing a meal plan that will support him to mange his weight. Today we are focusing on options for lunch that he can take to work. We calculate the energy in foods he's already eating, as well as providing other options. This will support him to be more independent with his diet.
2:00pm – 3:00pm
When I get back to the office, I make a cup of tea and sit down to write a report for a client who is transitioning to the National Disability Insurance Scheme (NDIS). These reports outline what the clients' needs are, how we have been supporting the client so far, and our recommendations for further support. The client will use this report at their NDIS planning meeting to help them to get adequate funding in their plan so that they can achieve their goals.
3:00pm – 4:30pm
For the last part of this day I get to work on updating some of our resources. Today I am updating our texture modification handouts, so they are in line with the new International Dysphagia Diet Standardisation Initiative (IDDSI) Guidelines. These will be useful for clients with dysphagia who require their food and drinks to be modified so they can swallow safely. It can be difficult for these clients to know what foods they can and can't eat, so these resources will give them some meal ideas.
Working as a dietitian in the disability sector is a wonderfully varied role that always presents a new challenge. It is hugely rewarding to work with a passionate and supportive team to support our clients to achieve their goals.
Need support from a dietitian?
Our dietitians help manage and prevent poor nutrition by supporting people's dietary needs.