In Australia, trampolines are a popular backyard attraction.  Most people have bounced on a trampoline for enjoyment at least once in their life, but did you know that trampolines can also be used as a therapy tool?
They are great for developing core and gross motor skills, increasing vestibular and proprioceptive sensory input, provide a great opportunity for self-regulation and exercise, and can also provide a space to relax.
Who are trampolines best suited to?
Trampolines are for everyone, regardless of age. They are great for solo use or can be enjoyed by the whole family. Trampolines may be especially helpful for people with neuro-diverse needs, such as differing sensory needs, those on the Autism Spectrum, people with Attention Deficit Hyperactive Disorder (ADHD) and those who have mental health conditions such as anxiety. They are also for therapists! I love a good bounce on the backyard trampoline with my customers!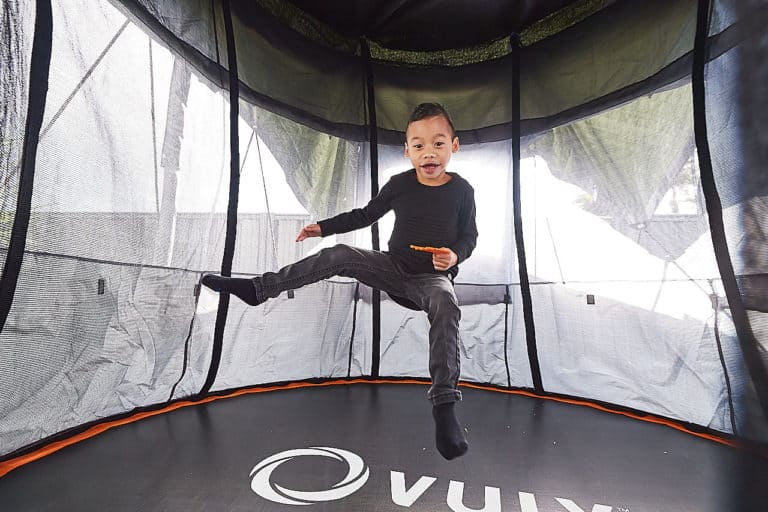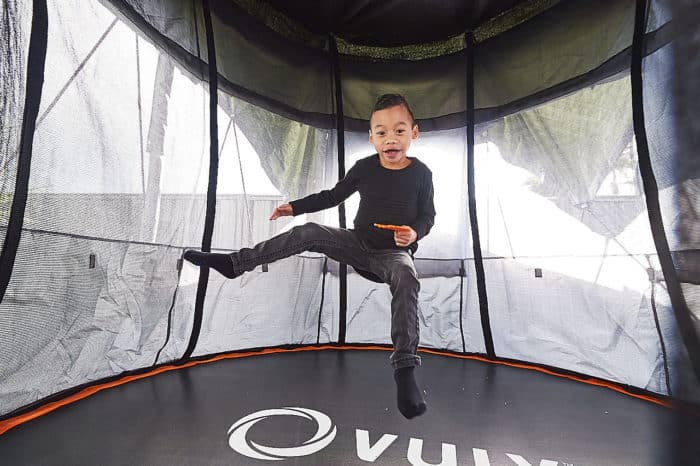 What are the benefits of bouncing on a trampoline?
Development of gross motor skills
Trampolines are great for general exercise and fitness and provide opportunities to develop core and gross motor skills. Bouncing encourages balance, coordination, and strength. The unstable surface is also great for developing the muscles in your feet and stimulate micro-movements that encourage overall postural stability.
Increases proprioceptive and vestibular function
Our proprioceptive and vestibular systems help us achieve smooth movements in our daily activities, such as running to kick a soccer ball, climbing on a playground, getting dressed in the morning, and even sitting upright at a desk for school or work.
The proprioceptive system helps us understand our body's position in space. This is achieved via feedback from our muscles and joints to our brain. The bouncing impact on a trampoline stimulates the muscles and joints, providing a great source of proprioceptive information to the brain.
Our vestibular system is important for understanding our head position in space and keeping us upright. The anti-gravity nature of jumping on a trampoline provides awesome input to our brain about our overall positioning. Flips, twists, and tumbles further challenge this system!
Provides opportunities for sensory regulation
We all have days where we might feel stressed, anxious, angry, overwhelmed or generally a bit "blurgh!". Some people find bouncing on a trampoline a good way to release these feelings through movement, as part of self-regulation. Many people can find it tricky to satisfy their sensory needs throughout the day. People who like to move their body, often seek out extra movement in their day to not only feel good but also regulate their nervous system so they can focus and attend to the things they need to do. Some children I work with really love to bounce on their trampoline before or after school, either to get energised for the day or to release extra energy or big feelings after the cognitive load that often comes with school.
Promotes feelings of happiness and joy
Jumping on a trampoline is great fun! Feel-good hormones called endorphins are released when we exercise, helping improve and promote mental health and wellbeing. Trampoline activities and bouncing with others is a great way to boost fun, laughter, and extra endorphins. If you're looking for some trampoline activity ideas to do as a family, check out the Bluey episode called 'Trampoline'. Sometimes a quick and fun bouncy game on the trampoline is the perfect movement break between tricky or challenging tasks such as homework.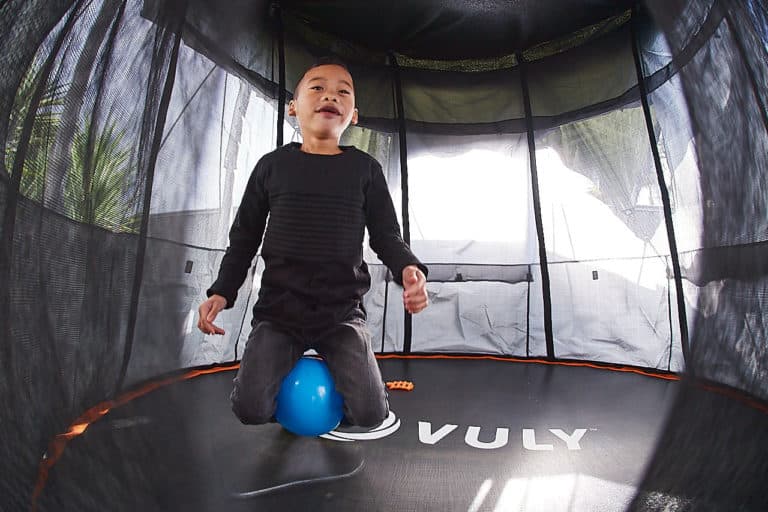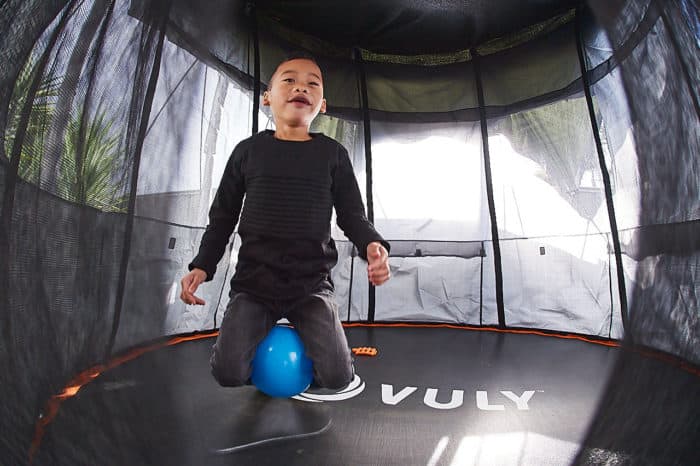 How to choose the right trampoline
Picking a trampoline can be tricky, ensuring you get the right size with all the required safety features can be a challenge.
Trampoline technology has vastly improved over the years, with trampoline manufacturers such as Vuly providing a great range of options with lots of safety features, including thick padding and safety nets – even the most avid 'trampoliner' will be safe. Vuly also offers other great outdoor play equipment such as kids bikes and beach trolleys. The options for fun are truly endless.
If you're still having trouble finding the right trampoline for you and your family, have a chat with your occupational therapist. They will be able to make recommendations based on your needs and incorporate the use of your trampoline in your daily routine and therapy goals.
Funding for trampolines
Whilst trampolines are a great therapy tool, unfortunately, they are not eligible for government funding through schemes such as the NDIS. However, Therapy Focus can help individuals and families seek alternative funding from a variety of charities and non-government organisations. Simply speak with your therapy team or contact us on 1300 135 373.
Achieve your goals
At Therapy Focus, our experienced occupational therapists work as part of multidisciplinary therapy teams, helping children and adults with disability achieve their goals.