Two teens with disability are learning to communicate with the world around them with ease and confidence thanks to adaptive devices called "switches".
Switches enable people with limited movement to engage with assistive technologies, such as voice output devices and powered wheelchairs. Switches can also help people with disability participate in a range of daily tasks such as using a computer, playing with toys, and using household appliances.
14-year-old Tylar has been working with Therapy Focus Occupational Therapist, Aleysha, to find a switch setup that suits her needs. Tylar is diagnosed with multiple conditions that affect her movement, so Aleysha recommended the use of a smoothie switch.
"The smoothie switch is well suited to Tylar's capabilities, as it only needs a gentle press to work and it bounces back, so Tylar can feel when she has pressed the switch," Aleysha said.
Aleysha said that an important part of switching is understanding 'cause and effect'.
"We first had to demonstrate to Tylar that when she presses the Smoothie switch, her iPad will play a tune. This understanding of cause and effect paves the way for more complicated actions, like turning a light on and off using a switch".
Another Therapy Focus customer, 16-year-old Muji, lives with cerebral palsy and uses a jelly bean style switch to operate her voice output device. A jelly bean switch, which vibrates and makes a sound when touched, is the best option for Muji as it suits her complex physical needs.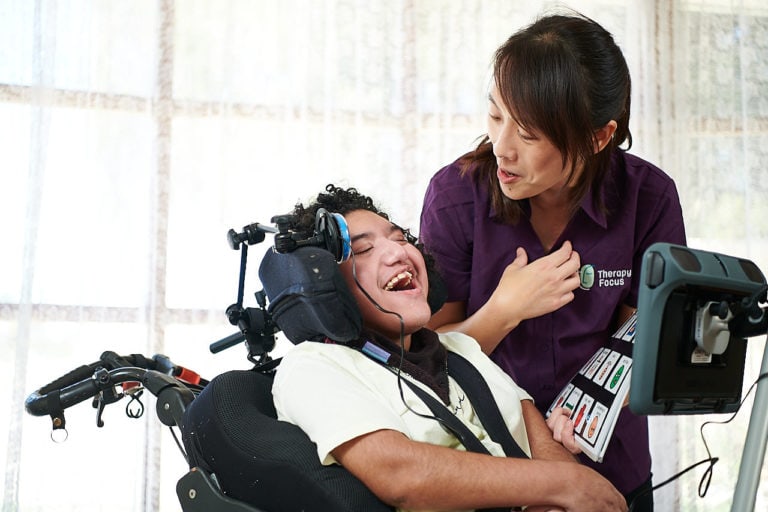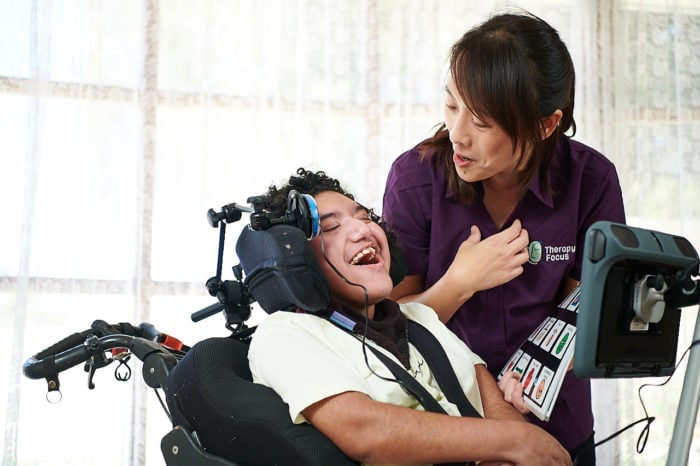 Advanced Speech Pathologist Ruyi Tong has been working with Muji for the past five years and has seen her achieve greater independence through switching.
"Before she was able to switch, Muji relied on a PODD book to communicate. She found this method really challenging, as it relied on other people setting up her PODD book and understanding her communication cues," Ruyi said.
"Now she uses a jellybean switch mounted to her wheelchair to operate her voice output device, which allows her to initiate conversations on her own."
Muji's Mum Nurul said that she had "never seen her so enthusiastic about talking and telling jokes".
"It has taken us almost three years to find a suitable talker, develop her switching skills and find a suitable switch and mount. The wait was worth it".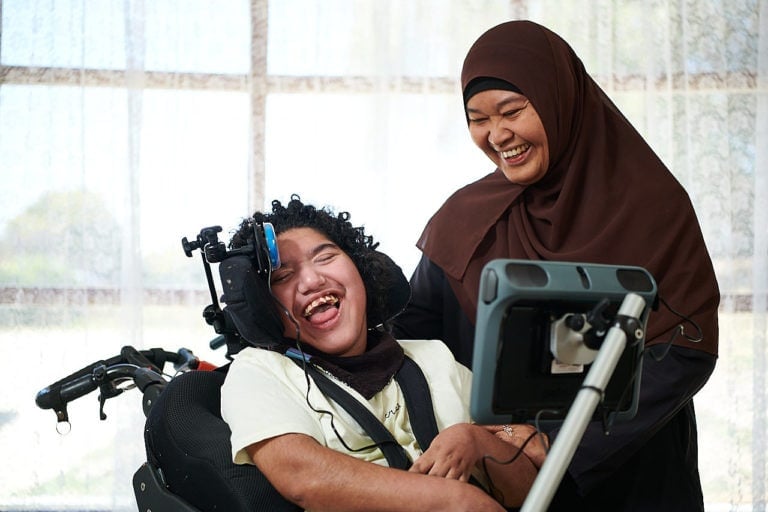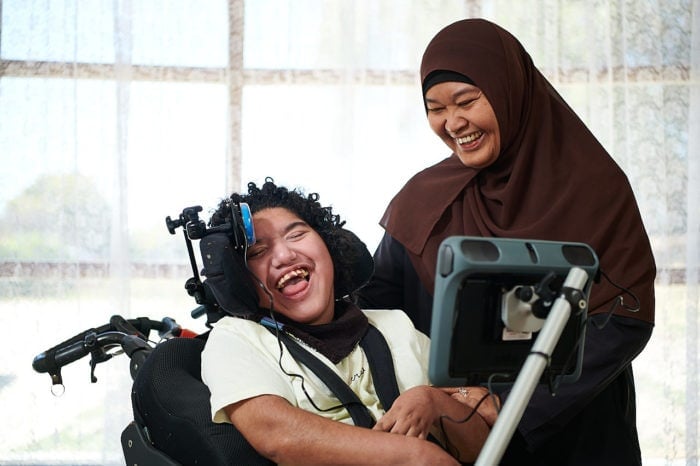 Do you have assistive technology needs?
At Therapy Focus our experienced therapists help people with disability access the assistive technology and equipment they need to live their best life.