Paul connects through the power of magnification
Listen to an audio recording of this article. 
51-year-old Paul Scortaioli is a happy fellow who loves to read the newspapers, enjoys looking at photos and keeping on top of his mail. However, Paul is profoundly Deaf and lives with blindness which makes these everyday tasks incredibly difficult without support.
A person with full vision can see approximately 95 degrees towards their ear and 60 degrees toward their nose, as shown in the diagram.  Paul only has 10 degrees of vision in one of his eyes.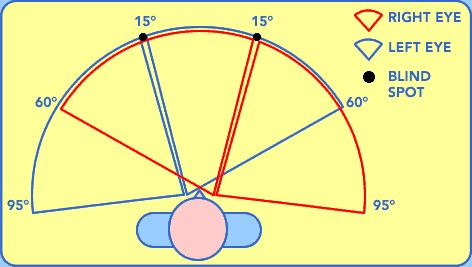 Therapy Focus' Senior Assistive Technology Consultant Aleysha Parker has been supporting Paul to access technology that will help him complete his everyday tasks, like reading.
"I have previously supported Paul to get an Explore 5 handheld magnifier for spot reading," Aleysha said.
This has helped Paul quickly read things like medicine packets and instructions but it's not enough for him to be able to read his newspapers.
"Paul's goal has been to read the newspaper so together we applied for the Large Topaz Desktop Magnifier, which is like a larger version of the handheld Explorer 5. After a bit of a wait, it was finally approved, ordered and set up last week" Aleysha shared.
"Paul can now comfortably read documents at 8x magnification in good colour contrast. He can read his mail, the newspaper and see pictures!"
Aleysha has also provided Paul with other things to make his life easier like:
New bilateral (both ears) hearing aids for environmental noise
A bellman system (wireless alert transmitter that vibrates when certain triggers, like the doorbell, are pressed)
Accessibility skills so he can use his iPad more easily
Training so he can access the community
This has enabled Paul to greatly increase his independence.
"I think the Topaz has just helped Paul understand the things that he is reading much more clearly. When he was using the small handheld magnifying glass he could only read little bits at a time. With the big one, he can read and understand much easier" Paul's sister AnneMaree shared.
"We're really excited because Paul will be attending the three-day National Deaf-Blind Conference and staying at the hotel all by himself. Which is something he wouldn't have been able to do without Aleysha's support and encouragement".
Now he can read and stay connected to what's going on in the world around him.
If you or someone you know is living with vision loss, contact us to learn about the services and supports that are available. Visit our Assistive Technology page.
Assistive Technology
We help people with disability access the assistive technology and equipment they need to live their best life.