Navigating human interactions with help from a robot
A small and rather cute robot is helping people with Autism Spectrum Disorder (ASD) and attention difficulties improve their learning and social skills.  
Therapy Focus has been exploring robot-assisted therapy for some time and recently started trialling a social robot programmed with interactive lessons that enhance therapy. The robot is connected to a tablet that a therapist uses to facilitate interactions with customers who have difficulties with social interactions.
Project Manager Kelvin Kong said that the social robot provides a level of consistency that humans can't offer.
"Every time a customer interacts with our social robot, they can expect consistent and non-judgemental communication. The interaction is not influenced by mood or other factors, as is often the case when humans are involved," Kelvin said.
"Consistent interaction is important for people living with ASD, as it supports learning and helps them feel safe in situations that may otherwise make them feel uncomfortable. And when people feel safe, they relax their stress response and can better focus on tasks."
Advanced Speech Pathologist Ruyi Tong is a member of the Social Robotics Project Team at Therapy Focus and clarified that the social robot does not replace human therapists, it simply supports 'traditional' therapy.
"The robot only works when it is programmed by a therapist. It requires us, as therapists, to identify the therapy goals its programs will target and support." Ruyi said.
"The magic only happens after the robot has been programmed. Unlike some 'traditional' therapy interventions, robot-assisted therapy is captivating for many customers, and when they are captivated they can engage in an activity for longer."
"Sustained, purposeful engagement provides the foundation for not only reinforcing an intended skill, but potentially enhancing skill acquisition as the session progresses."
Occupational Therapist Joshua Panelo has been trialling the social robot with a number of customers, including eight-year-old Cooper, who has made remarkable progress.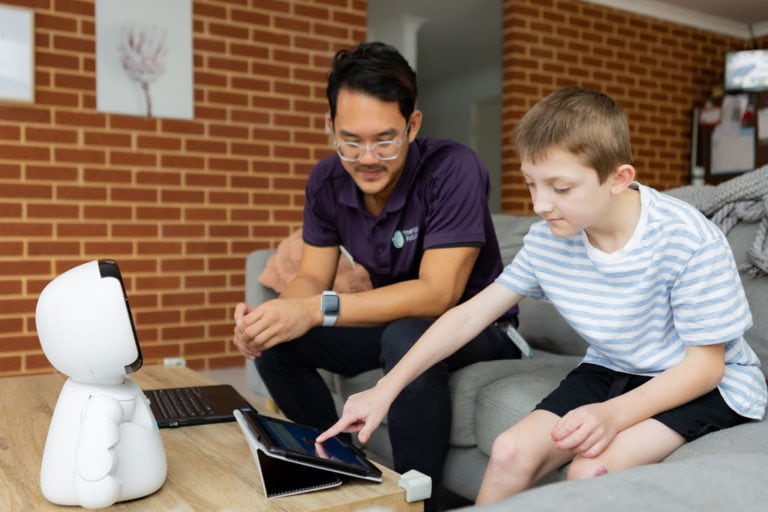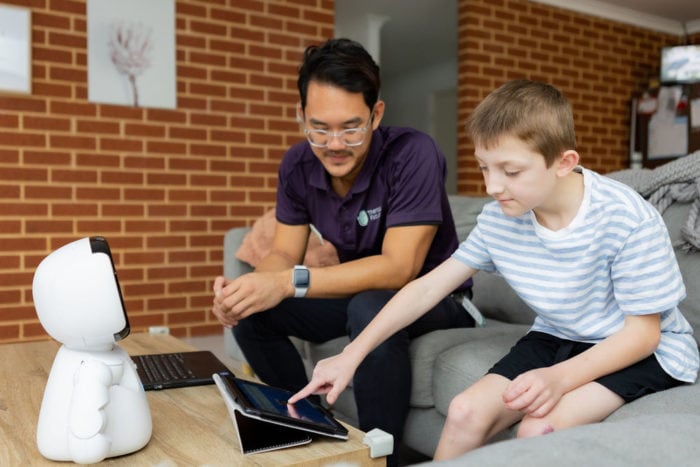 Pictured: Cooper (R) interacts with the social robot while Occupational Therapist Joshua (L) watches on.
"Cooper is fascinated with robots, so engaging with ours has been really exciting for him," Joshua said.
Cooper has learning difficulties and has been working with Joshua to improve his emotional regulation.
"Cooper is completing social and emotional tasks with the social robot, like matching feelings with descriptions. He is able to maintain focus on these tasks for a longer period with the social robot when compared to working with a therapist."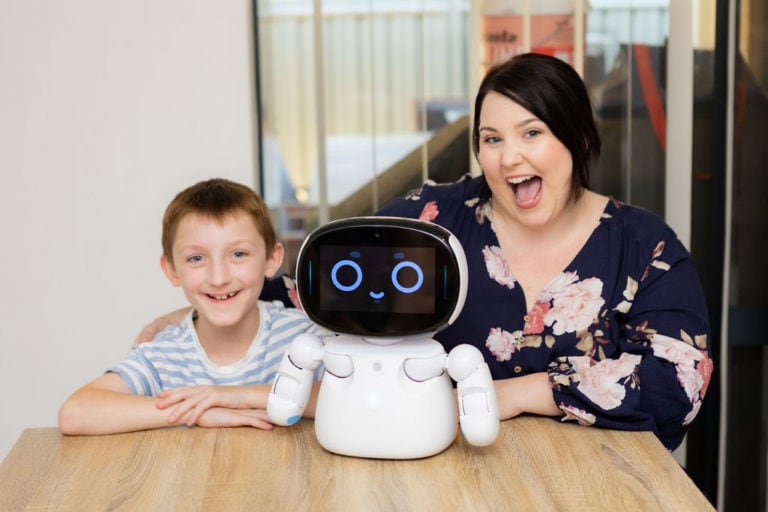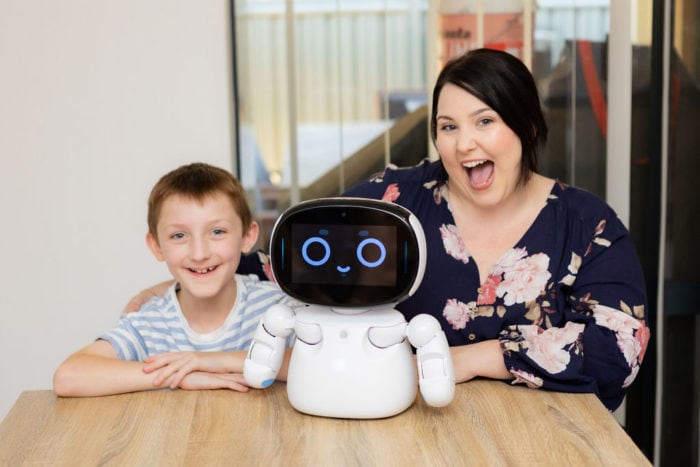 Pictured: Cooper (L) smiles next to the social robot and his mum Emma (R).
The future of social robots at Therapy Focus is looking promising as more customers begin to see the benefits of their use. Customers with ASD, learning and attention difficulties are seeing incredible results, which the team at Therapy Focus expect to keep improving as the robot-assisted intervention is further developed.
You can learn more about the program by contacting Therapy Focus on 1300 135 373.
Occupational Therapy
Our occupational therapists help children and adults with disability participate in everyday life.