International Women's Day #ChooseToChallenge Sundowner
On 8 March, Therapy Focus staff and guests came together at picturesque COAST Port Beach to celebrate International Women's Day. The #ChooseToChallenge Sundowner honoured the theme of this year's event, championing the achievements of women and encouraging attendees to challenge gender bias and inequality.
Guests were fortunate to hear from two incredible guest speakers, including AFL Executive and South Australian of the Year, Tanya Hosch, and author of Mercenary Mum, Neryl Joyce, who shared their inspirational stories and insights as women forging a path for others in their respective careers.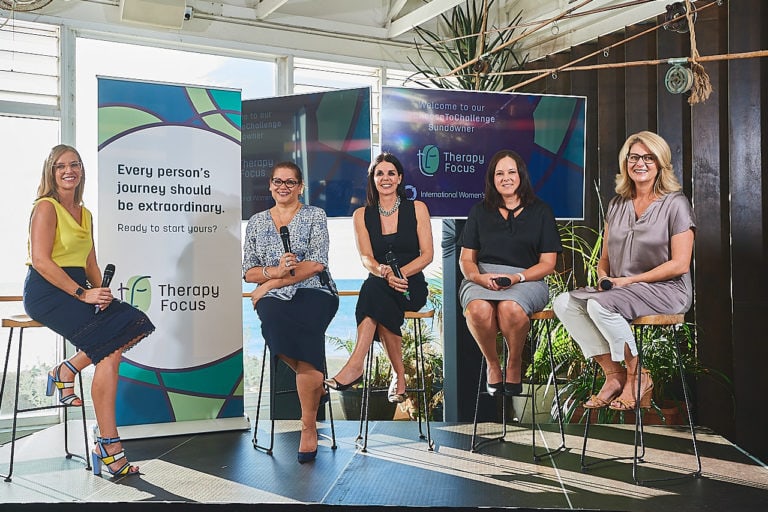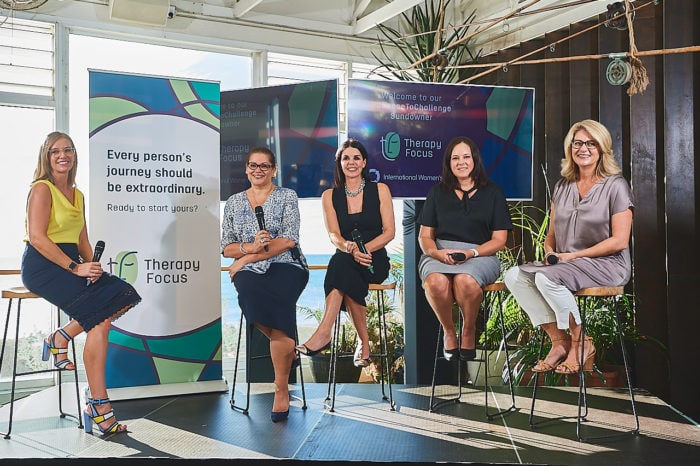 Pictured: (From left to right) Di Darmody, Tanya Hosch, Angelena Fixter, Neryl Joyce and Fiona Payne.
Tanya is the Executive General Manager of Inclusion and Social Policy at the Australian Football League and has a long and distinguished history in Aboriginal and Torres Strait Islander policy, advocacy, governance and fundraising. Tanya shared the "footpath" that led her to where she is today, telling guests that one of the most important lessons in life is to be authentic.
"So often when women are asked or encouraged to aspire to greatness, leadership or achievement, we are asked to do it in the model of someone we are not. But you can't sustain this and it's probably not very healthy to try to do that," Tanya said.
"The best I could be was the best version of me, and not try to be anyone else – because there is no end of people out there telling women what we should be and what successful women look like."
Tanya said that she strived to make the most of the opportunities afforded to her, despite the challenges that have come with being an aboriginal woman.
"I learnt a lot about how women are excluded from decision making and powerful decisions. I noticed it more so as an indigenous woman." Tanya stated.
"But I couldn't waste the opportunities I had. I didn't want to squander a single moment. I took it upon myself to be a professional disruptor – I chose to challenge."
Tanya concluded her presentation with the advice to be a collective and continue to ask the hard questions.
"As women, if we strive for collectiveness we will all be much better. Learning from each other and the different ways people go about challenging bias. Supporting others and younger women in particular has helped me have gratitude for what I have."
Second guest speaker, Neryl Joyce, joined the Australian Army and later moved into close protection work in Iraq with a private military company. Neryl shared the many challenges she endured as a woman in a male dominated industry, as well as juggling being a mother and focusing on her career.
"I loved being a mum but I still had professional ambitions and dreams that I wanted to follow."
Having suffered sexism and sexual assault by a colleague, and unable to bring her attacker to justice, Neryl explained how she put the experience behind her and vowed not to let her attacker win.
"I made the decision to stand up and fight on. I decided I would never let adversity stop me from living my life," she said.
"Being a hero on the battlefield is one thing, but being a hero for yourself and the people around you, well that's the only thing that will make the world a better place."
Alongside Tanya and Neryl, Therapy Focus CEO Angelena and Board Chair Fiona Payne shared their advice with guests, heralding women who have paved the path for equality in history.
"I truly believe that it is those women [in history] upon whose shoulders we now stand," Angelena said.
"They went to battle for our right to vote, to own property and to be heard. Now we need to live, protect and drive their legacy. We make a choice every single day to challenge, and when we do so, we challenge for all the women in the world."
Fiona echoed Angelena's sentiment, saying that she has a responsibility to speak up.
"I live a life of privilege. I had loads of opportunities and I have been so blessed. I understand that I have a responsibility to speak up and to support younger women," Fiona said.
"I also have a responsibility to influence the men in my life to be their very best selves. Men of integrity, empathy, strength and wisdom."
To end the evening, accomplished MC and presenter, Di Darmody facilitated a panel discussion with Tanya, Neryl, Angelena and Fiona which explored how individuals can challenge gender inequality, and how silence can be damaging or even dangerous.
For more information about International Women's Day visit internationalwomensday.com
Photo Gallery