Hayley Helps Out in the Kimberley
In early 2020, Therapy Focus Occupational Therapist Hayley Smith travelled to the Kimberley region to co-facilitate a school holiday program in Mowanjum Aboriginal Community with The Boab Network.
Hayley shares her experience below:
I have been volunteering with the Boab Network since my first year of university and have been up to the Kimberley a few times with the organisation. I also lived up there in 2015 while I wrote my honours thesis, which looked at the effect of Mowanjum's 0-4 years early learning program.
The School Holiday program that I co-facilitated this year aims to reduce the risk of youth suicide, which is sadly rather prevalent in the Kimberley region. Many of the program activities incorporated the theme of healthy living. Mornings typically included a health-focused activity, such as the Healthy Skin morning, which is co-facilitated by Health Promotion officers from Winun Ngari and Community Health Nurses from the Western Australian Country Health Service (WACHS). Skin sores are a significant issue in the Kimberley due to a high prevalence of Strep A often untreated or continually re-infected across the lifespan, which leads to Rheumatic Heart Disease.
We also held a "My Kitchen Rules" healthy cooking competition with the dietitian from Boab Health. Diet-related health issues, particularly diabetes leading to kidney failure and dialysis, is also a significant health concern in the community.
Going to Derby Pool in the afternoon was always very popular with community members, as temperatures were in the high 30's most days and even hotter because of the humidity. At the pool cooling down and engaging in fun physical activity appeared to help community members and volunteers alike to feel better.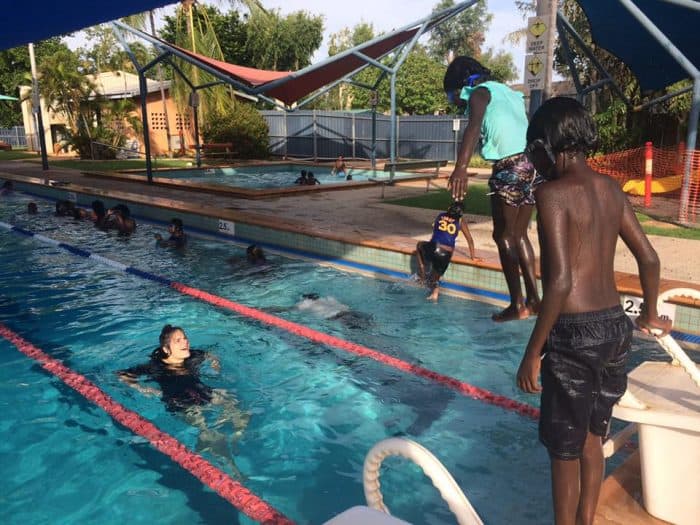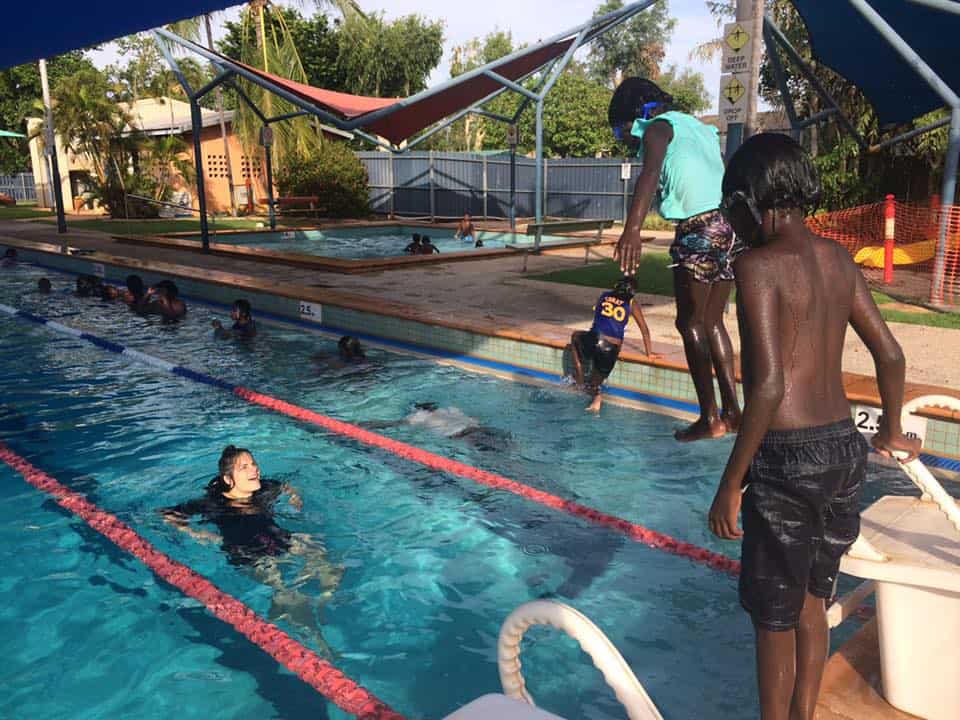 The itinerary for the program during the dry season (April/May to September) is slightly different, with "back to country" camping trips. These give the opportunity for Mowanjum families to return and reconnect with their traditional lands and share cultural stories with the next generations. It's also a week distanced from any pressures relating to drugs or alcohol.
Through such activities, there are opportunities to have informal conversations with the kids and their families to address subjects impacting them such as family violence, substance use and school attendance – and supporting families to identify and link in with the supports available to them.
It is a privilege to be connected with Mowanjum Community. We are so fortunate that the community has, over time, built a trusting relationship with The Boab Network. I feel incredibly fortunate to have been supported in this opportunity through Therapy Focus' volunteer leave to continue my connection with Mowanjum Aboriginal Community.
Supporting staff volunteering
Therapy Focus supports volunteering as an opportunity for staff to gain an understanding of how national and international organisations make a difference, and to provide these organisations with unpaid assistance across a range of diverse activities.