Celebrating the stars among us
Esteemed guests, colleagues and friends of Therapy Focus gathered on Friday 1 October 2021 to celebrate the stars among them at the Celestial Ball.
Held in the stunning River View Rooms at Optus Stadium, guests were captivated by the magic and etherealness of the night sky as they gathered at their tables and turned their attention to the stage.
Formalities opened with an incredible welcome to country performed by the Wadumbah Dance Group. For 15 minutes, guests were enthralled by the dancing and stories of the Aboriginal and Torres Strait Islander peoples'.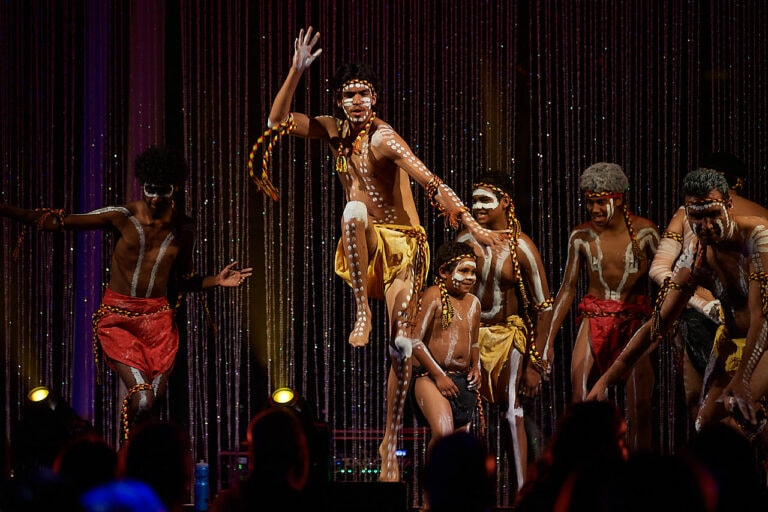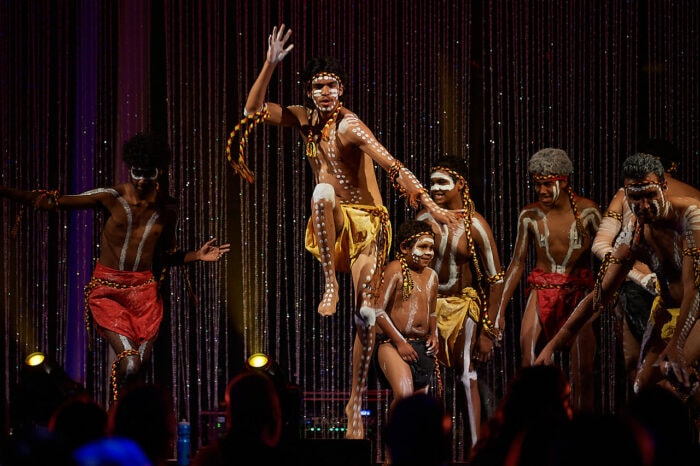 Co-hosts Robbie Figg and Therapy Focus customer Karlee Roche had guests in fits of giggles as they explained housekeeping rules and invited guest speakers to the stage.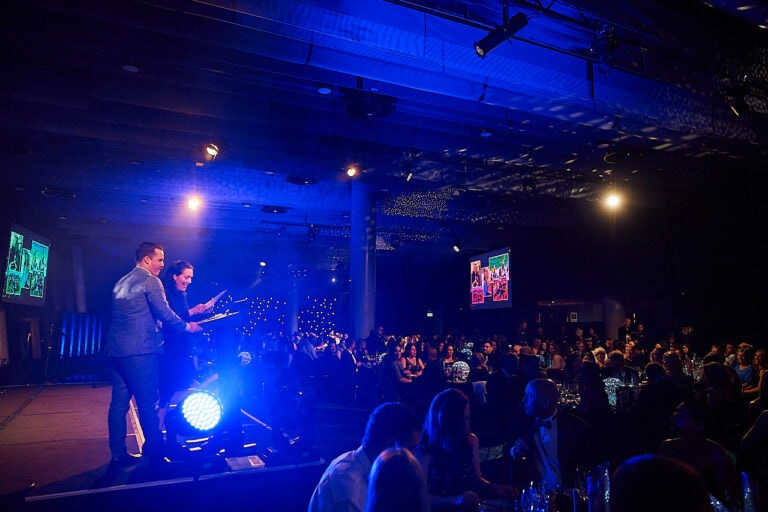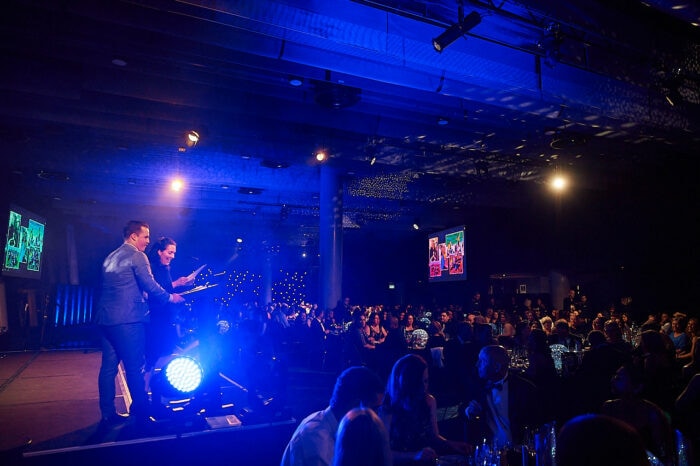 The Celestial Ball provided the perfect opportunity to acknowledge staff achievements. This year the awards kicked off recognising staff who have provided dedicated service to Therapy Focus which is recognised in 5-year intervals.  This year 35 staff achieved service milestones, with one of the awards celebrating a staff member achieving 20 years of service!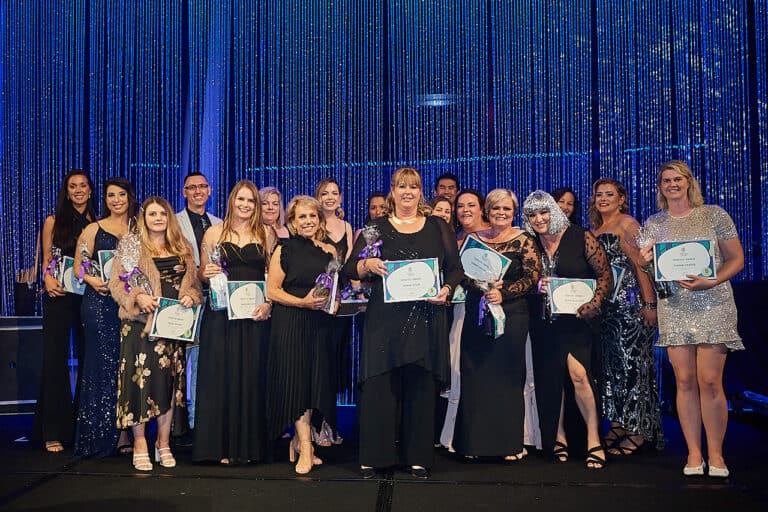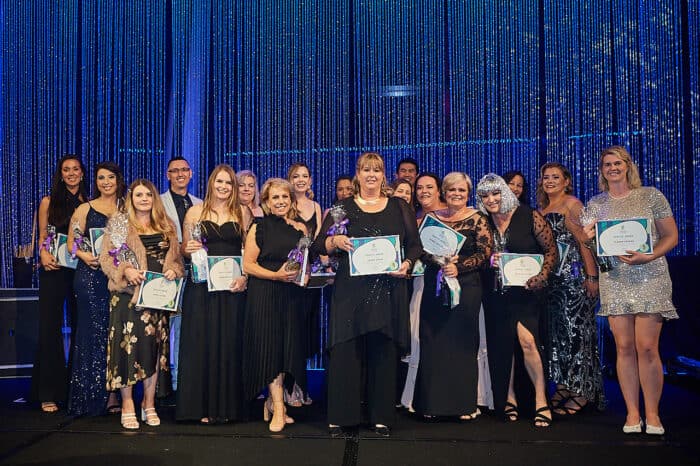 Next up was the newly created Support Award which recognises a staff member who has provided exceptional support to colleagues, customers, and stakeholders above and beyond normal expectations. Scheduling Officer Bex Tamakaha took out the inaugural award with her tear-jerking nomination submitted by fellow Scheduling Officer Ashlee Moss.
"While it is in our job description to help each other, the level of support I received from Bex during and after my bereavement leave was overwhelming… Bex not only went above and beyond for me but also for the customers in the East region and the organisation more broadly, ensuring the rollout of the scheduling tool remained on track" Ashlee shared.
Occupational Therapist Paige Hamilton-Smith was awarded the 2021 Innovation Award which recognises a Therapy Focus employee who has demonstrated innovation in the workplace to improve upon processes and/or service delivery. Nominated by Advanced Speech Pathologist Christine Bosch, Paige has been instrumental in creating communication guidebooks for customers to use when accessing support from multiple agencies.
" Paige identified that many of these customers faced challenges relating to a high turnover of support workers, clinicians and medical staff. Paige recognised that much of the existing information about the customer, including their personal preferences, communication, behaviour support requirements, mealtime needs and medical information, was not always being passed onto new staff.
So Paige came up with an "About Me Guidebook" which contains all the essential information about a customer, and travels with them as they participate in daily life activities, work and access the community", Christine said.
Team Leader and Advanced Occupational Therapist Aimee Dougan was the recipient of the 2021 Leadership Award. Aimee displayed exceptional leadership skills, demonstrated the ability to guide and inspire others, and contributed to the functioning of the organisation.
Aimee was nominated for the award by Advanced Occupational Therapist Hayley Smith for her incredible adaption to the Team Leader role during the tougher times of 2020, as the pandemic began.
"Aimee came on as Ocean West's Team Leader in early 2020, just weeks before the entire role was turned on its side, and I know that Aimee was a lifeline during the unprecedented times that COVID-19 brought.
The culture that Aimee creates for our team has been inspiring. Aimee provides staff with an open communication system that allows us to feel comfortable bringing any work-related or personal problems to her, knowing that she will be willing to problem solve until we reach a solution," Hayley explained.
And finally, perhaps the most coveted award, the People's Choice Award went to Physiotherapist Jordan Hitch and acknowledged his efforts in going above and beyond to support customers Linda Dearlove.
Congratulations to all nominees, finalists, and winners.
The night didn't stop there, guests continued to be captivated by the magic and enjoyed having their fortune read by palm readers and enchanted mystics, and dancing the night away to tunes by DJ Wazz.
Check out pictures of the night on the Therapy Focus Facebook Page.