Teletherapy Supports Routine for Families
Families of children with disabilities are doing their best to keep life as normal as possible with support from their therapists in regular teletherapy sessions.
With most face-to-face therapy sessions suspended to protect the health of Therapy Focus staff and customers, therapists have been delivering services online and over the phone via teletherapy.
Narelle Newbold has found that teletherapy helps her keep a familiar routine for her son Cody, who has Autism.
"I've found it important to keep things as normal as possible during the coronavirus outbreak, and for Cody, that means continuing his therapy sessions – even if it's in a different format."
Cody loves his therapists and is really excited to see and talk to them, even if it's not in person.
Narelle said that keeping Cody informed and helping him prepare for sessions allows him to better engage in teletherapy.
"On the morning of his session, I let Cody know that he has therapy later in the day and remind him as the time gets closer, so has something to look forward to."
"I'll make sure he jumps on his trampoline or does something to burn off some energy before his session, as he finds it easier to concentrate once he's had an opportunity for movement and regulation."
Therapy Focus Advanced Occupational Therapist, Aisling Wallace, said that many of the families she works with requested support to set up routines that work for all members of the family while they're at home.
"Parents and carers face so many demands in their daily lives, and managing a routine – which is particularly important for some children with disabilities – can be challenging."
As therapists, we can use our skills to help families get into a rhythm or create flexible routines while adjusting to these challenging times we find ourselves in.
Aisling said that while some families were hesitant about teletherapy at first, many have come to see its benefits.
"A teletherapy session should be lots of fun. We find creative ways to use everyday items and everyday routines, and many find that sessions are a well-deserved break and a great way to connect with people outside their household."
"We set short-term "COVID-19 goals" like adjusting to change, developing a routine, focusing on movement and emotional wellbeing. These are valid therapy goals that are more achievable in the current environment, plus they support long-term goals individuals and families were working towards before the pandemic."
"Some children with autism and other disabilities are actually more engaged in therapy because they are using technology and the devices they love to connect with their therapist. So [while] there are definitely challenges, I feel we are lucky that technology has enabled us to connect and carry on in these unprecedented times."
Kim Fuller's son Finn has Autism and has benefitted from regular teletherapy session involving sensory activities with slime, movement and fine motor skills.
Continuity in this "new world" feels like therapy in itself, so I didn't hesitate in getting Finn setup for teletherapy with his occupational therapist and psychologist.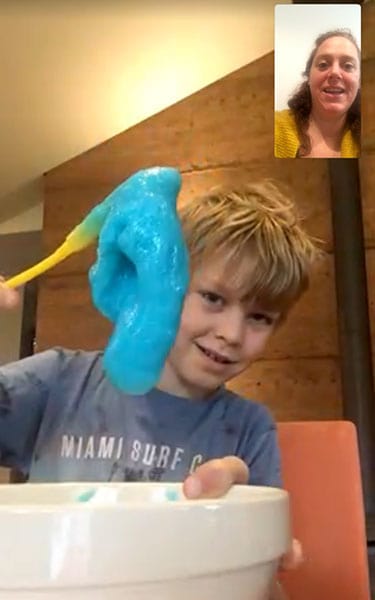 Pictured: Finn playing with slime in a teletherapy session with his occupational therapist. "Finn is used to talking to his grandparents on FaceTime, so engaging with people on a screen is a familiar experience for him and getting set up for teletherapy was easy."
With help from his psychologist, Finn has also gotten much better at talking about his feelings, which is especially important during this difficult time.
"Finn has found the change in routine during this pandemic very difficult, and I truly feel that things would be much harder had we not had his psychologist and occupational therapist on hand to support him through this transition."
"Both his therapists are very good at talking about the situation and giving Finn the tools to express his emotions. I also consider Finn's therapy sessions to be his time – and the opportunity to feel special and have a psycho-social outlet when it's not possible to see his friends."
Convenient, flexible and accessible therapy
Our experienced therapists can help you identify therapy goals, learn therapy strategies and address challenges and concerns. Learn more about teletherapy and its benefits or contact us today on 1300 135 373.