Harrison hits the beach thanks to Telethon
Beach-lover Harrison Dunn is able to enjoy the sun, sand and sea this summer, thanks to a new beach wheelchair funded by Telethon.
15-year old Harrison has Angelman Syndrome, as well as an intellectual disability. While he uses a walker to get around at home and in the community, he relies on a wheelchair to cover longer distances.
Harrison loves the beach and enjoys regular outings with his family, but access became an issue as Harrison's parents had to carry a growing teenager across the sand and in and out of the water.
In an effort to make beach outings a little easier for the family, Therapy Focus Occupational Therapist, Aimee Dougan, applied for a beach wheelchair through Telethon.
"The beach wheelchair has been life-changing for the Dunn family," Aimee said.
"Its light weight and large tyres mean transferring Harrison in and out is much easier for his parents, and the addition of balloon wheels allow Harrison to access the water and experience floating with support. It also ensures his safety, and the safety of his family members."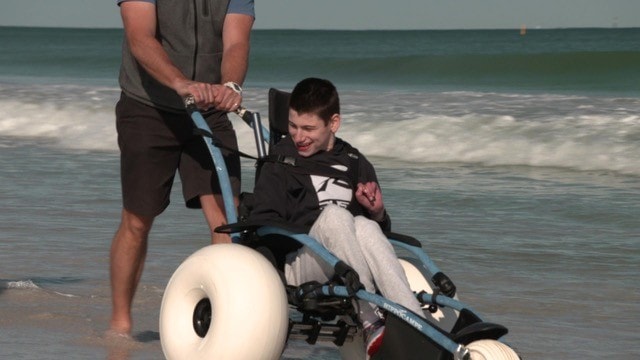 Harrison's father Brad said that he is overjoyed by the independence that the beach wheelchair affords his son.
"The beach is one of Harrison's favourite places. He loves the water, long swims and strolls along the beach," he said.
"As Harrison's mobility is very limited, we used get him onto the beach by dragging his stroller through the sand, which was really hard work. Now that we have the beach wheelchair Harrison can easily access any beach, just like anyone else."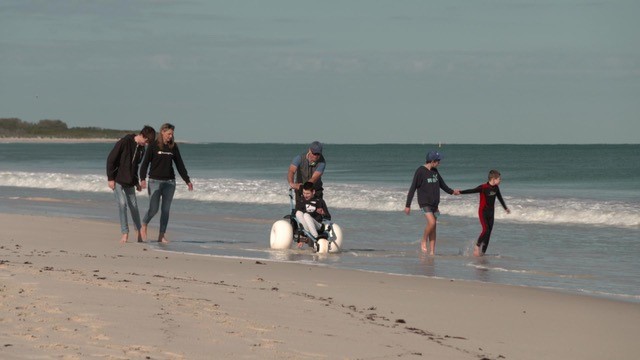 Thanks so much to Therapy Focus, Telethon and everyone who donated money – Harrison and our family can't thank you enough.
Since 1968 the WA community has raised vital funds to support WA children through Telethon. The 2019 Telethon Weekend will take place on Saturday 26 and Sunday 27 October at the Perth Convention Exhibition Centre. For more information visit Telethon.
As a beneficiary of Telethon, Therapy Focus receives funding to purchase assistive technology, therapy resources, specialised activities and home modifications for children and families living with disability.
Our Partners
By working collaboratively with businesses, community groups and other disability service providers, we're better able to support the people in our community – and beyond.