Doors open to South West community
On Friday 23 February around 50 guests came together to celebrate the opening of Therapy Focus' first regional office in the heart of Margaret River.
Therapy Focus Board Chair Fiona Payne and CEO Matt Burrows officially opened the space, with Matt saying that the office would provide an all-important base for the mobile team.
"Having built a team of 13 professional clinicians in the lower South West over the past two years, it's great to now have a central hub for them to work from when coordinating service delivery in Busselton, Dunsborough, Augusta, Bridgetown, Manjimup and surrounds," Matt said.
"An objective of the National Disability Insurance Scheme has always been to increase choice and control, and to foster efficiencies in the marketplace. In working towards these objectives, Therapy Focus is proud to extend services to the lower South West community and deliver quality therapies in a way that minimises travel."
The new Margaret River office is fitted with meeting spaces and a state-of-the-art clinic room, meaning that our clients can choose to book appointments at the clinic in addition to home, school or community visits. Essentially we can come and see you, or you can come and see us.
Therapy Focus client and Pemberton local, Karlee Roche treated guests to a guided tour of facilities, which include a meeting room, open-plan office and large therapy room with a suspended sensory swing.
Leanne Margetts also addressed guests at the opening event, sharing her experience accessing Therapy Focus services for her 9 year-old son Tate.
"Tate has severe oral sensitivity and is yet to transition to solid foods, so feeding is a major focus for us. Having access to a feeding specialist in addition to speech pathology, physiotherapy, occupational therapy and psychology services has been amazing. It's a level of support we've never had before," Leanne said.
I really appreciate Therapy Focus' team approach because it means everyone across everything and I don't have to keep sharing the same information.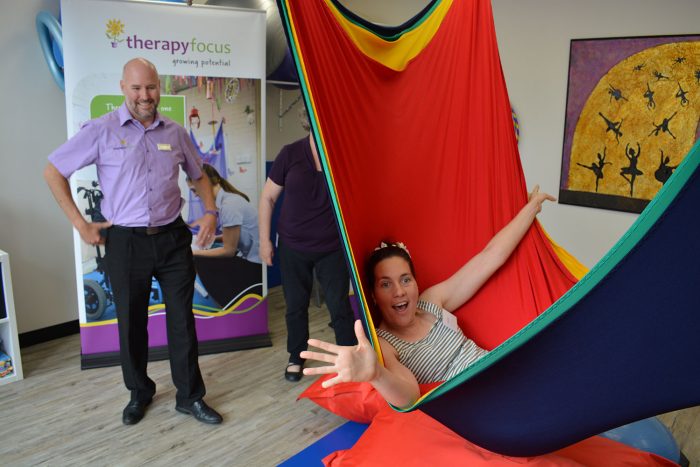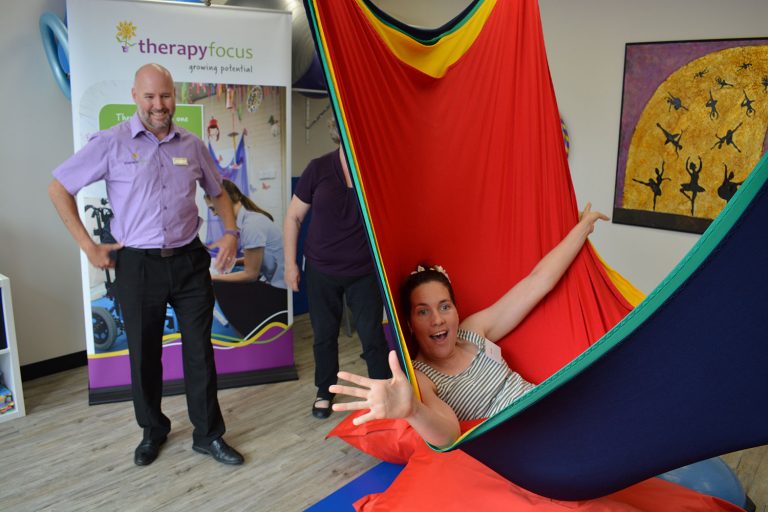 Pictured: Therapy Focus client, Karlee Roche tries out the sensory swing while Advanced Occupational Therapist, John Lees looks on.Therapy Focus South West Team Leader, Danelle Milward, said that while her team had made great progress in the region, the new office would help clinicians better meet the diverse needs of clients.
"We're working to fill the gaps, particularly in terms of early childhood and school-age intervention services. We're also doing a lot of work to support adults with disabilities to live more independently," Danelle said.
"The establishment of the new Margaret River office will mean that so many more individuals and families will be able to access the support they need, including those without disabilities who wish to purchase our clinic services for a fee."
You can visit Therapy Focus' Margaret River office at 3/111 Bussell Hwy, Margaret River.
To view photos from the opening event, visit our Facebook page.