A Day in the Life of a Psychologist
Clinical Psychologist, Laura Keane, talks us through a day in the life of a Therapy Focus Psychologist working as part of our South West Team.
Due to the wide geographical area that our regional team covers, some of my days are spent working from our office in Margaret River, but many of our days are spent on the road. The following is a good example of a recent "inland day" spent working alongside my colleague, Speech Pathologist Jordan Duncan.
8:30am – 9:00am
After dropping my son off at daycare, I meet Jordan in the office and we gather what we will need for the day (including a cuppa for the road!)
We often try and schedule our inland days with a colleague, as it saves travel expenses and we can use the travel time to discuss shared customers, or consult on cases if we feel our customers could benefit from input from another therapist. Plus it's great to have company!
Jordan and I get on the road after some debate about the weather, as it's been hailing this morning and the wind is howling outside… Not the inviting country drive that you might hope for! We have apps on our phones which we check for severe weather warnings, as we cover large distances with no phone reception. But we decide the coast is looking relatively clear and the weather is going to ease throughout the day, so we turn on the GPS tracking devices we have installed in our vehicles and hit the road.
9:00am – 10:30am
We travel to a town an hour and a half inland, stopping halfway to change drivers. Jordan and I spend an hour of this time liaising about customers, and a bit of time chatting about the weekend!
10:30am – 11:00am
We arrive at the office of another disability service organisation to meet with a coordinator who works with a shared customer. The customer is a young adult who has Down Syndrome, and he is engaging in some behaviours of concern at home and out in the community. The customer is also at the office, so after some initial introductions I leave Jordan to complete her assessment and I meet with the coordinator to catch up on recent developments.
The assessment proves to be a little challenging for our customer, so we debrief and together we encourage our customer to reflect on what he found difficult and how he might have managed his feelings in a different way by using the strategies we have worked on previously.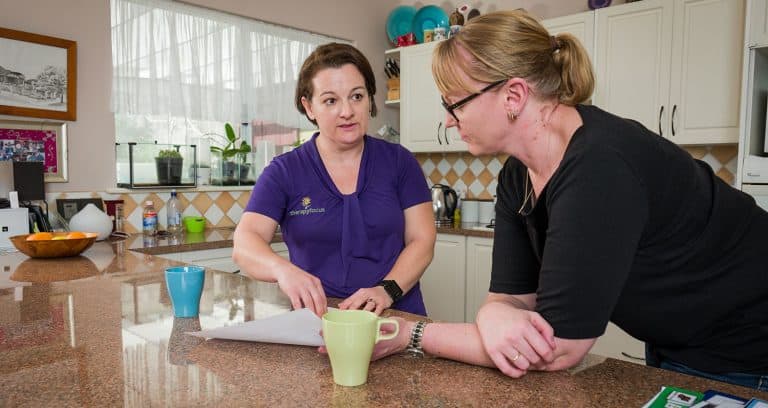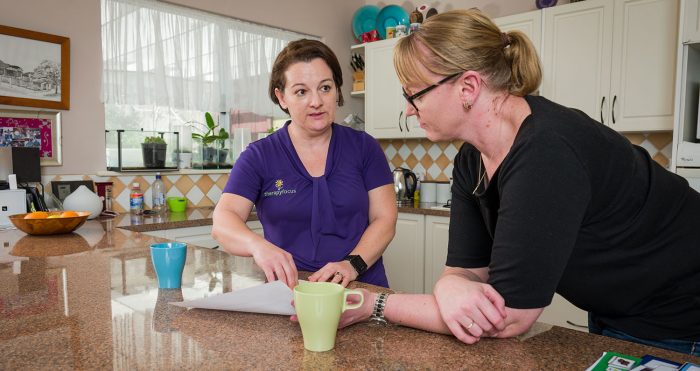 11:00am – 12:30pm
Jordan and I then meet with our customer's mother and his broader support team. His team are based inland so we all meet there on a monthly basis to debrief on behaviours of concern and to discuss strategies for addressing them. I recently completed an observation and assessment with him and his carers, and have since completed a Positive Behaviour Support report outlining strategies and recommendations. We go through this report and discuss any concerns and barriers there might be for implementing strategies. We discuss the importance of consistency and predictability for this customer and outline how we can help him with understanding any changes in his routine and reducing his anxiety.
12:30pm – 1:00pm
The entire town is without power due to the weather, so Jordan and I struggle but eventually find somewhere that we can grab a sandwich and a hot drink!
1:00pm – 2:00pm
It's still raining so Jordan drops me off at another customer's house, which is just outside the school where she needs to be for her appointment – luckily for me!
This customer is a young mother and has a physical disability. Conducting a session with her young children is a bit of a challenge, but we manage to work around it and have a very productive session. Our Occupational Therapist and Physiotherapist have worked with this customer recently to help her manage to get her children into the car without assistance. This has enabled her to do more activities with her family, so she is feeling much more positive and her quality of life has improved greatly. She has also made great progress in developing the self-care and coping skills we have been working on over the past few weeks. This will also support her to achieve a better quality of life.
2:00pm – 3:00pm
I'm back on the road with Jordan, this time travelling to another town. We debrief on our sessions and liaise regarding other cases.
3:00pm – 4:00pm
For our final visit of the day, we meet with a customer who presents with cognitive impairment due to brain injury. In addition to supporting him with long-term symptoms of depression, we have done some work around a medical phobia that he has developed following brain surgery. He has some significant medical appointments coming up next week and there have been some fear and avoidance around these appointments.
I spend time listening to and validating his feelings, and we look at how he would manage his anxiety and look after himself in the days leading up to his appointment.
Learn more about our Psychology services and how our Psychologist works as part of our transdisciplinary therapy teams.
Interested in working at Therapy Focus?
Learn more about careers at Therapy Focus and how you can help transform the way therapy is delivered.