A day in the life of an Occupational Therapist
What does an occupational therapist do?
We hear that question a lot. So in answer, we asked Therapy Focus Occupational Therapist Lizzy Chessell to share an overview of a recent day at work.
8:30am – 9:00am
I arrive at the office to gather my resources for the day. I am based at Therapy Focus' office at Carson Street School, but I see customers in our therapy rooms at Bentley office, at their school or in their homes depending on their therapy goals. I also use this time to check my emails and, if I've got time, sneak in a cheeky cup of coffee.
9:00am – 9:45am
My first visit this morning is a school session at an Education Support School with a 5-year-old girl with a diagnosis of Global Developmental Delay. This condition typically means that a child has delayed development in physical, emotional, social and/or communication skills compared to others their age. We are focusing on her fine motor skills and proprioception (her ability to understand where her body is in space), and I use a play-based approach to keep her engaged and make therapy more fun.
We focus mainly on pre-writing skills today, which are the building blocks children need before they are able to form letters and write the way we do, such as drawing a circle, zig-zags and X's. We also focus on drawing a person, which supports her pre-writing skills, but also tells me a lot about her understanding of her own body. Today my customer draws a circle independently and includes a nose on her person without me having to remind her!
9:45am – 10:30am
I don't have to travel to see my next customer, as they are at the same school! I always really appreciate it when our amazing admin staff cluster appointments for me. I'm now working with a 10-year-old boy with Autism Spectrum Disorder, focusing on emotion regulation. He has difficulty with theory of mind, which is someone's ability to understand that other people also have thoughts and feelings that can be associated with actions. I use Social Behaviour Mapping to brainstorm the relationship between thoughts and feelings, and all the courses of action someone could take and how these would affect the outcome.
We also talk about emotions using the Alert Program, which uses a metaphor to describe our bodies as 'engines' that sometimes run slow, just right or fast. We play games and guess each others' engine speed based on body cues like smiling, shaking, crying etc. Sometimes I purposely beat him to get an angry reaction and prompt the use of calming strategies, but today we play Connect 4 and he beats me in straight sets (and yes, I was trying!)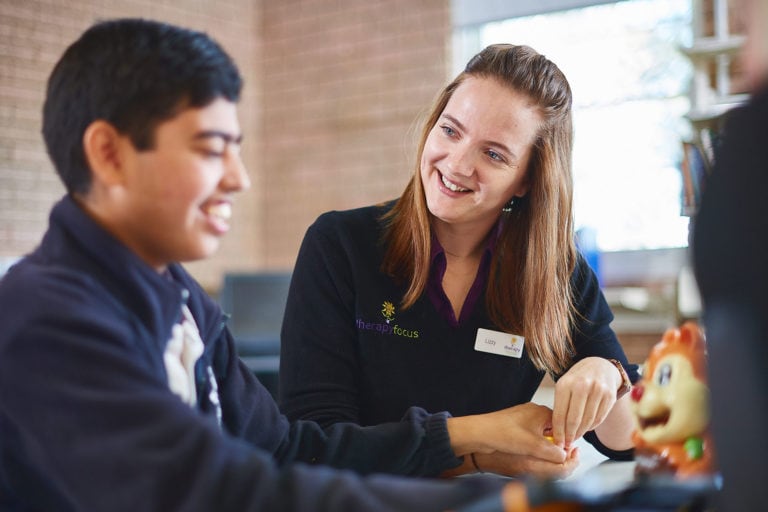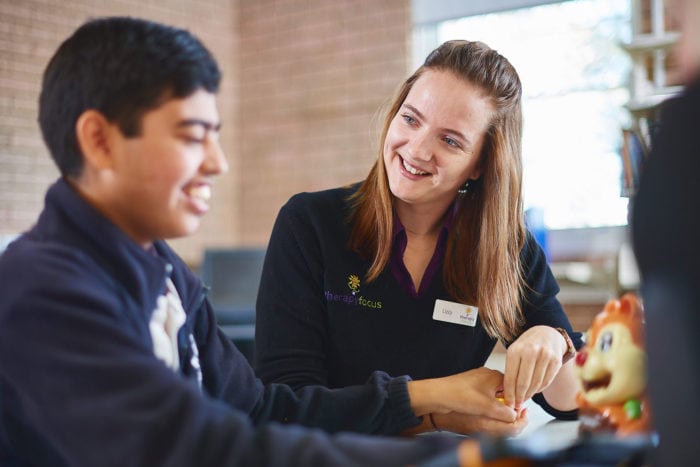 10:45am – 11:30am
I travel to the home of a 7-year-old girl with Rett Syndrome to meet an assistive technology supplier who is delivering a Gravity Chair. The family's first language isn't English, so I have also organised a translator for this visit to ensure that everyone understands what is happening. The Gravity Chair will provide support for this customer to engage in social activities with her family or relax and watch TV, and comes with a tray which we will use to position the eye-gaze system we are trialling in coming weeks. The supplier and I work together to make sure that the seating system is set up correctly, that the customer is positioned well and that the family know any maintenance and safety information. We also briefly discuss the importance of positioning overnight to prevent postural issues in the future.
11:45am – 12:30pm
I have a late notice cancellation as a customer is sick today, so I use this time to finish off a Sensory Profile report that I am writing for a family. This report comprises the information I have gathered from teachers and family about a customer's sensory preferences and processing ability and includes recommendations to support the child's learning and engagement in-class activities. For this child, I have created a 'sensory diet', which is a personalised activity schedule to be performed throughout the day to ensure his body is getting the amount of movement he needs to focus.
12:30pm – 1:00pm
Lunchtime! Today I was organised enough to meal prep so I don't need to go buy lunch. I use this time to catch up with colleagues and see who has exciting plans for the long weekend.
1:15pm – 2:00pm
I head back out to another Education Support School, this time a high school. This visit is a joint session with a Speech Pathologist colleague to work with an 18-year-old man with intellectual disability. We have been focusing on supporting his communication using a voice-output device, and simultaneously developing his fine motor skills so that he can achieve more independence in self-care activities. Today we are starting to work on bottom wiping, which is a high priority goal for his family. I have devised an activity that uses fake plastic bottom costumes I sourced online, along with Nutella. We get Nutella absolutely everywhere and the activity doesn't go quite as hoped… but we have a lot of fun!
2:30pm – 3:30pm
I head to the Bentley office to use their therapy rooms. I meet with our team Psychologist to discuss a referral I made to her earlier in the year. It's important to understand our role boundaries and know when to refer to other clinicians on our team, or the specialist services we offer such as mealtime management and continence support. We have a lengthy discussion about the referral reasons, family history and any safety concerns, and I leave the meeting feeling that my customer and his family are in great hands.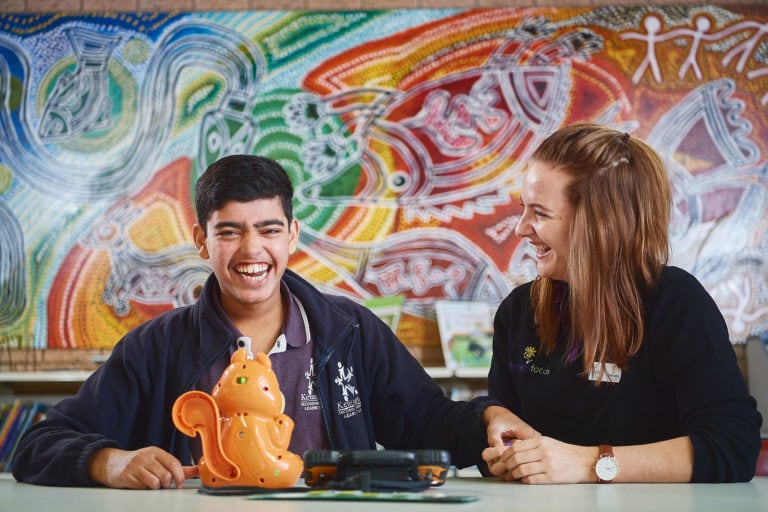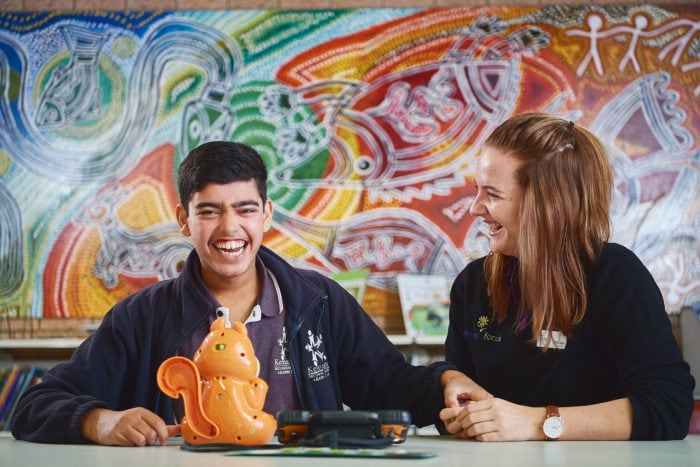 3:30pm – 4:15pm
I have some time to catch up on notes from the day, make a couple of phone calls and answer emails. I also send through a task request to our admin team to create a visual schedule resource that I can use with a customer in a few weeks' time.
4:15pm – 5:00pm
My last customer of the day arrives for an office visit – a 9-year-old boy with Autism Spectrum Disorder. He has just received his first National Disability Insurance Scheme plan so, although I've already met with Mum to discuss the plan and sign the Service Agreement, I spend a little time at the beginning of the session answering a few more of her questions, as it's a tricky system to navigate when you first start.
I am working with this customer on emotion regulation and self-care skills, in addition to having a focus on his social skills. Today we work on shoelace tying, where we use a backwards chaining approach (me doing most of the task and him finishing it off to give a sense of success) and he completes more of the task than last week. This child has a lot of sensory needs to focus on tasks so we take 'crash and bash' breaks where we roll on a scooter board or bounce each other on the crash mat. It's a great way to end the day!
Want to know more?
We're always here to help. Learn more about our occupational therapy support services or call us on 1300 135 373.