20-year-old Tom Oliver has big dreams, and he knows he is going to achieve them. Starting with smashing his public speaking goal at his very first TEDx Talk. Tom lives with Autism Spectrum Disorder and had the life-changing opportunity to share his experience of autism and the impact the justice system has on people like himself.
So how did Tom come to give a TEDx Talk? Cue, Therapy Focus Occupational Therapist Joshua Panelo. Josh and Tom have been working together for almost 2 years and in that time have been focusing on improving Tom's networking, interning and business management skills. More recently, the duo has been practising speaking skills.
"We have been working on public speaking skills and speech writing skills in preparation for this talk" Josh shared.
Josh also explained that Tom sought out the opportunity to deliver a TEDx Talk on his own.
"Tom has been doing some great work building his network within his field of law and in the disability sector as well. It all started last year when he was interviewed by the West Australian on his experiences with working and being discriminated against and his story has since exploded from there."
Tom then shared, "the opportunity arose thanks to my now mentor, Danny Taylor-Smith, encouraging me to audition for a TED talk, despite my abject fear of public speaking. Notwithstanding this fear, I delivered an audition verbatim from palm cards, and it was received very well and hence was selected to give a TED talk."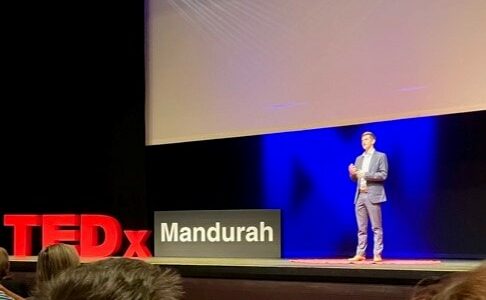 In his almost 14-minute debut, Tom covers his life as an autistic person and how our justice system affects individuals living with the disorder.
"I decided my topic of autistic individuals caught up in the justice system, as I am autistic myself because – I've always loved rules, I love adhering to rules, and yet I also love strategically finding technicalities and loopholes around rules. But most importantly, injustice makes me want to peel my face off – I can't stand it, and so I found myself studying law and biomedical science at university.
Naturally, I became interested in our justice system as it pertains to autistic people, being autistic myself, and after having saved an autistic client at the firm I'm working at, Savannah Legal, from 15-years of imprisonment, and instead, getting him off on a non-custodial sentence with suitable therapy over imprisonment."
Josh had the honour of attending Tom's TEDx Talk and said, "he did an absolutely amazing job and smashed his presentation. I am so proud of him."
"Josh provided me with the confidence I needed to open up about my vulnerabilities in my TED talk, to trust the process, and helped me in translating my articulation of expression, acting as something of an interpreter, so that it could be readily understood by a neurotypical audience. Josh was instrumental in this regard, and I cannot thank him enough" Tom explained.
From here, Tom has big plans in creating legislative reforms and raising awareness for people living with disability and autism in our justice systems.
"When I graduate from university, I look to establish my own law firm, defending people with disabilities and autism alike, and fighting for a justice system which caters for all, including autistic people."
Tom is well on the path to success, and it's been recently announced that he's been nominated for Young Australian of the Year!
Occupational Therapy
Our occupational therapists help children and adults with disability participate in everyday life.