Delivering services in remote WA
One of the biggest challenges about living in Western Australia is receiving therapy and health services in remote locations.
In October, Therapy Focus looked to address this challenge by providing assessment services in the remote community of Warburton.
Therapy Focus Advanced Occupational Therapist and Team Leader, Kelsie Davis made the 1500km journey to the town, which is just south of the Gibson desert, to complete home modifications and functional assessments for residents.
Kelsie was accompanied by Jane Clark-Munn who is the Disability Services Manager for Ngaanyatjarra Health Services and coordinates service delivery in this region. Jane has forged strong relationships in the community and reached out to Therapy Focus to provide services to NDIS participants, who have limited access to supports.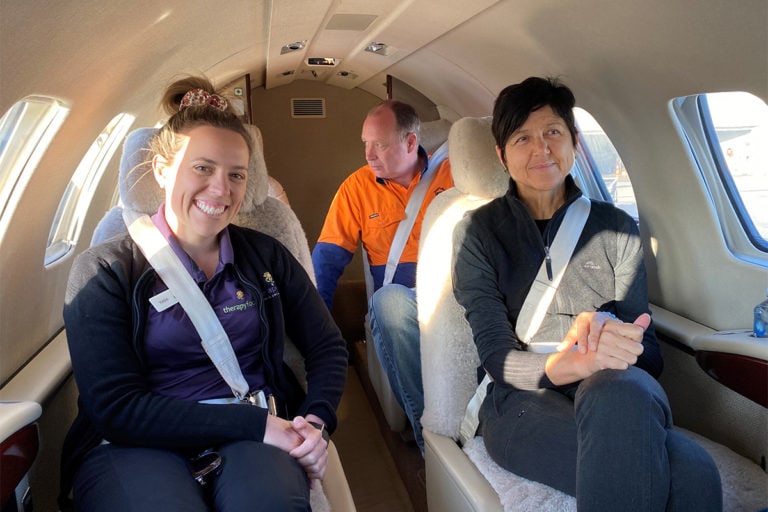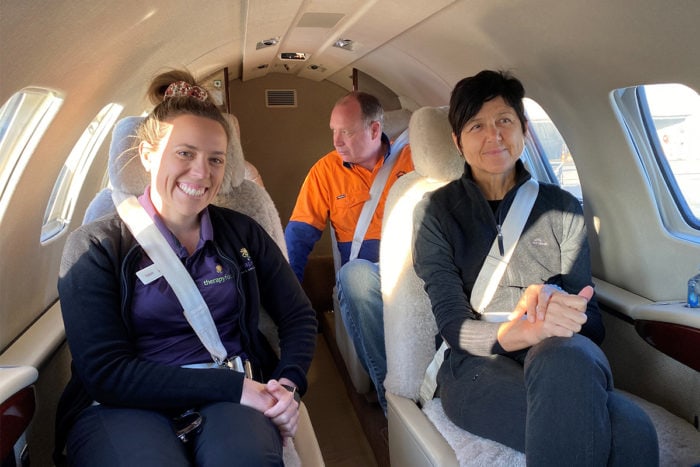 Pictured: Therapy Focus Advanced Occupational Therapist and Team Leader, Kelsie Davis (left) on the plane with Jane and Stewart from Ngaanyatjarra Health Services. After a short tour of the town, Kelsie completed a functional assessment for a resident who is Deaf and has mobility challenges. The group then visited the home of another resident, who uses a wheelchair, to complete a home modifications assessment.
Ngaanyatjarra's Project Manager, Stewart, assisted Kelsie by helping to create a plan that considered all aspects of the house, including the bathroom, kitchen, bedroom and access points.
Kelsie said that it was important to consider cultural factors while ensuring the resident's home met access standards. It was also important to consider the practicality of the building adjustments.
As Warburton is so far from Perth, accessing building supplies and tradespeople can be difficult. It was up to Kelsie and Stewart to ensure the build was achievable.
For more information about Therapy Focus' assessment and home modification services, contact us on 1300 135 373.
Do you live in a remote area?
We deliver services in some remote and very remote areas of Western Australia. Contact us today to discuss your needs and how we can best deliver support.