Creative casting for jack
For young West Coast Eagles fan Jack, living with cerebral palsy has many challenges. But with the support of his mum, Bron and his therapy team, Jack has been receiving serial casting procedures to help improve his calf and leg muscles.
Serial casting has helped Jack with his range of motion as well as helping to stretch and lengthen his leg and calf muscles.
The serial casting process can be done in isolation, or to complement other interventions such as Botox, surgery or exercise.
"The team really took great care of Jack – we've had a fantastic experience since being referred to Therapy Focus in Margaret River", Bron said.
In his most recent round of casting, Jack's therapy team got creative and made a set of blue and yellow leg casts, complete with hand-drawn Eagles emblems for the young footy fan.
"He handled the actual casting process quite well. He is out of the cast now, and is doing very well, with the help of lots of physiotherapy," Bron said.
The most common type of cast is a below the knee cast (pictured), which is used to stretch the calf muscle. When this muscle is tight, it makes it difficult for people to walk with their heel down on the ground.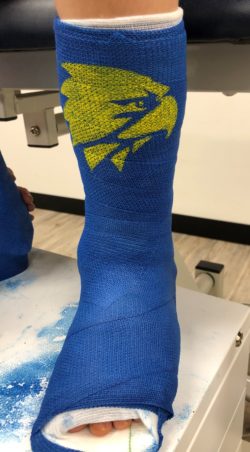 Interested in serial casting?