What does seeing your physiotherapist online look like?
How can you provide physiotherapy online via teletherapy?
This is a question that us physiotherapists have heard a lot over the last couple of months. So what does physiotherapy online look like? And how can physiotherapists provide support from a distance?
Physiotherapy looks different for each customer that we support, and teletherapy is a fantastic way to access physiotherapy from the comfort of your own home. Just like any other therapist, we can offer direct one-on-one sessions with customers and upskill parents and carers on how to provide support at home too.
Our sessions can involve teaching people how to apply exercise programs, grading supports to make exercises easier, and brainstorming ways to make therapy strategies motivating and fun. Families have often reported that they are amazed how much they have learnt online via teletherapy.
The types of strategies and programs we can provide through teletherapy are the same as what we would offer in face-to-face sessions, we just have to be more creative in the ways we teach exercises and explain tasks and activities. Some examples of the types of strategies and programs we can provide include:
Strengthening programs to support walking, running or gross motors skills
Task-specific practice or functional tasks, such as getting off the floor techniques
Balance and falls prevention routines
Fine motor and gross motor programs
Emotional regulation movement-based programs, such as yoga
Positioning recommendations for mealtimes and respiratory support
Virtual demonstrations of assistive technology
What does a physio do in a teletherapy session?
In terms of how our sessions actually look in action, sometimes we use dolls or toys for demonstrations, sometimes we send videos showing how to do an exercise or activity, or we may demonstrate it ourselves during a session. For young children accessing early childhood intervention services, we will often demonstrate our programs or activities using dolls and provide coaching to parents and carers.
We setup up our computer in clever ways to ensure we can do exercises, tasks or games with our customers. This allows them to see exactly what we are asking them to do in each session. We can also share our screens to watch videos together, and review videos of our customers doing activities to provide feedback and extra strategies. Technology is wonderful and allows us to be inventive when helping you achieve your goals.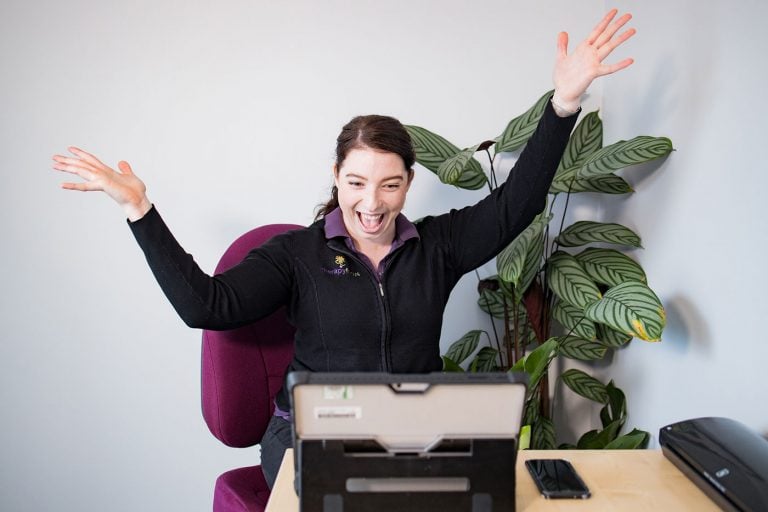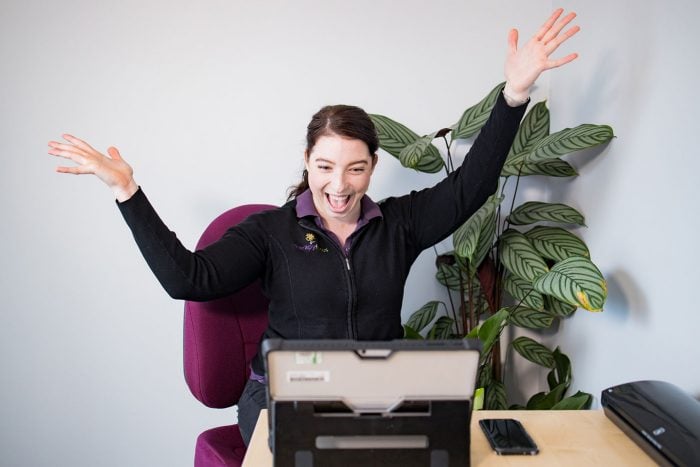 Is teletherapy right for me?
If you are still unsure if teletherapy is right for you, you can give it a go by trialling one of our flexible teletherapy packages. Our skilled therapists will discuss your needs and goals, and talk you through the following points when planning your sessions:
We will ensure that the services we provide are evidence-based and will help you achieve your goals
Resources required for programs can be easily sourced in your home or provided to you before the session
As parents or carers we will build your skills to help you support your child with their exercises or programs
Just because teletherapy looks different to face-to-face physiotherapy, doesn't mean it's any less effective or enjoyable.
Many of our customers love using technology and are highly motivated by teletherapy sessions. Mums, Dads, and carers are discovering they can still do push-ups and sessions are providing an opportunity for that dedicated one-on-one time with their child.
Whether the physiotherapist is in the room with you or watching you online – you are the ones doing the hard work to make a change and achieve a goal. As physiotherapists, it is our role is to guide you along the way, with new exercises, games and ideas – something that we are confident works well via teletherapy. So please don't let the screen scare you off. Together we'll find a way to help you get the most out of your teletherapy sessions, re-defining your therapy goals and achieving these in their entirety.
Learn more about teletherapy
At Therapy Focus we provide therapy online and over the phone. We call this teletherapy. Learn more about teletherapy and its benefits via the link below.