Top tips for early intervention
Written by Therapy Focus Advanced Physiotherapist, Lucy Simmer.
For a child with developmental delay or disability, early intervention is fundamental to growing potential for school and later years.
In the early years of life, the brain is at its greatest capacity to make new connections and change. This is why children pick up new things so quickly! For children with delays, this is the optimal time to develop their skills.
Early childhood intervention beneficial is not only for the child, but for the whole family. The focus of intervention is working with the family to give them the support and skills needed to maximise the child's independence. The therapist will work with the family to set meaningful goals that will improve the child's well-being and participation in everyday life.
Here are my top five tips I share with families who have young children with delays:
Keep it natural
Children learn best in context; they are most likely to improve their skills if they're practised within their normal routine. Therapy will support families to embed strategies into these daily routines to work on the child's goals. This approach gives the child lots of opportunities to practice during the day, without them even realising they're doing therapy!
Practice makes perfect
The family can positively impact the child's development by giving them lots of opportunities during the day to practice new skills. Refining skills takes time – just think, before walking, kids fall down hundreds of times before they master it.
Enjoy the fresh air
Being active outdoors in nature has huge benefits for a developing child. You don't need to spend money on fancy toys when there are sticks, flowers, rocks and mud outside your door! Physical activity is extremely important for young children to learn and grow. Did you know kids under 5 should be active for at least 3 hours each day?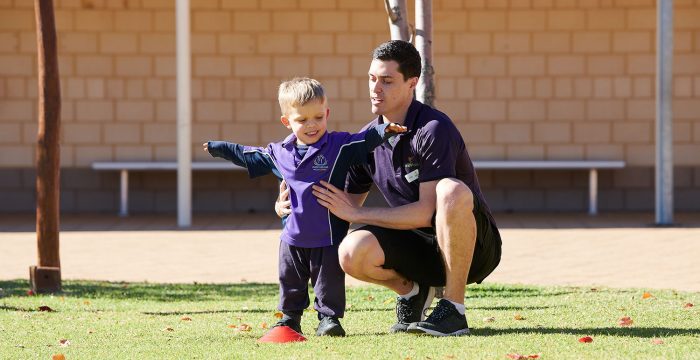 Play, play, play
Much of a child's early years should be focused on play (if only this were true for adulthood too!). Children instinctively learn through play; they experiment, solve problems and cooperate with others. In doing so, they develop social, language, self-regulation and motor skills. This is important for attention, emotional well-being and school readiness.
Have fun!
A child is motivated to learn when the activity is enjoyable. You can make a simple routine like tying shoelaces fun by using colourful laces and celebrating with a 'high-five' when the child tries it themselves. Praising their efforts provides positive reinforcement.