Kick-starting your career with a graduate program
Upon graduating from Curtin University with a Bachelor of Science Majoring in Occupational Therapy, Nicky Montgomery was faced with some big decisions. In weighing up her options, Nicky reflected on her 'why' and how a graduate program could support her career goals.
Today, Nicky is a specialist in the field of Positive Behaviour Support and leads a team of 10 allied health clinicians to deliver comprehensive support to people with disability. At the 2023 Curtin Careers Fair, Nicky shared this journey with students. The following is an excerpt from her presentation.
In looking to start my career, I was fortunate enough to secure one of three coveted graduate program positions at Therapy Focus. But this wasn't the only position I was offered, and I had to take the time to think through my options carefully and make the right decision.
I thought about my future. My goal was to become the best OT I could possibly be. I wanted to choose an employer that would help me achieve this goal, supporting my growth and committing time and resources to my development as a clinician.
A position within Therapy Focus' Graduate Program was not the top paying employer at the time due to a completive market, but it offered many additional benefits that I knew would fast track my career goals, such as structured and regular professional development, a dedicated mentor, and access to a team of highly skilled therapists that I continue to learn so much from 13 years later.
Looking back now, I know I made the right decision. And it was the graduate program that set me up to enjoy the success I've enjoyed in my career thus far.
But wait. What is a graduate program exactly?
Graduate programs are essentially designed to fast-track career pathways for a specific organisation or industry. While an entry-level position will give you the opportunity to work in your chosen industry, a graduate program position offers extensive support, ongoing training and dedicated mentoring.
Graduate programs often help develop future leaders, rather than simply providing the basic on-the-job training required to perform a specific role.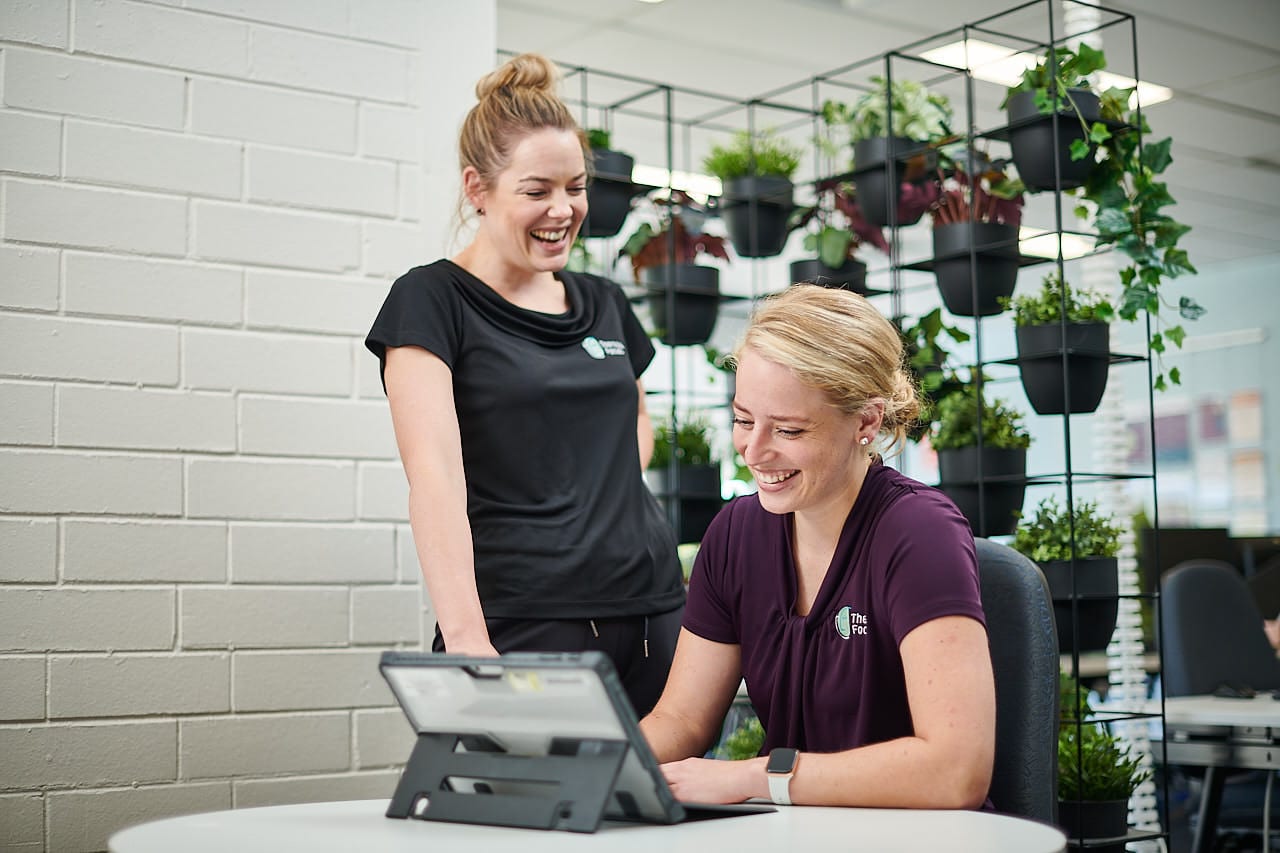 At Therapy Focus, our graduate program invites new allied health clinicians to embark on an exciting journey with access to an expansive network of knowledge and support. While all graduate programs are structured differently, most have the following things in common – all of which are invaluable to kick-starting your career.
Your mentor. This relationship is invaluable – having someone you can ask (almost) anything of and knowing they are there to support you. My mentor became one of my closest friends and we're both still working at Therapy Focus!
Extensive training. Graduate programs are invested in your learning and development. At Therapy Focus we pride ourselves on our training programs and upskilling our grads through peer support sessions, reflective practice sessions, specific discipline support from clinical leads, shadowing opportunities and clinical supervision.
Peer support. Peer support is underrated. You'll start the program alongside other grads who you can share your experiences with. Plus the social events are always fun – this was something many of my fellow Curtin grads envied!
Varied experiences. Many graduate programs offer opportunities to perform in different roles or exposure to different areas of the business. At Therapy Focus our graduates work as part of multidisciplinary teams and deliver services to a varied caseload of clients – meaning they work with people of all ages and abilities.
Structured career pathways. A clear path for progression provides assurance that you can advance your career goals. Whether you want to move into management or become an industry expert or specialist, a defined pathway is helpful in identifying where you're at and where you want to be.
Whilst a graduate program is an excellent way to enter the world as a working professional, I assure you there will always be so much to learn beyond program completion. My current role as Team Leader and Specialist Behaviour Support Practitioner is not the end of my career journey. I still have so much to learn and I'm grateful that Therapy Focus continues to give me opportunities to grow.
So if you're a graduating allied health clinician who is interested in working in disability, I encourage you to consider Therapy Focus. We're committed to upskilling the next generation of therapists and are currently accepting expressions of interest for our mid-year intake in August 2023. Learn more and apply at therapyfocus.org.au/graduates.
Ready to kick-start your career?
Our Graduate Program invites new clinicians to embark on an exciting journey with access to an expansive network of knowledge and support.