FAQ: School Transitions and Beyond
Change can be daunting, especially for children with disability undertaking key life transitions such as starting kindy, going to primary school or moving into high school.
At Therapy Focus, our therapists support children with disability, their families and carers to manage these changes and transitions in their lives. While each person is different and will use strategies unique to them, we've put together some of the more frequently asked questions to get you started on the right path to a smooth transition.
Starting kindy
What's the best way to prepare for kindy?
Good news! There are lots of different ways to prepare your child to start kindy.
In the lead up to your child starting it's very important that you encourage them to feel excited about the upcoming change in their routine. Talk about the fun activities they will get to do at kindy, the children they will get to play with, and the play equipment they don't have at home. You could even show them a picture of their teacher and take a trip to the kindy to show them what their classroom will look like. If you are worried or scared, your child is likely to pick up on these feelings and copy them.
Setting up a consistent morning routine in the weeks before they start can help your child to feel safe, in control and comfortable with all the tasks that need to be completed to get ready for kindy each morning. Once you've established what needs to be done (getting up, getting dressed, eating breakfast, cleaning teeth), try and do the tasks in the same order every morning. A visual schedule may be useful to support your child's understanding of these tasks. This is a step by step flow chart that uses images of the tasks and the order in which they need to be completed. Visual schedules are great in supporting children with difficulty processing or understanding information verbally (when spoken to them). Visual schedules are also very useful in the classroom to help children understand what they will be doing throughout the day.
Toileting is often a big stressor for parents and their children. While it is not essential that children are toilet trained before starting kindy, it is recommended that the child is already toilet training at home. Encourage your child to indicate to you when they need the toilet and teach them to pull their pants/underwear up and down without you, try to wipe their own bottom and wash their hands. If your child is reliant on you to do these things then they might become anxious if they need to rely on a kindy teacher or education assistant to help, rather than their parent.
Your child may also benefit from attending a kindy-readiness playgroup. These groups focus on teaching children to sit and listen to a teacher, follow instructions, play with other peers and engage in different fine motor activities, such as cutting, gluing, painting, writing and doing puzzles. By attending a group such as this, your child will become familiar with the expectations of kindy and be exposed to opportunities to develop their social skills with other children their age. Therapy Focus often run Kindy Readiness groups for children and families accessing services. For more information speak to your Key Worker or therapy team.
Social stories are also an excellent way to help prepare your child for kindy, as they can include specific information about your child's kindy, what to expect on their first day, who their teacher will be, what their kindy room will look like and who they can talk to if they need help. Your therapy team will be able to help you create these social stories and discuss extra strategies to help you and your child prepare for the kindy transition.
Can parents stay at kindy to help initiate routines?
While increasing your child's independence and adaptability are key aspects of kindy, many kindies will invite or allow parents to stay for varying periods of time during the first couple of weeks. Having a chat to the teacher before your child's first day is a good way to make sure you're all on the same page and know what to expect. You'll also then be able to tell your child how long you're staying for, so they don't get a surprise when you leave. Having a chat to the teacher is also a great opportunity to have a discussion regarding any concerns you may have for your child and what strategies you currently use to support them in their daily activities. Having this information in advance will also help you prepare your child in the lead-up to the first day and help the teacher to better understand and prepare for your child in their classroom.
Try to keep the communication lines open between the teacher and yourself so that everyone remains on the same page and you can both work together to unsure your child is well supported.
When it's time to say goodbye on that first day of kindy remember to be calm and reassuring with your child (even though this might be really emotional for you). Children will easily pick up on feelings of anxiety or stress.

Starting primary school
How do I choose the right school?
When choosing a school for your child there are a few different types of schools to consider. These include public schools, private schools, independent schools or more specialised education support centres. It is important that you consider your child's needs and the type of school that will be best able to cater for these needs.
Both public and private schools have support services for children with disability. In a public school you, the school staff and your child will create an individual education plan. This is a plan written specifically for your child, taking into account their individual educational and personal needs. Your family may also be eligible for extra government funding to support your child's education.
Children with disability in independent schools are also eligible for government funding, however it is at a lower level than their counterparts at government schools. Independent schools all operate slightly differently, and so provide a variety of pathways and strategies to support your child.
When you are considering a school, be sure to set up a meeting with the school to talk to them about the types of support they offer. If possible, also request a tour around the school to determine any possible access issues for your child such as stairs/ramps if they have mobility issues. This will also allow you to get a general feel about the atmosphere of the school, and how it fits with your family.
Some good questions to ask of any school are:
How many children are in each class?
Will my child have access to an Education Assistant and how many support hours will they get?
What does the support from an Education Assistant look like?
Will my child be able to access specialist equipment if they need it? i.e. specialist seating, a wheelchair, assistive technology like a laptop with reading/writing software on it?
Do you have inclusion policies in your school?
If my child needs a specific education plan, what is the process for this?
Does the school have written policies about students with disability?
How many students with a disability (or receiving extra funding) does the school currently have?
What are education support centres and education support schools?
Some children with disability are eligible to attend an education support centre or school. Education support centres are located alongside mainstream primary and secondary schools. They deliver both individualised programs with specialist staff separate to the mainstream classrooms, but also look at supporting the child to participate in some mainstream programs with their peers. The frequency of mainstream integration is different in each education support centre, and is a really important question to ask a school.
Education support schools are separate primary and high schools with on-site access to specialist staff and facilities. These schools generally have smaller class sizes with a higher student to education assistant ratio. Some schools also have onsite therapists.
Both education support schools and centres have a strong focus on linking in with disability employment agencies and training organisations to make future transitions such as going to high school and looking into post school options easier.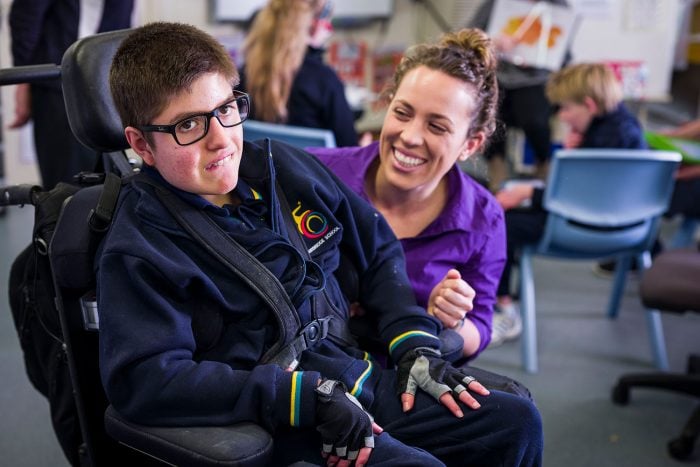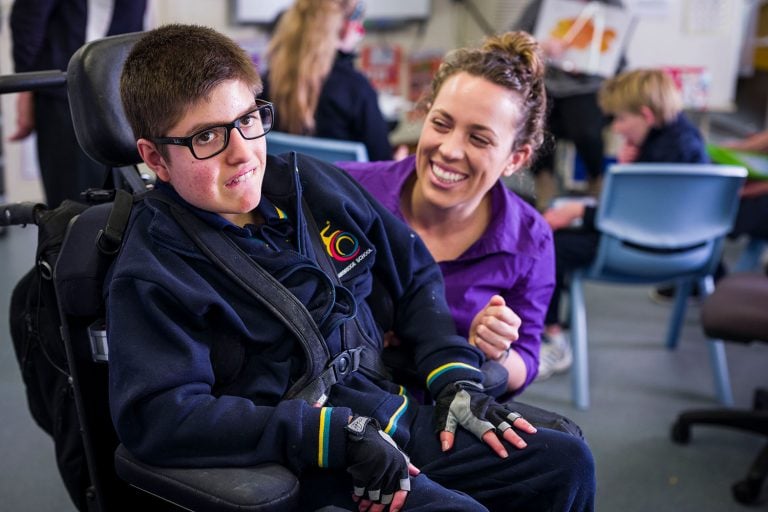 Starting high school
How do I support the transition to high school?
There are many things you can do at home to get ready for your child's transition to high school.
Start preparing for the transition to high school as your child reaches the end of Year 5. This could include meeting with the high school to ensure they are aware of your child's needs and organising transition visits so your child can go and spend a few days at the high school with other peers from their class or a familiar support person. Your therapists will be able to attend these introductory meetings with you, if you would like their support. Transition visits will give your child the chance to work out the layout of the school (where their lockers will be, where the canteen and lunch area is, the library and gym and where their main classrooms will be etc.)
Talking about the new school and routine in advance, visiting the school and working out practicalities, such as how to get to and from school, can all be done before your child starts high school. You can also create a high school booklet that includes pictures of the school, their teachers, education assistants and friends that might also be starting high school with them. Include information such as how they are getting to and from school and what subjects they will be doing. Doing a lot of preparation in advance will help reduce your child's anxiety or fears around the 'unknown'. It is also important to highlight the aspects of the transition to high school that will remain the same. For example, they may still have the same friends attending high school, they will still be dropped off at school, they will still wear a uniform etc.
Organisational skills are also important for high school and you can support your child to develop these skills by helping them use a diary, showing them how a class timetable works, and helping them organise their text books. Colour coding books can often be a useful way to help your child to find the books they need easily.
Be prepared for ups and downs, especially in the first term. By continuing to communicate with the school staff and your therapy team, you'll be able to work together to support your child through this transition.
Will my child get special conditions for tests and exams?
Students with disability who could be disadvantaged in timed assessments may be granted special conditions during exams. This could involve extra reading and working times, rest periods, special instructions, use of a computer or scribe and more.
Assessments to determine the type of special conditions your child needs can be completed by school staff and your therapy team. The school may then need to submit this to the Education Department in advance for approval prior to big exams (like ATAR). Your therapy team and school staff can work together to set up the best learning environment for your child.

Leaving high school
What are my child's options after high school?
Whether the next step for your child involves building on life skills, engaging in leisure activities, gaining employment or continuing their studies, there are many options and ways to go about this.
High school graduates may be able to go to university, TAFE or study online. This will give them the opportunity to earn a certificate, diploma or degree of higher learning. If your young adult would like to test the waters of higher learning, a short course or holiday course may be a good option for them.
Alternatively, if they're seeking employment there are many options including supported employment, customised employment, starting a micro-business or working in a full time, part time or casual capacity in a local business (open employment).
Start planning for your young adult's transition to the workforce in Year 10 so you can discuss work experience options with your high school and link into Disability Support Services in Year 12. Your therapy team can help you with information regarding this.
Ticket to Work is a great resource for school leavers looking for employment. The program helps people with a disability as they prepare for the world of work and provides them with an open employment pathway in their transition from school.
Supporting key transitions
Discover how Therapy Focus can provide support for key life transitions for teenagers and young adults.