Top Marks for Communication at Therapy Focus
Therapy Focus is the first organisation in Western Australia to be accredited as communication accessible by Scope Australia, with four offices awarded the Communication Access Symbol.
The Communication Access Symbol is endorsed by the International Society for Augmentative and Alternative Communication (ISAAC), the Department of Health and Human Services (DHHS) and National Disability Services (NDS), and indicates that an organisation is accessible to people who have communication difficulties.
To display the Communication Access Symbol, an organisation must undergo assessment and meet the following criteria:
Staff are welcoming and treat everyone with dignity and respect
Staff are able to communicate successfully with people with communication difficulties
Communication tools are available to help people get their message across and understand what people are telling them
Since 2011, more than 100 Victorian businesses have been awarded the Communication Access Symbol, however, the Therapy Focus is the first Western Australian organisation to achieve accreditation.
A committee of Therapy Focus Speech Pathologists managed the accreditation process, nominating Communication Access Champions at all Therapy Focus offices, providing strategies and resources that help facilitate successful communication, and delivering training to administration staff.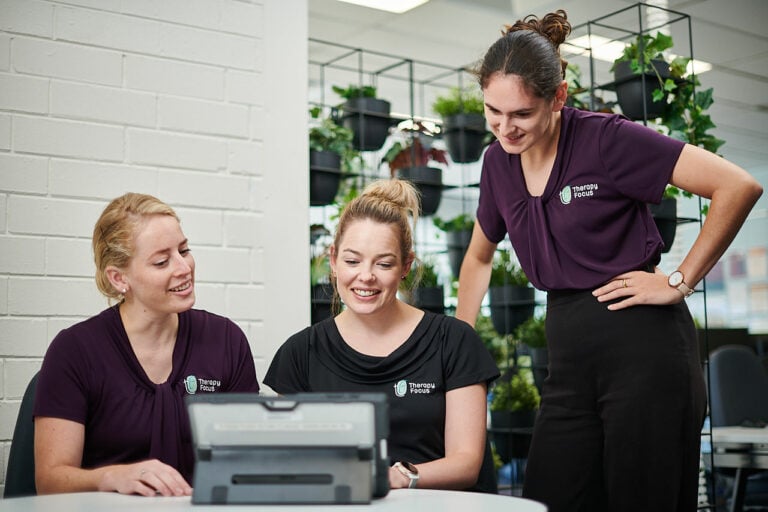 Pictured: Therapy Focus staff taking part in communication access training
All the hard work and preparation culminated during Speech Pathology Week in September, when administration staff at Therapy Focus' offices in Joondalup, Mirrabooka, Bentley and Maddington underwent evaluation by assessors from Scope.
The assessment included a series of 'secret shopper' style interactions both in person and over the phone. Feedback was glowing, with the assessors commenting that staff were helpful and respectful in their communication, using communication tools and adapting to circumstances where required.
Therapy Focus Advanced Speech Pathologist, Natalie Elias, said that while the accreditation was a big achievement for the organisation, the greater achievement was improved access and inclusion for people with communication difficulties.
"1 in 7 Australians will experience a communication difficulty at some point in their life," Natalie said.
"Communication access aims to create a world where people who have communication difficulties are able to communicate successfully with everyone."
"We are so pleased that the efforts of our team have been formally recognised, and are proud of our administration staff, who have taken on the project with enthusiasm and represented Therapy Focus superbly," she said.
Visit Scope Australia for more information about the Communication Access Symbol and the accreditation process.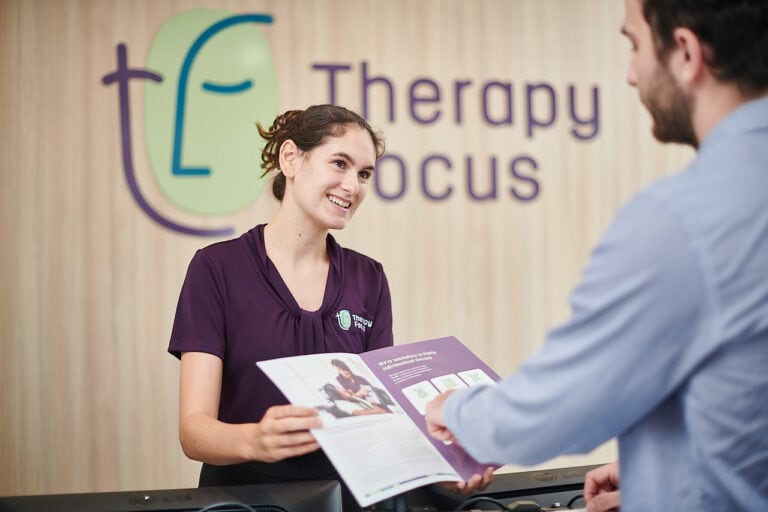 Pictured: Therapy Focus Office Coordinator assists a visitor.
Your partner in therapy
Learn more about Therapy Focus, how we work and meet the team.