Thumbs up for Key Word Sign workshop
Earlier this month a group of parents, carers and educators learned the basics of Key Word Sign at a workshop hosted by Therapy Focus.
Key Word Sign is an interactive sign vocabulary that includes the use of manual signs and natural gesture to support communication. It can be used with both children and adults, and can benefit people who have difficulties with attention, comprehension and/or developing speech.
At the full day workshop attendees watched demonstrations by qualified therapists and took part in activities, which allowed them to practice Key Word Sign and other methods of alternative communication. They also received the 'Getting Started with Key Word Sign' book and learnt about other resources such as the Key Word Sign Australia app.
Zerin Grech is a teacher at East Victoria Park Support Centre and attended the workshop to gain a better understanding of Key Word Sign and learn strategies for use in the classroom.
"I've been using some Auslan sign language in my classroom for the past couple of years, but a recent visit from a therapist prompted me to investigate Key Word Sign as an effective alternative," Zerin said.
"The workshop provided a great balance of information, demonstration of interactive vocabulary and practical activities. It was a really worthwhile experience and I'm excited to start using more Key Word Sign in my classroom."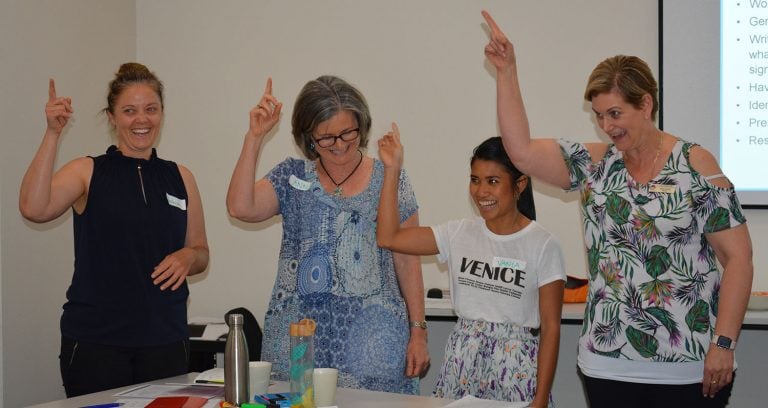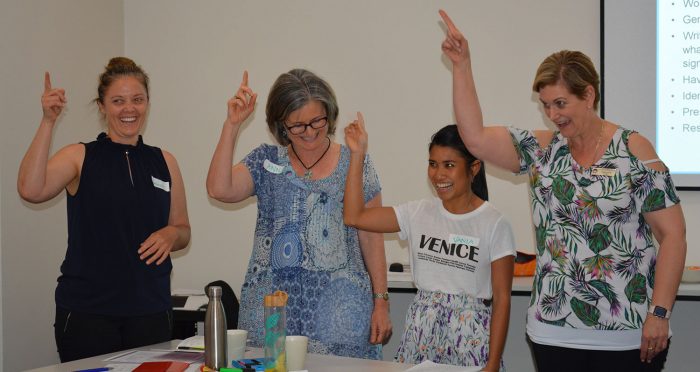 Pictured: Attendees taking part in the Key Word Sign workshop
Another attendee, Melissa, was looking for ways to help broaden the vocabulary of a young man she cares for when she heard about the Key Word Sign workshop.
"One of the boys who is a special part of our family is non-verbal and I wanted to find ways to communicate with him more effectively," Melissa said.
"The workshop was very interactive and a great way to broaden knowledge and learn new techniques for communicating. I would definitely recommend Key Word Sign to other parents and carers."
How we work
Learn about Therapy Focus' transdisciplinary approach to service delivery and how it helps with therapy strategies.