Therapy Focus Celebrates 20 Years
On Friday 20 July, 500 guests including Therapy Focus staff, alumni and special guests celebrated the organisation's 20th Anniversary with a Gala Dinner at Crown Towers.
Parliamentary Secretary Mr Reece Whitby MLA officially opened proceedings on behalf of the Minister for Disability, congratulating staff for their dedication to supporting WA people with disabilities, and thanking the organisation for its contribution to the disability sector across 20 years.
Mr Whitby was moved by a video featuring three families who access services from Therapy Focus, saying that Therapy Focus gives people with disability the opportunity to embrace their potential.
"The young people with disability in the video – Mia, Shona and Chris – are happy, having fun, expanding their skills, are socially involved and learning how to be independent. Most importantly they are surrounded by love," he said.
"And while we can truly thank their parents and caregivers for that love, it is Therapy Focus we need to acknowledge for helping these families negotiate challenges and maximise opportunities."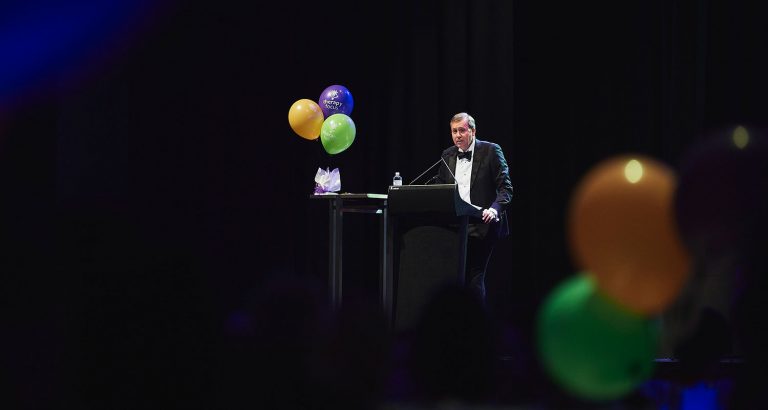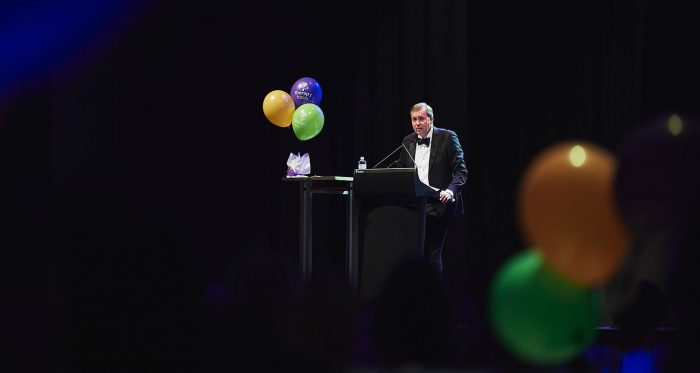 Pictured: Mr Reece Whitby MLA addressing guests
As part of the celebrations, many Therapy Focus employees were presented with awards that recognised outstanding achievements.Therapy Focus Behaviour Support Psychologist Scott Payne was awarded the 2018 People's Choice Award, which acknowledges employees who have gone 'above and beyond' to support Therapy Focus customers, their families and carers.
Nominations for the People's Choice Award are submitted by individuals accessing services, their families and carers with Scott was nominated by 11-year-old Rhys Tallowin. The following is an excerpt from Rhys' nomination:
"I nominate Scott Payne because he helped me get my name changed to Tallowin. He also helps me be more calm and less violent. He rides a bike, scooter and skateboard with me and he spends time with me in the places that I am comfortable in. He also helps the rest of the therapy team understand me so they can help as well."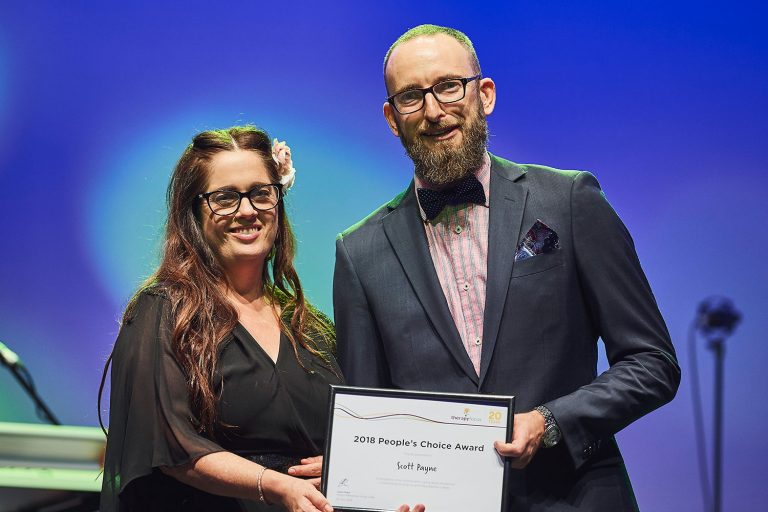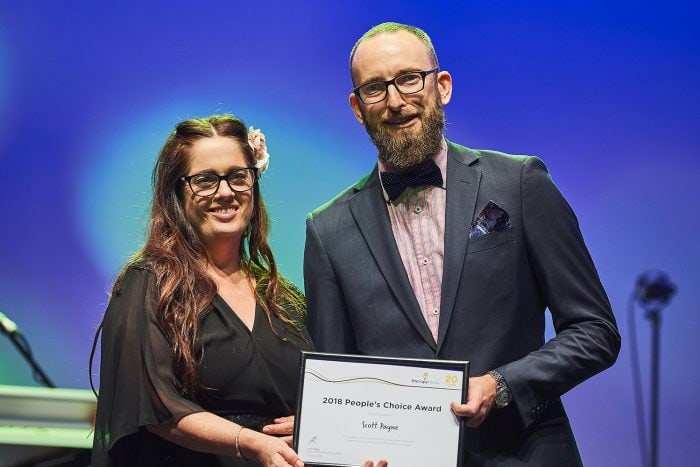 Pictured: Scott Payne accepting the 2018 People's Choice Award from Therapy Focus Parent Reference Group (now Customer Reference Group) representative, Amanda Reed.
Therapy Focus South West Team Leader, Danelle Milward was awarded this year's Leadership Award, which recognises an employee who has displayed exceptional leadership skills, demonstrated the ability to guide and inspire others, and contributed to the functioning of the organisation.
Danelle was nominated by the South West Team, who commended her skills as a leader. The following is an excerpt from the nomination:
"Danelle leads by example. She reminds us to champion inclusion and participation in the community we work in – not only for our customers, but as part of our presence as a service provider. We all agree that she is exceptional in her role as our Team Leader. She understands our individual and collective needs, and in doing so, utilises our strengths, supports us to address our weaknesses, and drives us to provide a service that builds the capacity of our customers and their families."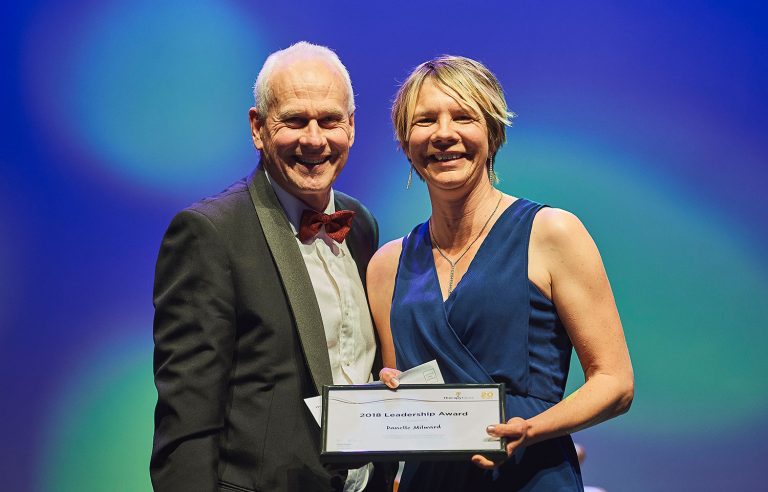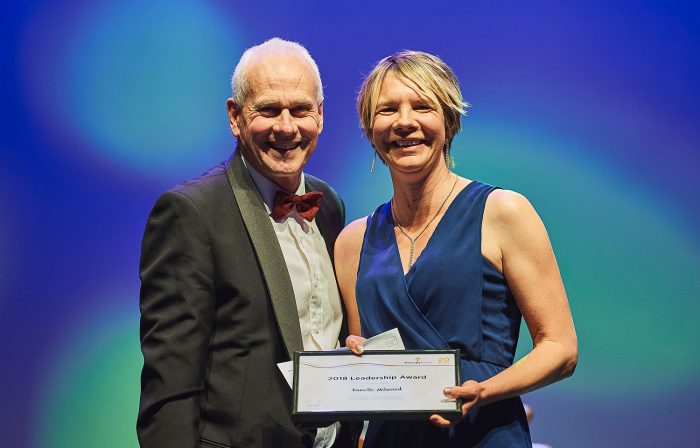 Pictured: Therapy Focus South West Team Leader Danelle Milward accepting the 2018 Leadership Award from Therapy Focus Board Deputy Chair, Tony Vis.
Three Therapy Focus employees were jointly awarded the inaugural Innovation Award, which recognises outstanding creativity and ingenuity when addressing challenges, improving processes and/or delivering services.
Speech Pathologists Chloe Justins and Caitlin O'Meara and Advanced Occupational Therapist Olivia Coleman were nominated by Team Leader Niamh Fitzmaurice, who congratulated the group for their teamwork and for thinking outside the box. The following is an excerpt from their nomination:
"Driven by the opportunity to provide much-needed services to the Bullsbrook community, Chloe, Caitlin and Olivia formed what's now known as the Bullsbrook Mini-Team. Thinking outside the box, the team was able to secure a therapy space at Bullsbrook College and provided professional development opportunities for education staff as an alternative to paying rent. Customer numbers in Bullsbrook steadily increased and continue to grow, with Therapy Focus now the primary therapy service provider in both the Bullsbrook and Ellenbrook communities. The feedback from families and Bullsbrook College has been tremendous, particularly in terms of the team's clinical skills and the professional development opportunities afforded."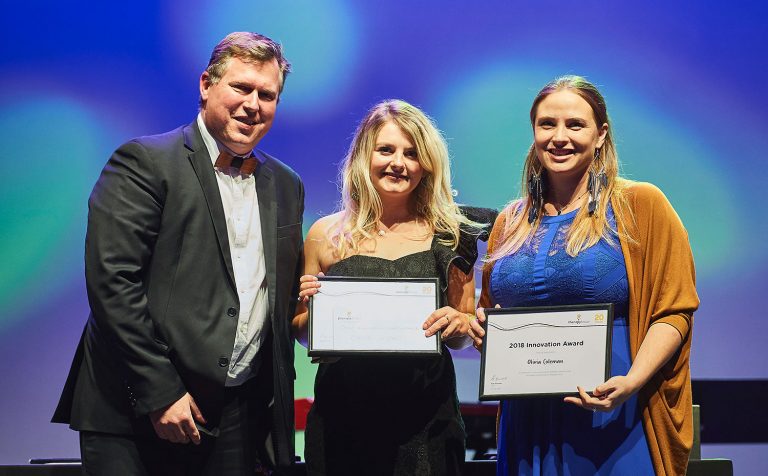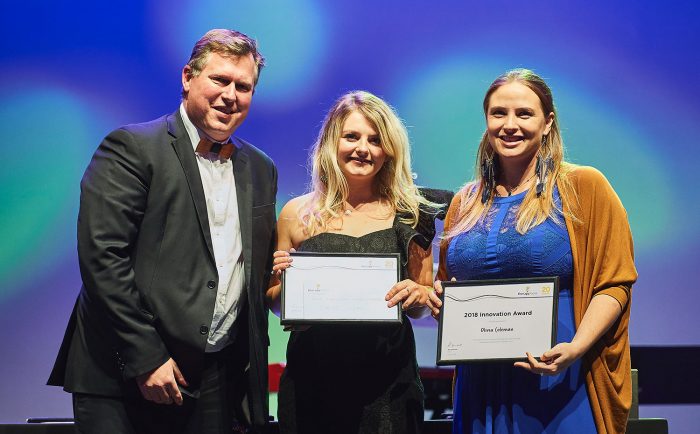 Pictured: Therapy Focus Speech Pathologist Chloe Justins and Advanced Occupational Therapist Olivia Coleman accepting the 2018 Innovation Award from CEO Matt Burrows.
Some employees also received service awards acknowledging 5, 10 and 15 years of service. Administration Officer Heather Stanley was also acknowledged for 20 years of service, having been employed with Therapy Focus since the very start.
To see more photos from the event, visit the Therapy Focus Facebook page.
To further celebrate the 20 year milestone, the unique stories of 20 people including employees, alumni, people accessing services and their families were recorded. To read these stories please contact us.
Our History
Learn more about Therapy Focus' 20 year history and how it has grown to become Western Australia's leading provider of professional therapy services.