Team Work Makes the Dream Work for Phillip
With support from both Intelife and Therapy Focus, 19-year-old Phillip Kalimeris has established his own gardening and cleaning business and is developing the skills needed to run his business independently.
Intelife Training Support Officer Michele MacPherson has been supporting the project since February, meeting with Phillip and his family regularly prior to establishing the business.
"The goal was to spend time with Phillip and really get to know him so we could ensure the pathway he chose was something he would enjoy," Michele said.
"Over time it became evident that Phillip was passionate about all aspects of cleaning and gardening."
As a supported employee at Intelife, Phillip has been working two days a week in the Gardening Team, which has enabled him to further develop his passion for gardening and learn important skills for running his own business.
Phillip is now working with Michele to start circulating his brochures and generating a customer base.
"I love cleaning. Golf buggies are my favourite things to clean," Phillip said.
"I've handed out my flyers and I can't wait to have my own cleaning business."
Therapy Focus Occupational Therapist Joanne Arfuso has also been working with Phillip to help him achieve more independence and enjoy his work more.
"Because Phillip is working with chemicals in the cleaning aspects of his job, it was important that he learn safety precautions such as wearing gloves and taking responsibility for correct application," Joanne said.
"Operating a business independently will [need] a lot of learning on Phillip's part, so I'll be working with him in conjunction Michelle to ensure he has all the tools he needs to make his business a success."
Therapy Focus partners with Intelife to provide more comprehensive support and referral pathways for people with disability.
For more information about Intelife and their services for school, leavers visit intelife.org.
To learn more about how Therapy Focus can support people with disabilities after they leave school, visit our the transitions page or the post-school support page. Alternatively, contact us on 1300 135 373.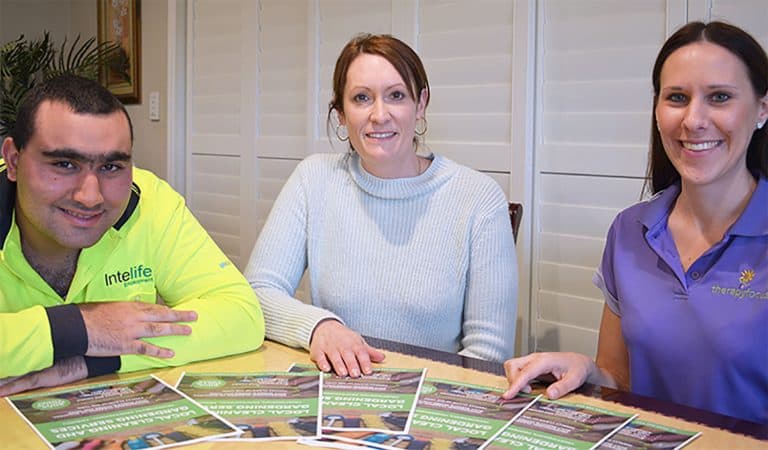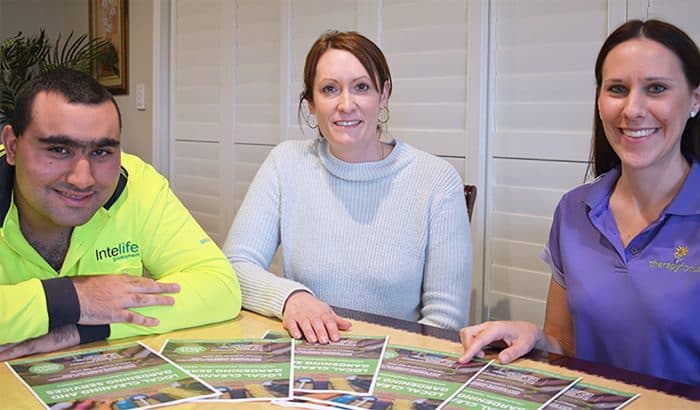 Pictured: Phillip with Intelife Training Support Officer Michele MacPherson and Therapy Focus Occupational Therapist Joanne Arfuso
Teenagers and Young Adults
Learn about the supports available for teenagers and young adults with disability as they enter their adult years.