Staff Celebrated at 21st Anniversary
On Wednesday 3 July, Therapy Focus staff, Board Directors and special guests celebrated the organisation's 21st anniversary with a breakfast at Crown Towers and the presentation of our annual staff awards.
The event kicked off with a rousing Welcome to Country by local Whadjuk Noongar woman, Ingrid Cumming, who was delighted by Therapy Focus' Acknowledgement of Country in Key Word Sign. She said that in 26 years she had never seen an Acknowledgement to Country in such an inclusive format.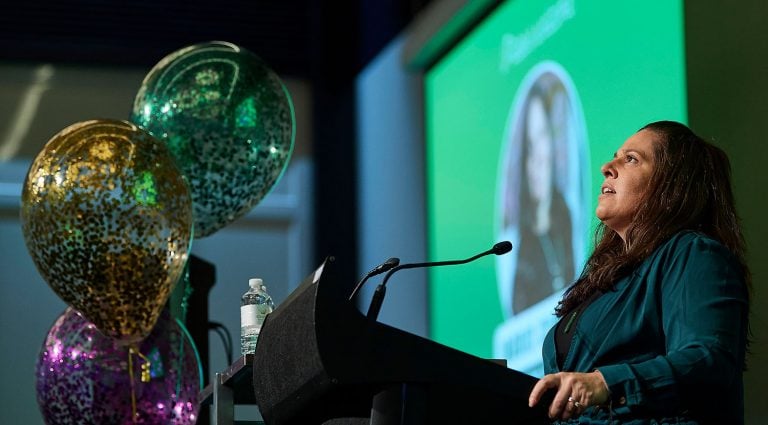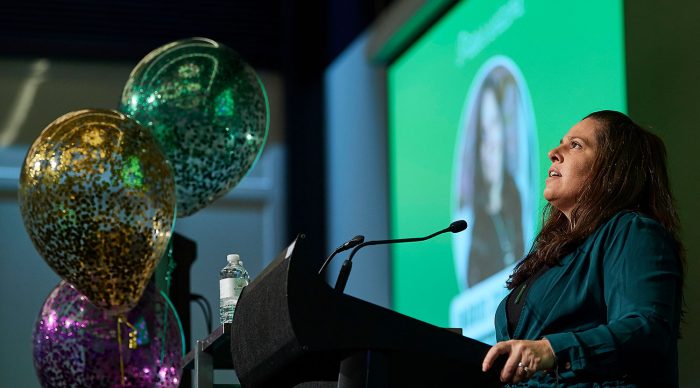 Pictured: Ingrid Cumming performing a Welcome to Country for breakfast guests
A highlight of the event was the presentation of the annual staff awards, with many Therapy Focus employees acknowledged for their outstanding achievements.
Advanced Speech Pathologist, Tiffany Haliburton was awarded the 2019 People's Choice Award, which acknowledges employees who have gone 'above and beyond' to support Therapy Focus customers, their families and carers. This year 78 nominations were submitted by individuals accessing services, their families and carers.
Dana Harle nominated Tiffany in recognition of the outstanding services, and support Tiffany has provided to her daughter, Tyla. In nominating Tiffany, Dana said that she had never seen a therapist connect with Tyla as Tiffany has and that she had seen a dramatic change in the 19-year-old. The following is an excerpt from Dana's nomination:
"The confidence Tyla has since working with Tiffany is undeniable. She has grown so much and can communicate her needs better. Tyla is a different young lady in every aspect of her life – family, school and socially. It's amazing how one person can make such a change in someone's life. We will be eternally grateful!"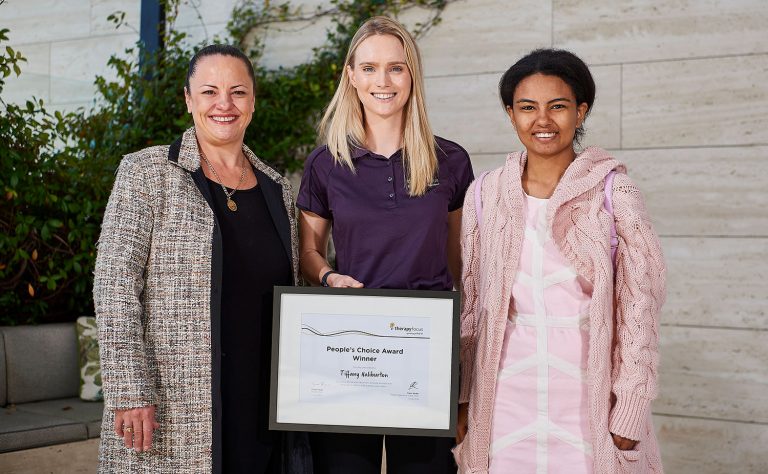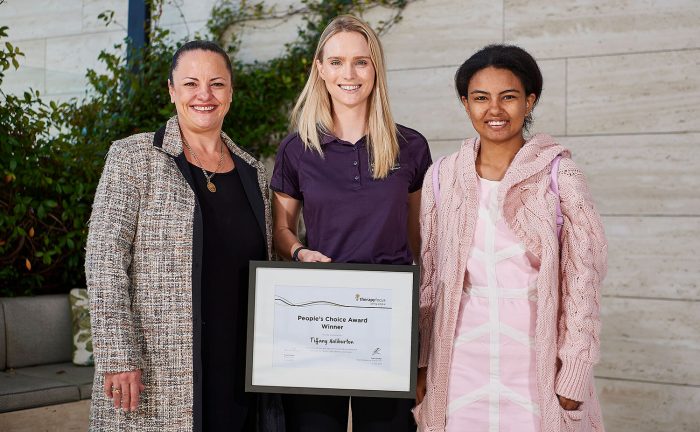 Pictured: 2019 People's Choice Award winner Tiffany Haliburton with Dana Harle and her daughter, Tyla.
Advanced Speech Pathologist, Christine Bosch was awarded the 2019 Leadership Award, which recognises an employee who has displayed exceptional leadership skills, demonstrated the ability to guide and inspire others, and contributed to the functioning of the organisation.
Christine was nominated by her colleague, Melissa-Sue Clark, for the exceptional leadership she shows in supporting and guiding colleagues, while also contributing to the advancement of our services for people with Autism Spectrum Disorder.
The following is an excerpt from the nomination:
"Christine's dedication to her [customers], and particularly to the field of Autism, is inspirational. Through her direct professional interactions and indirect sharing of experiences, Christine encourages and inspires her colleagues and mentees to work toward quality and clinical excellence. The [effect] she has on her colleagues is evident from the 'waitlist' of staff wanting her clinical supervision."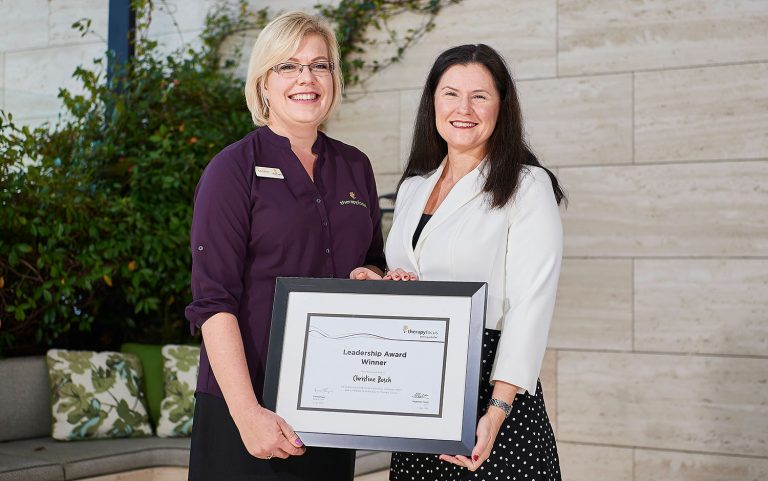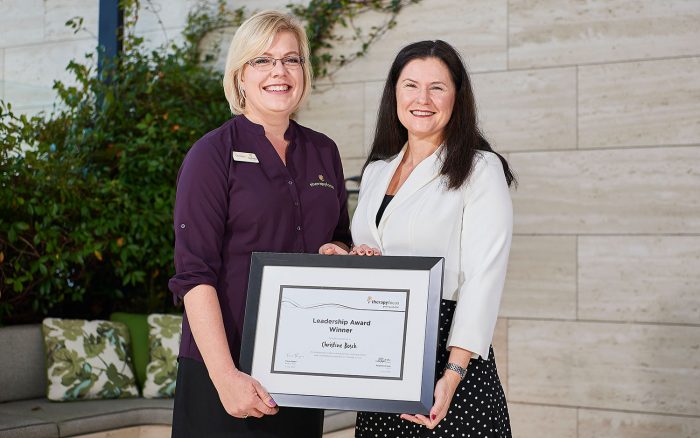 Pictured: 2019 Leadership Award winner, Advanced Speech Pathologist, Christine Bosch, with Therapy Focus Board Member, Ann Dawson.
Bayswater Team Leader, Alison Milton was the recipient of this year's Innovation Award, which recognises outstanding creativity and ingenuity when addressing challenges, improving processes and/or delivering services.
Christine Bosch nominated Alison for showing outstanding creativity and ingenuity in establishing the Communication Matters Consultancy and developing Therapy Focus' Alternate Augmentative Communication services. The following is an excerpt from their nomination:
"Alison has worked hard to ensure that her original vision has come to life by overseeing the Communication Matters Consultancy. It is a well-run, streamlined service that benefits our staff, customers and the broader community – as the office is available to external customers. The innovative venture has led to an [extra] revenue stream for Therapy Focus, which has the potential to grow."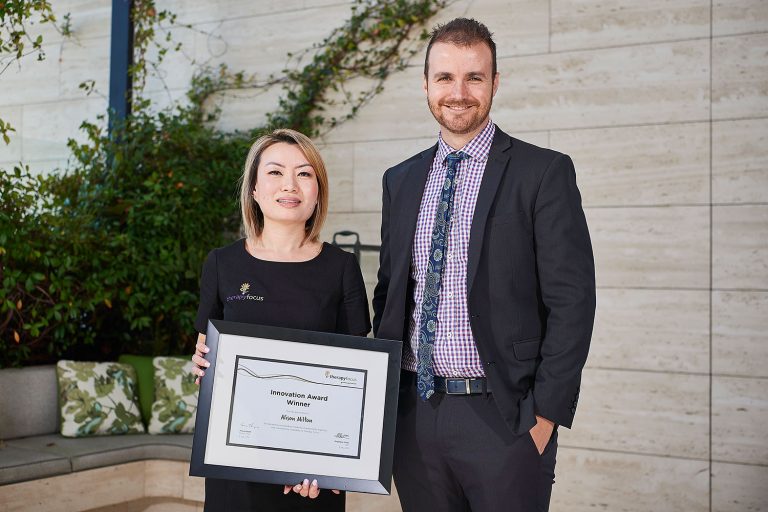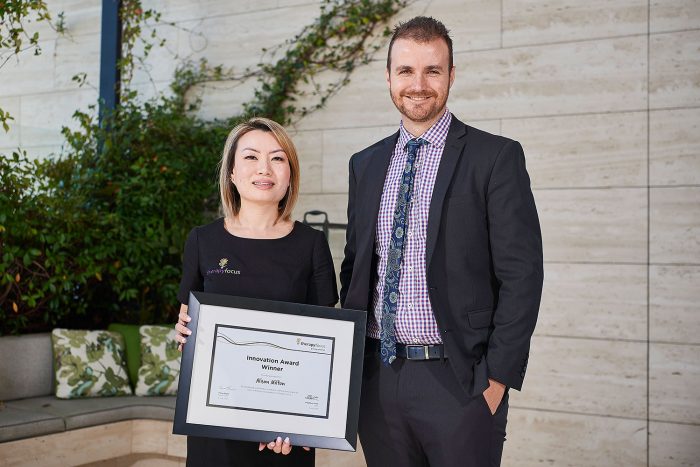 Pictured: 2019 Innovation Award winner, Alison Milton, with Therapy Focus Board Member, Kane Blackman.Many employees also received service awards.
Charlene Un, Nicole Seath, Andy Gleeson, Elena Stoichev, Alice Storer, Odette Gaynor, Kirby Molloy, Lauren Redman, Karina Smith, Dawn Atkinson and Ashlee Moss were acknowledged for five years of service, while Wendy Ashlin, Su Lin Ng, Crystal Cutler, Stephanie Lee Slew and Louelle Frost were thanked for contributing 10 years of service.
Robyn Meldrum, Deanne Coleman and Tracey Ellis were honoured for contributing 15 years of service.
One of Therapy Focus' longest-standing employees, Jonathan Ng, was honoured in an emotional tribute, with his team thanking him for his exceptional leadership across an incredible 20 years of service. Jonathan now commences his retirement and is looking forward to spending more time with his family.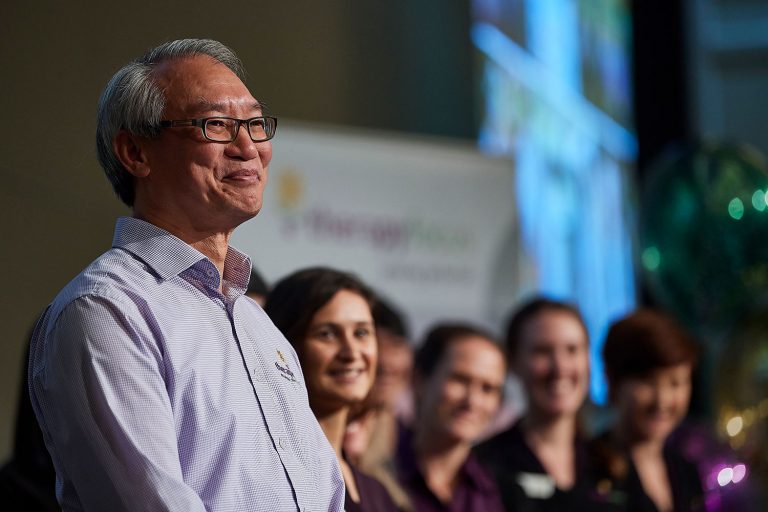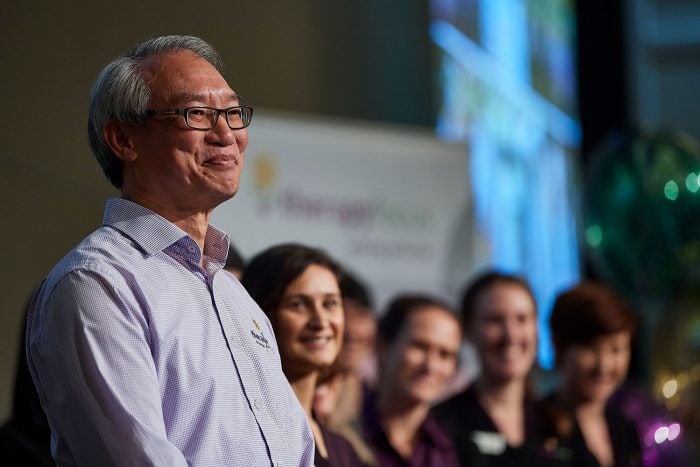 Pictured: Jonathan Ng celebrates 20 years of service at Therapy Focus… and his retirement!
The morning concluded with an entertaining keynote presentation by comedy hypnotist Matt Hale.
To see more photos from the event, visit the Therapy Focus Facebook page.
Our History
Learn about Therapy Focus' journey from humble beginnings in 1998 through to becoming Western Australia's leading provider of professional therapy services.