Specialist Support Crosses the Sea
Therapy Focus therapists are crossing oceans to provide specialist support to children like 7-year-old Zathiyah Elman, who was affected by a rare genetic disorder that left her with complex disabilities.
Zathiyah and her family live in The Cocos Islands and first came to Perth when Zathiyah presented with symptoms of the disorder at 2 years old. Her mother Zaina said her daughter was a regular toddler until a recessive gene held by both parents began to wreak havoc.
"Zathiyah was having lots of trouble breathing and the hospital on the island couldn't provide her with the treatment she needed. We were rushed to Perth and Zathiyah was diagnosed with pyruvate dehydrogenase deficiency," Zaina said.
"She was successfully treated in Perth and began to walk and talk again, but relapsed a year later. The condition has left Zathiyah with poor muscle tone, which makes her wheelchair dependant, as well as neurological problems that affect her ability to speak."
Therapy Focus Occupational Therapist, Sharon Hedley met Zathiyah and her family while delivering services on The Cocos Islands as part of an agreement between Therapy Focus and the Indian Oceans Territories Health Service.
"Zathiyah's therapy on The Cocos Islands has been sporadic, and I knew she could benefit from the specialist services that our Advanced Occupational Therapist John Lees can provide," said Sharon.
"Zathiyah and her family travel to Perth every 4 months for Botox treatments to relax her muscles, so we lined up an appointment with John to complete a full assessment and identify what extra support we can provide."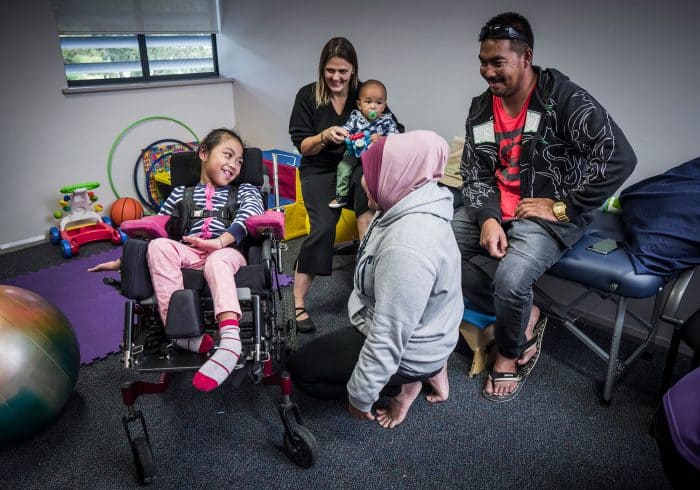 Pictured: Zathiyah (L) with her family and Therapy Focus Occupational Therapist, Sharon Hedley.
John is now working with Sharon, Zathiyah and her parents to build a complete picture of her complex condition, and devise a therapy program that can be implemented in Perth as well as on The Cocos Islands.
"In our initial appointment, we spoke to the family about Zathiyah's home situation and lifestyle, capturing the family's goals, concerns and priorities. For example, the roads in The Cocos Islands are paved with large pavers, making it very rough and bumpy. We will need to minimise this effect by selecting a wheelchair with wheels and tyres suited to rough terrain."
"After this, we conducted a physical assessment to look at Zathiyah's current seating system and postural requirements. This helps us start the process of developing a therapy plan that will maximise Zathiyah's functional ability, minimise the energy she needs to maintain her position, and protect her body systems from potential damage as a result of poor posture."
Prior to taking up his position with Therapy Focus, John was the Clinical Lead Occupational Therapist with the Central London Specialist Wheelchair Service, giving him extensive experience in working with children with complex disabilities.
"I've worked with [many] children and adults with complex disabilities, which have resulted from congenital conditions. These people usually [need] highly customised seating and positioning solutions, so the most important part of my role is to complete thorough assessments to identify appropriate recommendations."
With Zathiyah now back home, Sharon and John are preparing a report with their findings and recommendations for Sharon to discuss with the family when she returns to The Cocos Islands in September.
"From here I will be supporting the family to trial some extra postural supports such as alternative seating, a shower seat and potentially a new wheelchair. I will also review the home environment as well as Zathiyah's bed position and sleep supports," Sharon said.
"We expect that with access to these specialist supports and equipment, Zathiyah's muscles will be supported to the point that she will be able to avoid deformity and live much more comfortably on a day-to-day basis."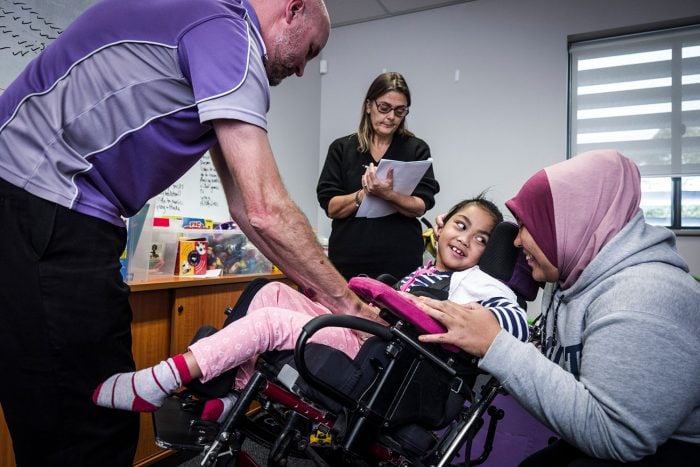 Pictured: Zathiyah with her mother and Therapy Focus Occupational Therapists, Sharon Hedley and John Lees
Specialist Services
Learn about specialist support services available for people with disability to support them on their journey.