Sofia Speaks Up About Autism
11 year-old Sofia Schiaffini has won an award for her speech about autism in this year's Speak Up Awards.
The Anne Hamersley Primary School student outperformed 150 other students to make it to the finals of the interschool public speaking competition, which is hosted by the WA Freemasons.
In her speech, which focused on her experience as someone with autism spectrum disorder, Sofia said that the best thing people can do to help those with autism is be kind and understanding. The speech was so well received that it won her the Grand Master's Award.
Sofia's Mum Amanda said that the award was an incredible achievement for her daughter, who had difficulty accepting that she had autism up until recently.
"Sofia had anxiety and was bullied at school, but we never expected autism. When she was diagnosed at 9 years-old she was initially relieved. She'd say, 'Now I know why I am how I am. I'm not weird.' The denial came when she started therapy, which was something her friends didn't have to do," Amanda said.
"But she's come a long way in terms of accepting her differences. She could have chosen any topic to write her speech about, but she chose to write about autism and share her experiences."

Sofia's Mum, Amanda Schiaffini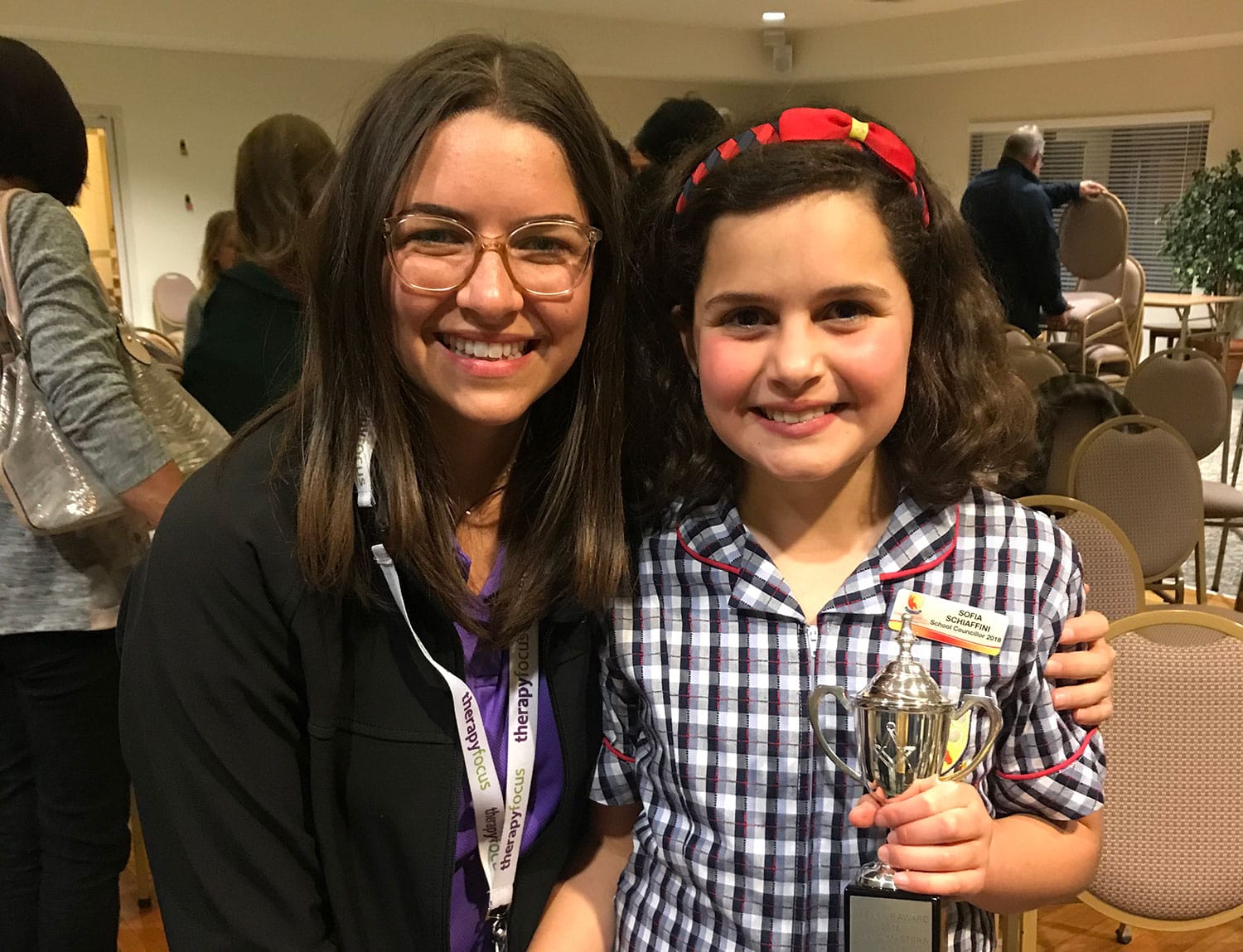 Picture: Sofia Schiaffini celebrating her win with with Therapy Focus Speech Pathologist, Caitlin O'Meara
While Sofia was reluctant about therapy at first, she is now enjoying her sessions with Therapy Focus Speech Pathologist Caitlin O'Meara and Psychologist Kimberley Sanford, who helped Sofia explore her feelings about her diagnosis.
"Kim and I researched autism with Sofia and her family through the use of websites, books and videos," Caitlin said.
"We encouraged self-reflection and provided resources like visual scales to help Sofia voice her feelings in a safe environment. Once she felt comfortable, we encouraged her to share her story with her friends and classmates."
Amanda said that not only had her daughter benefited from the process, but that she had also learnt a lot from working with Sofia's therapy team.
"I've learnt how to change my vocabulary and manage certain situations by using the strategies Caitlin and Kimberley have taught my family. It's really benefited me, which in turn has benefited Sofia," Amanda said.
"I've seen such a huge improvement, and for Sofia to write that speech really highlights just how far she's come in accepting who she is."
Specialist Autism Services
Learn about the services Therapy Focus offers for people with autism spectrum disorder.