School holiday group gets out and about
Over the January school holidays, a group of 10 children and young people with disability got out and about in the community with support from their therapists.
Led by Therapy Focus Speech Pathologist Jaime Offord, the group came together over 4 days to practice using public transport, being safe in the community, communicating with others and shopping and money handling skills.
"The school holiday group provided participants with supervised and structured opportunities to learn and practice various life skills in the community, independent of their families," Jaime said.
"We strive to capitalise on the incidental teaching of skills in a functional, everyday environment [while] also prompting socialisation and friendship between participants."
The skills the group were learning through the program culminated in a big adventure on the last day, which involved catching 2 buses and a train from the Therapy Focus Mirrabooka office to Joondalup Shopping Centre and back again.
"Once we arrived at the shopping centre, the group broke off into smaller groups to complete specific tasks that utilised the skills they'd been learning, Jaime said.
"For one participant this was using a shopping list and finding items in the supermarket independently, and for another, it was texting his mum and being able to clearly explain exactly where he was."
"We knew these young people could learn the skills to be independent in the community, so we provided them with opportunities to learn with the right level of support and prompting. Everyone came in with different goals but worked together really well to be able to achieve them."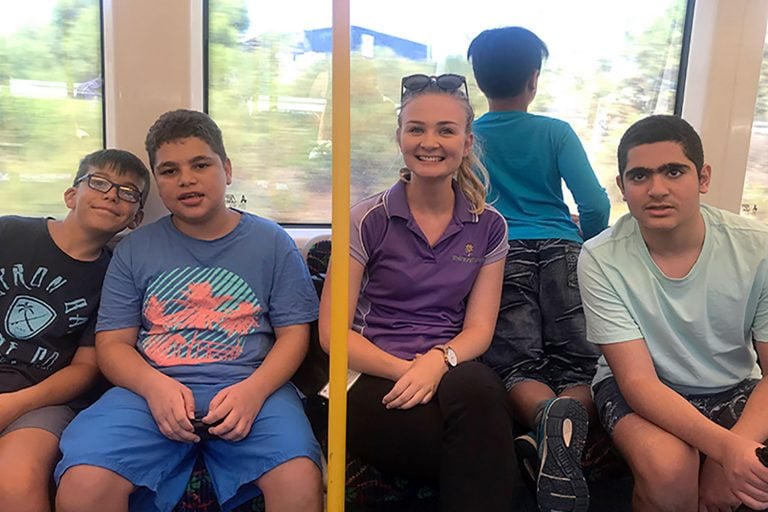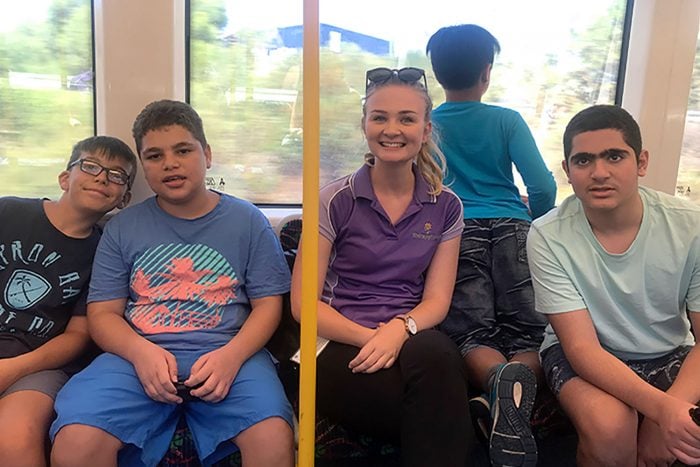 Pictured: Dario Bobanac, Joseph Gabriel, Thoman Phan and Leroy Sassine with Therapy Focus Speech Pathologist Jaime Offord on the train to Joondalup.One participant who made astounding progress over the 4 days was 12-year-old Samuel Becvarovski, whose goals centred around using the Transperth website to plan a journey. His Mum Domenica explained how important this was for him.
"Samuel is almost a teenager and is starting high school this year so it was important for him to have more independence," Domenica said.
"Being able to catch the bus to school by himself is important and he needed the tools from his therapists to be able to do this independently. He's now confidently using the website and catches the bus to school by himself every day, which is something he'd never even attempted before the group."
Jaime was also impressed with Samuel's progress, with his goals being reached above and beyond expectations.
"Samuel was really committed to his goals and by the fourth day of the group he was not only planning his own journey but teaching others in the group how to use the site!"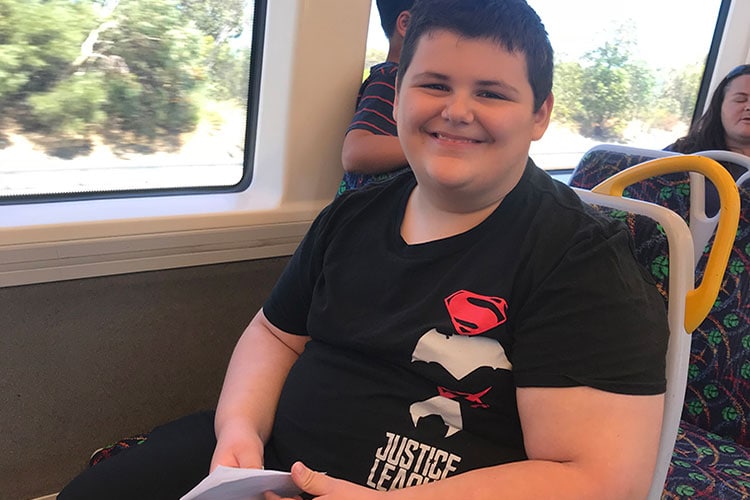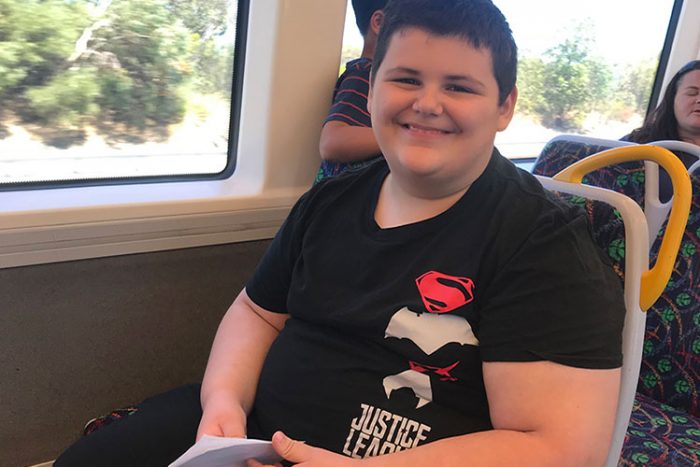 Pictured: Samuel Becvarovski successfully caught the train using the Transperth planner.
Speech Pathology Services
Learn more about the support Therapy Focus can provide for the development of social skills and community participation.