Les finds purpose at Jackson's
Busselton resident Les Slayford has a new-found sense of purpose since securing work experience at Jackson's Drawing Supplies with assistance from his therapy team and Activ support workers.
Since January Les has helped out at the store on Thursday mornings by unpacking deliveries and putting stock away. Store Manager Rochelle Richie said that Les has been a great help to staff at the store, helping to put away stock while other staff served customers.
"I only have a casual on Thursday mornings, so Les helps out by putting away the paints, inks, brushes, pencils and other stock," Rochelle said.
"We loved him from the beginning – he's a real asset to the store. He's great with instructions and will always ask questions to make sure he knows what needs to be done."
Les has an intellectual disability and had lived most of his life in Bridgetown with his late mother. After making the difficult move to Busselton a couple of years ago, Les became reluctant to leave the house, make new friends and take part in community events.
Les's Therapy Focus Occupational Therapist, Lynne Duthie said that Les was initially very reluctant to help out at Jackson's as he also had anxiety about entering the workforce.
"Les's initial goal was to stay for just 10 minutes, but with time he has become more and more comfortable with his role at Jackson's. He now stays for 30-40 minutes and sometimes up to an hour and a half," Lynne said.
"He really enjoys his role at the store now, enthusiastically completing his tasks with support from his therapy assistant or support workers. It's team work in action, with support workers also enjoying the role."
Lynne said that the key to Les' success has been the support he receives from Rochelle and the store staff, who have positively contributed to Les's overall wellbeing.
"The Jackson's team have always been warm, open and accepting of Les. The positive feedback, smiles and high-fives he shares with the staff have gone a long way to develop his self-esteem and bring him out of his shell."

Therapy Focus Occupational Therapist, Lynne Duthie
"Les' contribution has also really added to workplace efficiency. The Thursday delivery gets put away in less time, with staff able to attend to other tasks while Les works with the help of his support workers and therapy assistant."
Rochelle said that the experience had not only had benefits for Les, but for the store staff as well, and that she hoped more local businesses would consider providing work experience and employment opportunities for people with disabilities.
"I think other businesses should look at offering more opportunities for people from diverse backgrounds. Give it a go. Not only are you helping another human being, you're getting valuable labour."
Lynne echoed Rochelle's sentiments, saying that Les's quality of life had improved considerably since taking on his role at Jackson's.
"A productive role in life is so integral for a sense of wellbeing. The fact that he wants to pop in and say 'hello' even on a non-delivery day, shows just how important the job is to Les."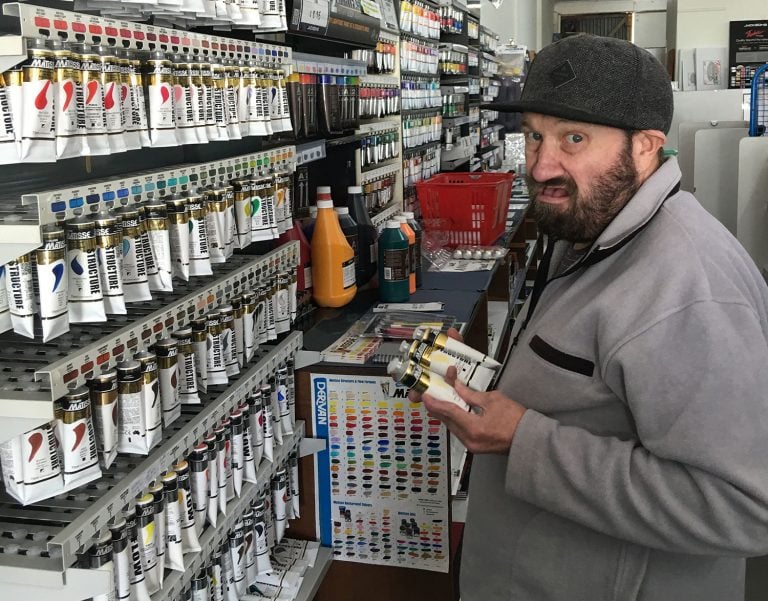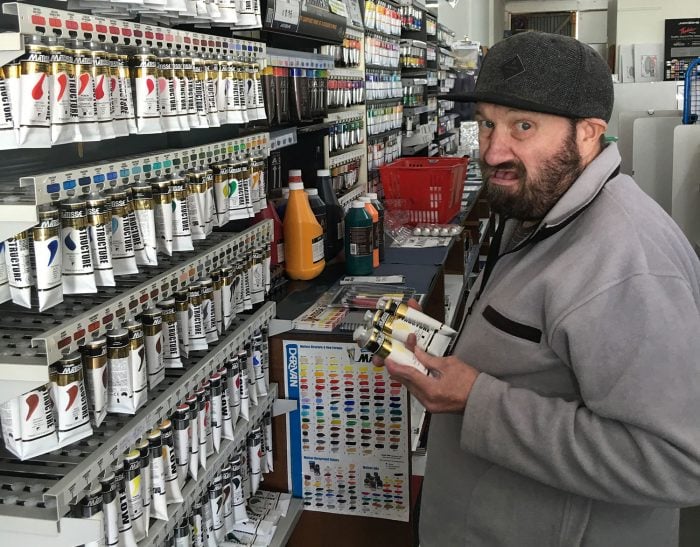 Pictured: Les putting paints away at Jackon's Drawing Supplies in Busselton.
Teenagers and Young Adults
We work to make these key life transitions positive experiences by helping teenagers and young adults with disability navigate challenges, explore their options and participate in the activities that bring joy and purpose.