Evie and her mealtime management success
Achieving mealtime management success can be a challenge for young children and their parents. From fussiness to flat out tantrums, ensuring your child is receiving adequate nutrition can be very difficult for parents. Combine that with something like Dysphagia, and the struggle can be immense.
Now, what is Dysphagia, you ask? Dysphagia is just one of many medical conditions that can make eating and swallowing difficult. Many people with disability live with swallowing issues. Often, these difficulties can be reduced with the help of a speech pathologist.
Speech pathologists can provide strategies and treatments that help address the issues.
Therapy Focus offers specialised mealtime management services that assist people who struggle with swallowing, chewing and sucking. Some methods of intervention include tailor-made mealtime management plans, partner strategies for support networks and the use of assistive technology where appropriate.
Evie is one of Therapy Focus' customers who is responding well to her mealtime management strategies. Evie is being seen by Occupational Therapist Jodi and Speech Pathologist Nicola, as she has been diagnosed with medically related mealtime challenges. Her therapists are taking a multidisciplinary approach to her care to allow for accurate assessment and treatment of Evie's symptoms.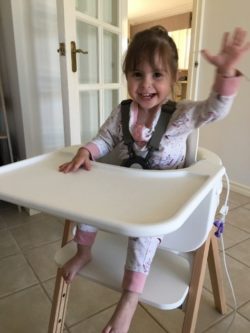 Evie has made tremendous gains in her mealtimes. She is enjoying meals, and her Mum has been so pleased with the progress Evie is making with her weight gain and overall health.
Evie is just one of many Therapy Focus customers receiving support and assistance with her mealtimes.
Need help with Mealtimes?