A dance program being run across Perth is giving adults of all abilities the opportunity to express themselves through dance while growing their confidence and self-esteem.
Dance Inclusion is managed by former support worker Tatam Rosato, who hosts daily classes with up to 60 people with various disabilities putting on their dancing shoes.
Tatam explained how her experience as a support worker inspired her to start the program.
"It's so important to focus on what people can do, rather than what they can't," said Tatam.
"Some of our dancers can't move independently at all, but even moving with assistance is a sensory experience. It's exercise and it can but a big smile on their faces."
"The goal of Dance Inclusion is to enable students to feel empowered and to give the opportunity to express their own unique style of dance in a safe and happy environment."
One keen dancer is Ross O'Dea. Ross, who receives support from Therapy Focus, has been attending Dance Inclusion classes at Cockburn Youth Centre every week this year.
Ross's support worker Fiona Conway has been attending the program with him and has seen the positive effects first hand.
"Every week he has so much fun learning new moves from Tatum and making friends with the other students," said Fiona.
"It's a really different and fun way to get involved in the community."
In a very exciting end to the year for Ross, he was awarded the Dancer of the Year trophy at the class Christmas party.
"Ross has been such a positive addition to the class and worked so hard every week," said Tatam.
"He's a very deserving recipient and a great influence on everyone in the class."
For more information about the Dance Inclusion program, visit the Facebook page.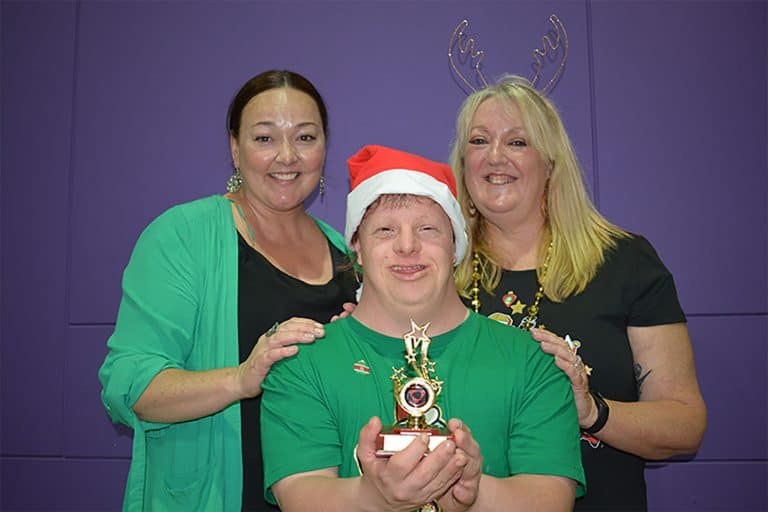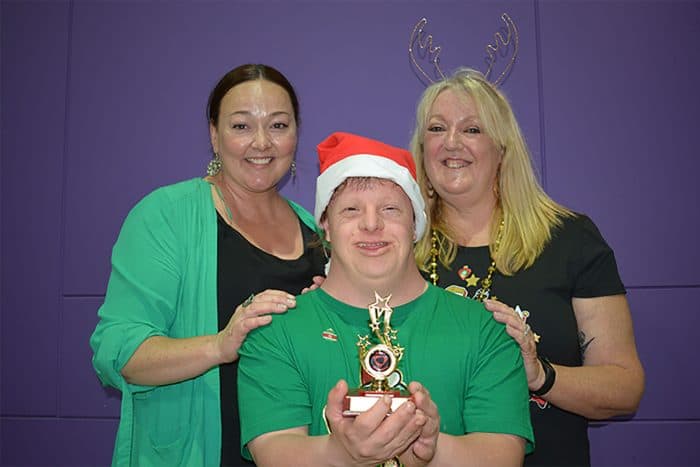 Pictured: Ross (centre) receiving his award from instructor Tatam Rosato (left) and support worker Fiona Conway (right).
Events and Training
Discover upcoming events and training at Therapy Focus.