Dietitians make healthy eating fun
Children and adults accessing Therapy Focus services can now benefit from the support of qualified dietitians who assess nutritional needs, provide dietary advice and develop customized meal plans and strategies.
One person who is already seeing the benefits of dietetic support is 14-year-old Ryker Biffin, who has been working with Therapy Focus Dietitian, Maddie Todd, to overcome dietary issues that stem from having autism.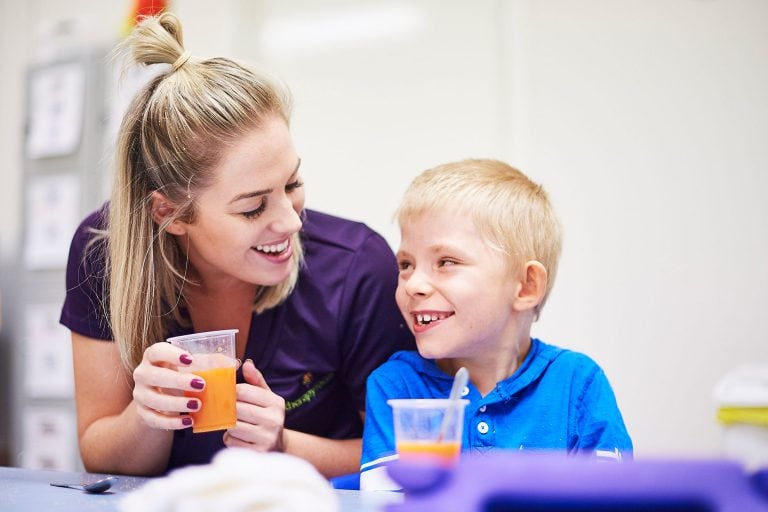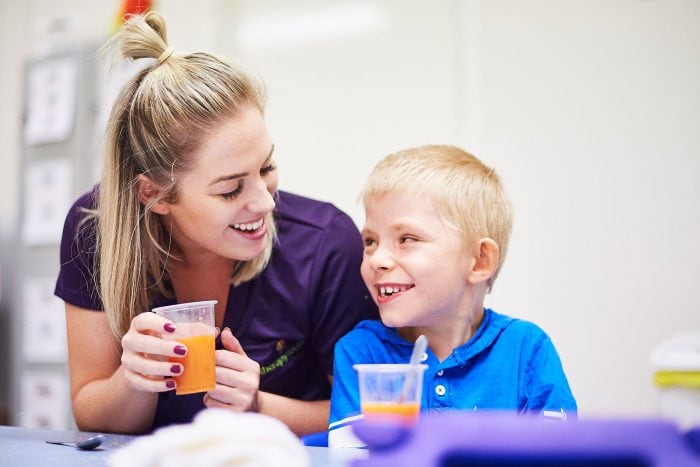 When Maddie first started seeing Ryker his diet only included 1-2 types of fruits and vegetables and he was very resistant to trying new foods.
"Research suggests that children with autism have significantly more feeding problems than children who don't and that they also eat a significantly narrower range of foods," Maddie said.
"Additionally, Ryker was suffering from a condition called 'food jagging' where he would only eat the same food presented the same way every day, and then suddenly not want to eat this food for a period of time. This led to him only eating chocolate and carbohydrates with low nutritional value, which was putting him at risk of developing health issues long-term."
Maddie has been using a combination of nutrition counselling and cooking lessons to educate and encourage Ryker.
"It's important to involve Ryker in food preparation so that he feels more comfortable eating what's prepared – especially if it's a new food. We did some practical cooking lessons where we modified recipes to include fruits or vegetables, such as chocolate muffins with zucchini or kidney beans," Maddie said.
"Since the cooking lessons, Ryker's ability to follow and prepare a recipe has improved and he can now do this with minimal assistance. His motor skills are improving too – he can now crack an egg into a bowl."
Maddie also collaborated with Therapy Focus Physiotherapist, Dan Prigmore, to develop a fitness program for Ryker, and teach him about the relationship between food and exercise.
"Ryker is very logical so once Dan and I explained how much exercise it would take for him to work off a Pop Top, for example, he was less likely to want one," Maddie said.
For Ryker's Mum, Julie, the addition of a dietitian to her son's therapy team has made a world of difference.
"I've seen a huge improvement in Ryker's attitude to food. He's eating very different lunches now; instead of white carbohydrates and chocolate he's enjoying ham and salad wraps, and snacking on chopped fruits and vegetables," Julie said.
"We still have 'white carbohydrate days' every now and then, but the important thing is that Ryker's diet has improved for the better. We even had our first family dinner where we ate the same meal recently and it meant the world to me."
"And it's not just Ryker who has benefitted; having the opportunity to learn from Maddie has reinvigorated my cooking! She's given me some great new ideas to try which is really helpful," Julie said.
Need mealtime support?
We provide specialist support for people with disability who have difficulty eating or drinking, or who need help during mealtimes.
Kidney Bean Chocolate Muffins
Therapy Focus Dietitian Maddie Todd's healthier take on chocolate muffins. Remember these are a 'sometimes' food!

Ingredients:
- 1/2 cup brown sugar
- 100ml light flavoured oil (i.e. sunflower oil)
- 2 eggs
- 2 tsp vanilla
- 400g mashed kidney beans
- 1 cup self-raising flour, sifted
- 1/2 cup cocoa, sifted

Method:
1) Preheat oven to 180 degrees.
2) Line a 12 hole muffin tray with muffin cases. Spray with oil.
3) Sift flour, sugar and cocoa into a large bowl.
4) Mix oil, eggs and vanilla together in a separate bowl.
5) Mash kidney beans finely and add to the oil, egg and vanilla mixture.
6) Gently fold wet mix into the dry mix.
7) Divide the mixture evenly between the 12 muffin cases.
8) Bake for 12 minutes or until a skewer comes out clean.