Community art for Disability Awareness Week
In celebration of Disability Awareness Week, Therapy Focus' Margaret River Team hosted a free art workshop for the local community.
Led by accomplished local artist and disability advocate Stan Meagher, the free workshops welcomed participants of all abilities to come along, learn some new skills and develop their own piece of art.
Therapy Focus South West Team Leader Danelle Milward explained that the event was a great success in bringing the community together.
"Over the morning we had both kids and adults come through to help us create this really unique piece of art, which will be displayed in our new Margaret River office. It's going to bring a lot of life and vibrancy to the therapy room." said Danelle.
"As well as working with Stan, participants worked together to help each other and develop their skills. Through doing this, everyone walked away with a better understanding of what it means to live with disability."
"Having Stan there was fantastic. During the workshop Stan talked about the process of creating the artwork, and how the process has supported his own rehabilitation."
Stan, who was paralysed after contracting a rare virus in 2012, has had his art displayed in exhibitions both nationally and overseas.
"I have spent my life pursuing that of a professional artist which has involved me in numerous solo and group exhibitions and many international destinations," said Stan.
"I've also lectured locally at TAFE, mostly in the areas of art education and art therapy."
"I'm really excited to have been involved with the Margaret River community on this project. It's something very close to my heart and a piece I'm very proud of."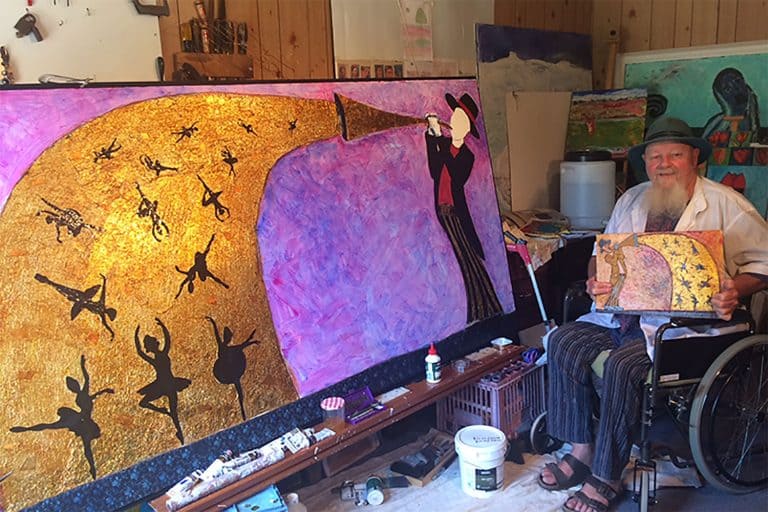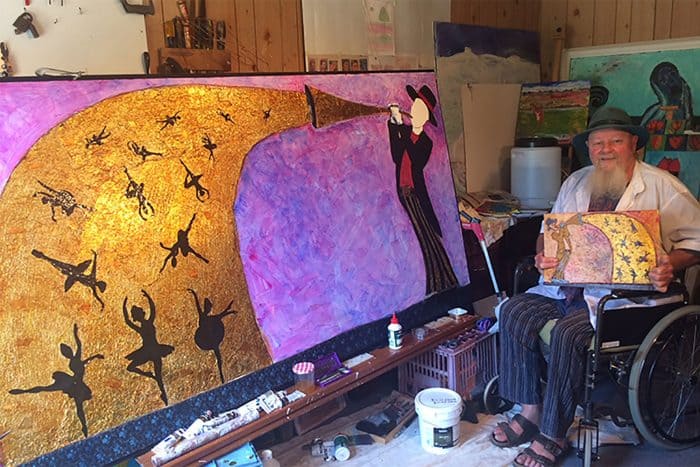 Pictured: Artist Stan Meagher with his piece made for the Margaret River office.
Our Locations
Therapy Focus is Western Australia's leading provider of professional therapy services, employing around 350 staff across 20+ office locations.