Communication consultancy improves device access
Therapy Focus has opened the doors to a purpose-built office that provides access to a range of communication systems and solutions for people living with disability.
Staffed by experienced speech pathologists knowledgeable in the area of alternative and augmentative communication, the 'Communication Matters Consultancy' will help people with complex communication needs trial a wide range of communication devices and systems. This include high-tech systems like touch screen devices and low-tech systems like communication books.
Therapy Focus Speech Pathologist Alison Milton, said that the new office hoped to reduce current wait times to trial communication devices, so that people can access funding for devices quicker.
"The reason why this office is so important is because people with disability, their families and therapists can't apply for funding for communication devices without trialling them first," Alison said.
"It can sometimes take 6-12 months to access devices for trial, and the longer someone waits to trial a device, the longer they go without a way of communicating with the world around them."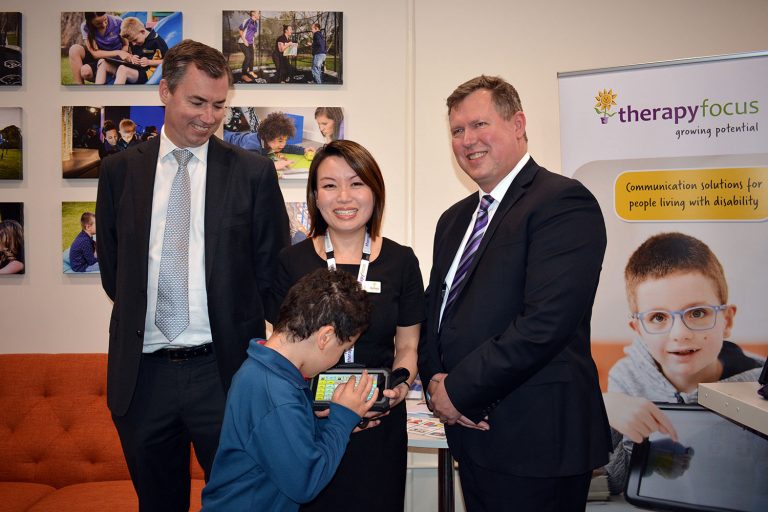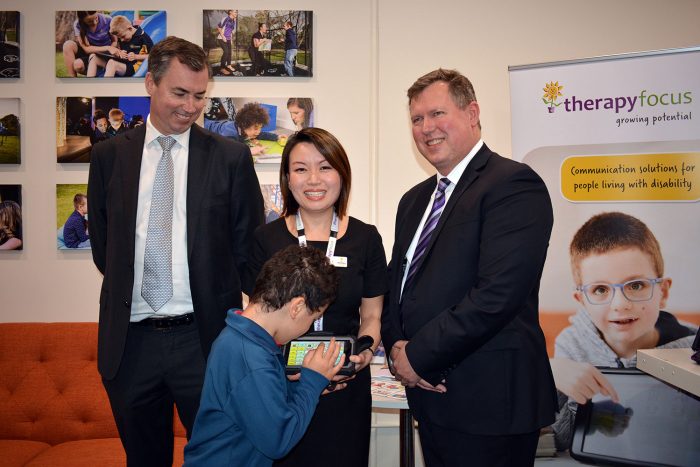 Pictured: Federal Member for Stirling, Michael Keenan MP with Therapy Focus Speech Pathologist Alison Milton, CEO Matt Burrows and Logan Mills at the office opening event.
7 year-old Hamish McKercher accesses services from Therapy Focus and uses an iPad with the TouchChat app to communicate. Hamish's Mum, Katherine said her son had tried a range of systems but liked technology and found TouchChat to be most effective.
"He tells us things with sign language but has been using TouchChat for 12 months now and that's his favourite way to communicate," Katherine said.
Katherine said that Hamish has always been very social, but simply didn't have the words to communicate before receiving the device.
"It's been pretty special to watch him have more thorough conversations with his friends and family, and he communicates more and more each day. It's the little things, like being able to answer a teacher's question in class that has been great to see Hamish accomplish," she said.
Alison said that timely access to communication devices and systems was essential to improving quality of life for people with communication difficulties.
"Communication is a basic human right. Being able to communicate allows us to understand and connect with people around us, and live a full and satisfying life. It is our hope that the office will provide a pathway to accessing suitable communication systems that enable people with disability to be able to express their thoughts, feelings, dreams, ideas and needs."

Therapy Focus Speech Pathologist Alison Milton
Federal Member for Stirling, the Honourable Michael Keenan MP, officially opened the office at an event held on Friday 31 August, where guests toured the office and took part in device demonstrations.
The office was set-up with support from Scentre Group Australia through their Westfield Community Program.
For more information about the Communications Matter Consultancy, call 1300 135 373 or email [email protected].
Individuals and families already accessing Therapy Focus services should speak with their therapy team.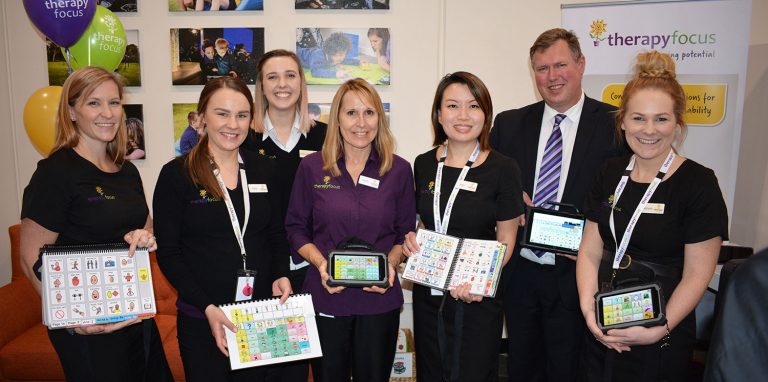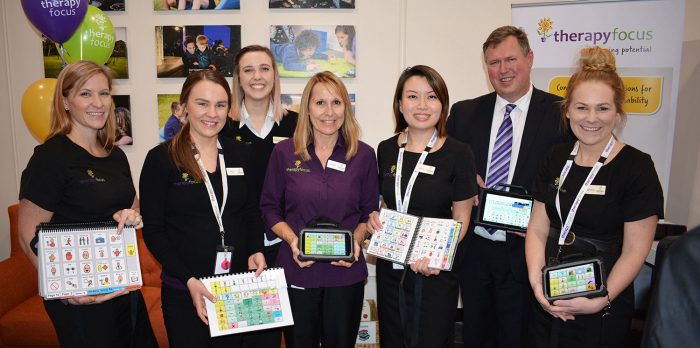 Pictured: Communication Matters Consultancy staff with Therapy Focus CEO, Matt Burrows.
Complex Communication
Learn about Therapy Focus' effective communication systems and solutions for people with complex communication needs.