Ashlee has business sewn up
18 year-old Ashlee Gregori has turned a shared hobby between mother and daughter into a micro-enterprise taking orders across Australia.
Having grown up watching her Mum, Diane, create all matter of things with her sewing machine, Ashlee was keen to give it a go herself. So when Diane bought Ashlee a sewing machine of her own, the hobby they started as something to do together took on a life of its own.
Ashlee now has her own micro-enterprise, Ashlee's Sewing, and under Diane's guidance and with the backing of her support team, Ashlee has showcased her work at Heathcote Markets and Maddington Markets. She's even had orders from Sydney in recent months.
Some of Ashlee's signature creations include "driving sleeves" to protect truck drivers' arms from sun damage, aprons cleverly made from unwanted shirts and casserole dish holders that protect hands from hot plates.
Ashlee has multiple diagnoses, including Neurofibromatosis-Noonan syndrome, scoliosis, macrocephaly and intellectual disability, and accesses services from Therapy Focus. Diane said that the microbusiness and fulfilling customer orders has done wonders for her daughter's self-confidence.
"Ashlee's just so happy to help anybody out and be of service to people. Her eyesight is deteriorating and she's determined to embrace every opportunity before it goes completely. It's such a great thing to work on together."
Diane assists Ashlee with her sewing and the pair have recently been working on cushion covers, joey pouches, a joey bag with a zipper and even chicken nappies. They're looking forward to whatever new sewing challenges the future may bring.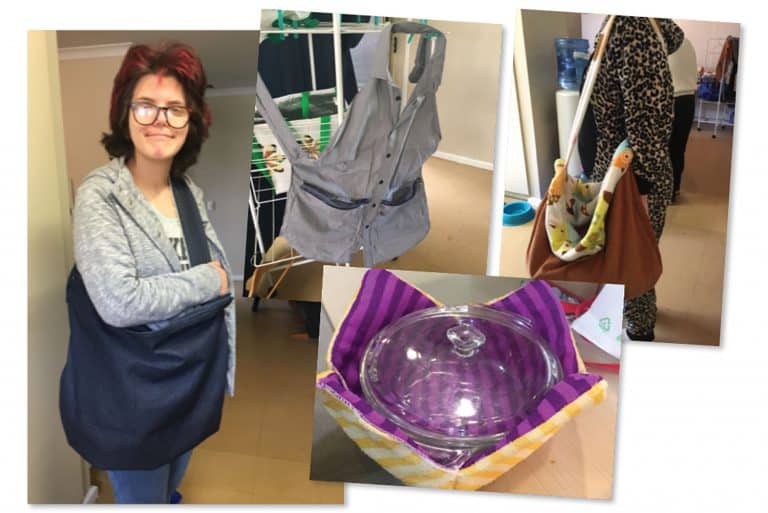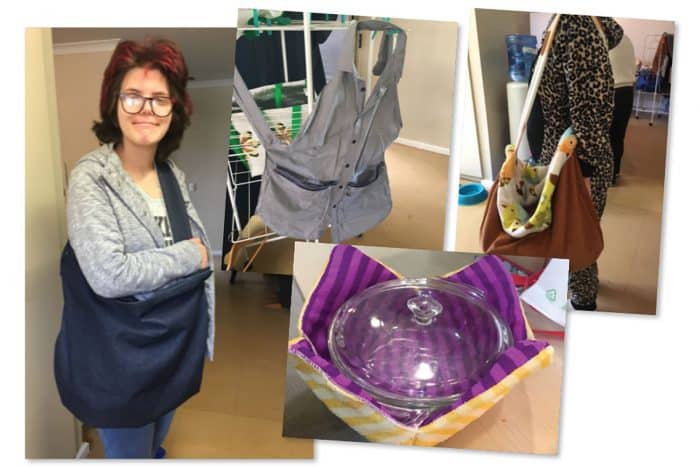 Pictured: Ashlee with some of her sewing creations
Looking to place an order?
For more information about Ashlee's Sewing, or to place an order, call Diane on 0412 170 394.